A revealing reflection on the relationships that guide our passage through life and the richness of the bonds of family.
It's hardly the most perceptive of observations to make but one of the most powerful aspects of autobiographical comics is their ability to immerse us in a pool of shared experience; to speak to us with a profound and resonant intimacy about those recognisable rites of passage that we must all live through and to remind us that we are not alone in dealing with them.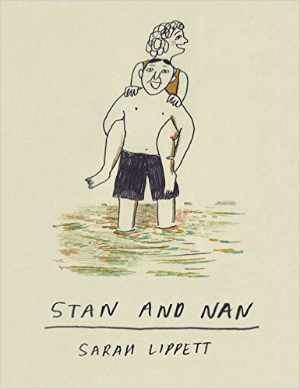 Sarah Lippett's Stan and Nan is simple and uninvolved in premise – a comics record of the life of the grandfather she never knew and the grandmother she adored – but the joy of this book is in its delivery, its familiarity and its everyperson depiction of family life.
Lippett splits her story into two overlapping narratives. The first section looks back at the life of her grandfather Stan: his love of art, his sadly curtailed attempts to pursue that at college, how he met her grandmother and raised a family with her. It's oral family history transplanted to the page, told largely by Gran to Lippett in flashbacks but with input from other family members expanding upon events.
The second segment shifts timeframes and looks back on Nan's life in the immediate aftermath of her passing. The coming together of Lippett's extended family at Nan's funeral to share their remembrances of her – some funny, some touching – gives them an opportunity to accept her loss while also commemorating her life…
Stan and Nan ostensibly traces the backgrounds of both of Lippett's grandparents but it's far more than a simple slice-of-life offering. It's also a graphic novel that speaks to us about the bonds of family and the importance of the lives that shape our own. It's about how the people we love continue to affect our worldview long after they're gone, despite the essential fragility of the human experience.
A family scrapbook of recollections, Stan and Nan constructs a picture of its two subjects through the varying perspectives of others, taking individual shards of memory and building them into a cohesive whole. Lippett captures events in a slightly raw and scratchy style – all skewed perspectives and charming ingenuousness – the affected naivety of which brings an added warmth and humanity to the proceedings.
Work like this that feels like it was created for its own sake first and foremost rather than with an audience in mind often has a most appealing candour at its core. Lippett's debut graphic novel is painfully honest and open in places but it's always acutely sensitive in delivery. In its final pages, in particular, Stan and Nan proves itself to be so much more than simply a pedestrian graphic memoir as a sense of tangible emotional legacy comes to the fore.
Stan and Nan is not just a celebration of its central characters' lives but of life itself. Beautiful, delicately crafted and deeply affecting, this is a book that connects us all by its sheer humanity.
Sarah Lippett (W/A) • Jonathan Cape, £16.99