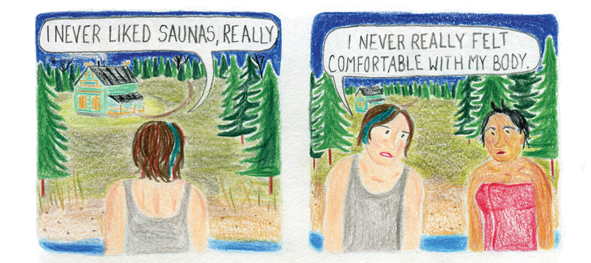 SAFARI FESTIVAL FORTNIGHT!
There's something a little synchronous in reviewing Laura Ķeniņš' Steam Clean on the first day of our Safari Festival Fortnight of coverage today at Broken Frontier given that the last time we covered Ķeniņš' solo work was at the beginning of last year's Safari celebrations (mini kuš! #42: 'Alien Beings'). Like that prior minicomic offering her latest book, Steam Clean from Retrofit Comics, similarly examines the complexities of human inter-relationships with otherwordly motifs thrown into the narrative mix,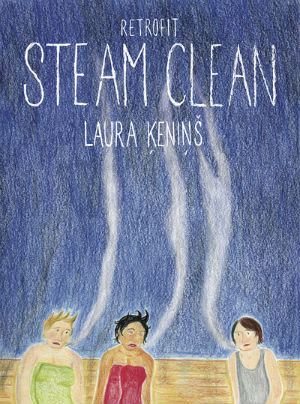 Events take place over the course of one autumnal night at a sauna party for queer women as tensions between a small cast of characters bubble up to the surface and new relationships are forged. Steam Clean explores questions of identity, gender and sexism through the lives of this disparate but interlinked group of protagonists.
Ķeniņš uses this intense and slightly claustrophobic setting to bring the varying experiences of the group into sharp focus. Among their number is Miika who has recently identified as non-binary and is questioning their place among the others (while also dealing with their ex's clumsy reactions around them).
Another attendee Maija finds herself in a strained conversation about consent and personal responsibility while fellow partygoers Kaisa and Isra compare some of the more disturbing characters they have encountered while using online dating.
The participants and their interconnections revolve around each other, converging and clashing as an evening that began as an opportunity to relax and unwind becomes something all the more fraught and taut. What Ķeniņš creates here is a multi-character study that has the hallmarks of a stage play in structure but one that also manipulates the specific properties of comics in terms of pacing and slow, atmospeheric, panel-to-panel build-up.
While the individual players allow the audience to interact with the page on a more grounded and recognisable level, there is also a strand to the narrative that looks to give it a greater context by injecting a supernatural element into the story when Laima – the ancient goddess of fate, women and saunas – crashes the party. On the one hand this development allows Ķeniņš to effectively provide a wider form of social commentary on sexuality and perception that is not as bound up in individual lives and stories. But that same juxtaposition of the otherworldy and the slice-of-life does also feel a little incongruous and contrived in places.
Ķeniņš' art is always vividly and atmospherically coloured and her visual characterisation and constant changes in perspective and viewpoint ensure that a book that is largely a talking heads affair retains the reader's attention throughout. While there are occasional awkward jumps between scenes, the dialogue within each feels natural and conversational. Those vital discussions surrounding prejudice, personal identity, sexuality, patriarchy and body image become are all the more striking for this, and also because our fragmentary insights into the lives of each of the characters gives them such a haunting and lingering resonance.
By story's end there have been shifts in the connections between those attending the party that are in some cases subtle and in others more far-reaching and Steam Clean is all the more affecting given the fleeting time we spend with these individuals.This is not a densely plotted affair in that regard but, rather, a careful character piece that allows us the briefest of insights into its cast's worlds. Nevertheless, we leave its pages feeling invested in their existences and wondering where their lives will take them next…
Visit Laura Ķeniņš' website here. You can follow Laura on Twitter here. You can buy Steam Clean here from Retrofit Comics priced $10.00 or from Avery Hill Publishing in the UK here priced £8.00.
Retrofit Comics will be exhibiting at Safari Festival on August 12th.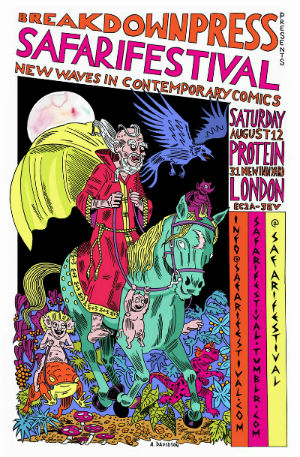 For regular updates on all things small press follow Andy Oliver on Twitter here.