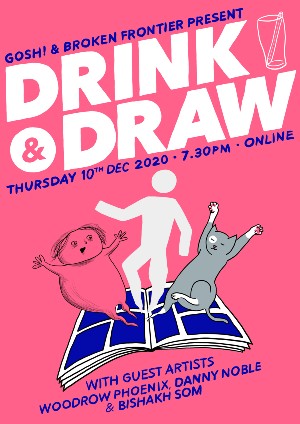 Our long-running, fortnightly online Gosh! Comics and Broken Frontier Drink and Draw returns this Thursday December 10th with a Street Noise Books Special! As usual we start at 7.30pm UK time on Twitter. Not only do our online D&Ds keep all those who would meet at The King's Arms in Soho, London every month (in those fondly remembered pre-March 2020 days) in regular contact, they also allow us to expand our reach for the event to a more global audience.
(Poster art, right, by Joe Stone).
So, once again if you're joining us online, here are the "rules"…
We're using our regular pub format, adapted for a digital platform. So if you've never attended one of our monthly sessions this is how it will work. Our guest artists will each choose a drawing theme for three sessions across the evening. We'll post each of these prompts with the hashtag #GoshBFDD in three batches at 7.30pm (GMT), 8.15pm and 9.00pm from both the Gosh! Comics Twitter account and the Broken Frontier Twitter account. You have 30 minutes to draw something fitting that theme, after which we'll spend 15 minutes picking a winner before the next round begins. Don't forget to post your drawings with the #GoshBFDD hashtag so everyone can see and join in. And also so we can easily retweet!
We're particularly excited this time around to be celebrating the socially conscious output of Street Noise Books who have published some excellent graphic memoir and graphic journalism this year. You can read a full interview with Street Noise Books publisher Liz Frances at Broken Frontier here.
Let's meet our guest artists…
Danny Noble was one of our original Broken Frontier 'Six Small Press Artists to Watch' and was also our "Artist-in-Residence" for the Gosh/BF Drink and Draw between 2015 and 2016. Danny's comics have long been favourites here on the site, with her "wickedly witty" alternative universe versions of actors Oliver Reed and Alan Bates being a particular joy in Was it… Too Much for You? and Ollie & Alan's Big Move. Her graphic memoir Shame Pudding, published by Street Noise Books this year, celebrates her relationship with her Jewish grandmothers and is a deeply funny and occasionally beautifully poignant piece of autobio. Our most recent interview with Danny is here and our Shame Pudding review here.
Woodrow Phoenix's accomplishments in comics are too many to list here but we'll have a go at some highlights anyway. He's the artist behind Rumble Strip from Myriad Editions, an exploration of road safety and cars that has been updated and revised with a significant amount of new material for the US market as Crash Course from Street Noise Books (look for a review soon at BF). Woodrow also created the one metre square graphic novel She Lives which has been exhibited at both the Cartoon Museum and the British Library. He co-edited the hugely acclaimed Nelson from Blank Slate Books with Rob Davis – a multi-artist graphic novel that will forever commemorate an important era in UK indie comics, and his book design skills are legendary!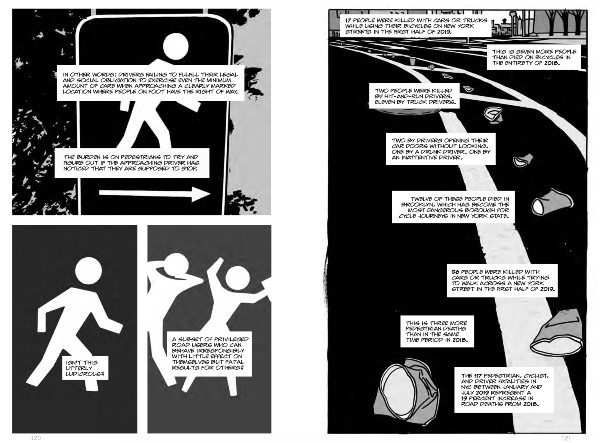 Bishakh Som describes her work as exploring themes of "gender, sexuality, memory and urbanism" and 2020 has been a big year for her! Bishakh's short story collection Apsara Engine was published by The Feminist Press earlier in the year while her meta-structured Spellbound: A Graphic Memoir was published recently by Street Noise Books and reviewed here at Broken Frontier. We said of it "The term "displaced memoir" used here is a most appropriate one, perfectly encapsulating Som's discovery of self in a once removed incarnation. As readers we become a part of this self-realisation in a gentle, subtle but no less profound way. In that regard we leave the pages of Spellbound with a sense of being privileged to have been invited into the author's exploration of her identity." It's a standout graphic memoir in an exceptional year for that strand of comics storytelling.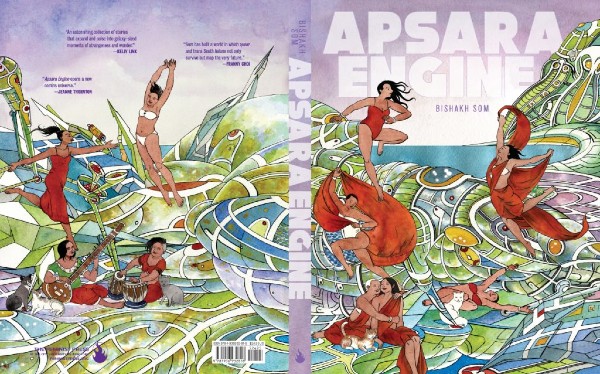 We'll see you all again on Thursday! Whether you're a regular or a newbie all are welcome so please do join in and be part of our international Drink and Draw fun! And if you enjoy this event why not check out the Gosh! Comics webstore here?