In 1969 Mr. Oliver Reed met Mr. Alan Bates in the film Women in Love. When they wrestled naked in front of a roaring fire the frisson was so great that they have been unable to dress themselves since. This is their story…
Danny Noble's Was it… Too Much for You? comics have been the 2015 highlight of many a social media user's day. Since the beginning of the year she has been publishing the strips on platforms like Twitter and, to date, there have been well over a hundred editions of the madcap misadventures of her boys Alan and Ollie. This month saw Noble releasing a long-awaited selection in a glorious print incarnation of fifty-two of the very best of their antics.
Anyone who follows the UK small press scene will already be well aware of Noble's rapidly expanding – perhaps exploding would be a better word – profile over the last few months. Back in October I reviewed her humorous autobiographical Monday Morning collection here and was so impressed by the playful manipulation of the structure of the short form strip therein that I included the book in my annual list of 'Ten UK Small Press Comics You Need to Own!' for 2014. Not a choice I would normally have made for comics that were essentially a few years old. But the brilliance of those vignettes of social awkwardness, alcoholic escapades and "inadvertent public slumber" simply couldn't be overlooked.

Ollie and Alan visit the Broken Frontier offices and meet Managing Editor Andy Oliver in this exclusive to BF 'Was it… Too Much for You?' strip
Since then the Noble star has continued to rise. I included her in my list of 'Six UK Small Press Creators to Watch in 2015!', she's contributed to a number of UK small press anthologies like Dirty Rotten Comics and Keara Stewart's upcoming dreams and nightmares zine, and her social media following has skyrocketed. But it's her Was it… Too Much for You? series that has, by far, been the factor most responsible for her sudden prominence in UK comics' group consciousness.
Was it… Too Much for You? takes a relatively obscure cinematic starting point – the naked wrestling scene between Oliver Reed and Alan Bates from Ken Russell's 1969 film adaptation of D.H. Lawrence's Women in Love – and spins it off into a whole new world of unrepentant public nudity, splendidly drunken excess, and slapstick surrealism. In the skewed alternate reality of the strip, Alan and Ollie have embraced nakedness as a lifestyle choice, moved into a flat together, and have spent the last forty-plus years living a life of hedonistic bacchanalian excess.

Various supporting characters – both real and fictional – flit in and out of the strips including the pair's very own James Finlayson-figure Tom Selleck (above), Columbo, Emma Peel and Daley Thompson.  In a kind of homage to all those formidable but off-screen classic British sitcom characters (of the Captain Mainwaring's wife variety) the unseen presence of Women in Love co-star Glenda Jackson has also frequently made itself known.
At the heart of Was it… Too Much for You?'s appeal is the endearing nature of the central characters. Alan and Ollie are self-indulgent men-children – reckless infants in adult bodies who blunder through life with their own peculiarly flamboyant idiosyncrasies. And yet, for all the duo's largely self-centred dissolute behaviour, the reader can't help but warm to the pair because there's something rather Laurel and Hardy about their childlike view of – and reactions to – the world around them.

What makes Was it… Too Much for You? such a memorable use of the form is Noble's deft ability to wring out every last vestige of comedic potential within its structure. Her visual characterisation is a delight throughout. Ollie's body language in a strip where he experiences a serious Google fail, for example, beautifully captures the toddler having a tantrum lurking within his lumbering grown-up frame, and the book is filled with many similar instances of the cast's physicality reflecting the humour in each ludicrous situation. Her sense of comedy timing and pacing is also as remarkable here as it was in Monday Morning. Just check out the Morecambe and Wise homage strip included in this review for a key illustration of that.
All this, of course, is indicative of an artist who has an instinctive understanding of the storytelling opportunities that can be employed within comics and nowhere else. The strip below is a strong case in point – in her subversion of the traditions of the form here Noble, perhaps ironically, also simultaneously highlights its sprawling scope and unique narrative potential. It's that kind of structural playfulness placed next to the pantomime extravagance of other entries in the series (see above) that marks this out as something far more complex in a creative sense than just a procession of knob jokes. (Although there are plenty of those too, obviously…)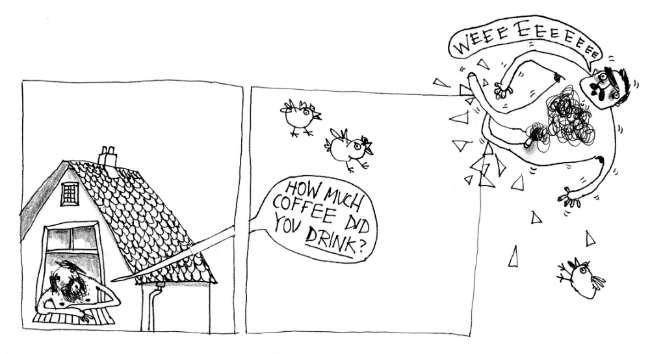 The longer Was it… Too Much for You? has been published online the more apparent it has become just how profoundly intelligent a comics craftswoman Noble is. Although new readers can still easily dip into Alan and Ollie's adventures this is work that joyfully rewards committed investment. Over the months the running gags and in-jokes have begun to overlap and merge with each other, creating layer upon layer of dexterously assembled self-referentiality. It underlines that – for all the coarse clowning that is at the superficial forefront of Was it… Too Much for You? – there's something far more sophisticated going on behind the surface level as well.
As popular as her online work is, having something tangible in print can only raise Danny Noble's profile even further. Indeed, the only thing that surprises me about her comics to date is that they went largely unnoticed for years before her recent return to the self-publishing circuit. Wondrously, wildly, wickedly witty, I have no doubt whatsoever that the publication of Was it… Too Much for You? marks the moment that Danny Noble finally begins to get the level of recognition she so thoroughly deserves. Because this is by far the cleverest and most original use of the form that it's been my pleasure to review in 'Small Pressganged' so far in 2015.
For more on the work of Danny Noble visit her site here. You can buy copies of Was it… Too Much for You? from her online store here priced £4.00. Follow Danny on Twitter here and read my interview with her at Broken Frontier here.
For regular updates on all things small press follow Andy Oliver on Twitter here.