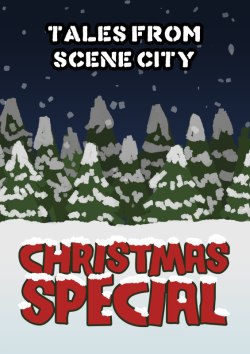 It's something of a rarity for me to squeeze anything Christmas themed into 'Small Pressganged' but Scene City creator Rob Cureton has produced a delightfully cynical stocking stuffer featuring some of the cast of his pop parody series that gives me an opportunity to do just that this year. Fear not, however, that Cureton has gone all saccharine with holiday mawkishness. The Tales from Scene City Christmas Special eschews the sugary sentiments of festive chart toppers like Cliff Richard's 'Mistletoe and Wine' for the more direct, in-yer-face, confrontational vibe of Rage Against the Machine's 2009 Yuletide number 1, 'Killing in the Name'.
The basic premise sees Slimey Cowbell – that rather obvious parody of a certain music mogul that Cureton delights in sending up – attempting to claim the commercial opportunities of the season all for himself. Taking its cue from the now familiar domination of the British pop charts at Christmas by bland, interchangeable talent show winners this short offering recounts what happens in Scene City (for the uninitiated, a locale made up of districts representing different musical genres) when one of its residents takes it into his own hands to destroy Cowbell's stranglehold on the Christmas musical top spot…
Gleefully wicked, as ever, Cureton is in his element here, poking fun at some of the crasser elements of the recording business as he works up to an inevitably mischievous punchline. One that certainly brought a nostalgic smile to my face! The Tales from Scene City Christmas Special is just six pages long so essentially it's a one-note gag but it's absolutely worth waiting for the payoff.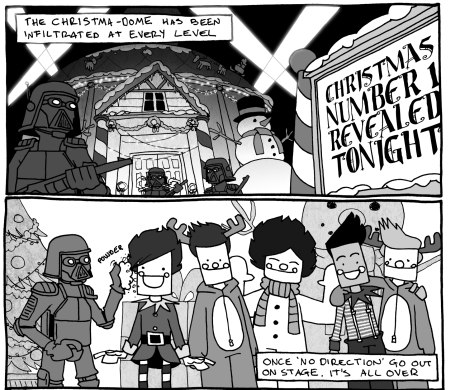 Cureton's cartooning is as lively as ever although the rushed nature of the project means it's perhaps not quite as refined as the most recent issue of the main series. For Scene City aficionados, though, this will prove to be an unexpected and very welcome Chrimbo pressie. And I have to drag out that old cliché "jumping on point" for those yet to invest some time in the book because the TFSC Christmas Special really is a perfect self-contained example of the glorious silliness of the regular comic. Download it while you can though because it's only available for a limited period!
Tales from Scene City Christmas Special is available as a download priced just 50p from Rob Cureton's store here.