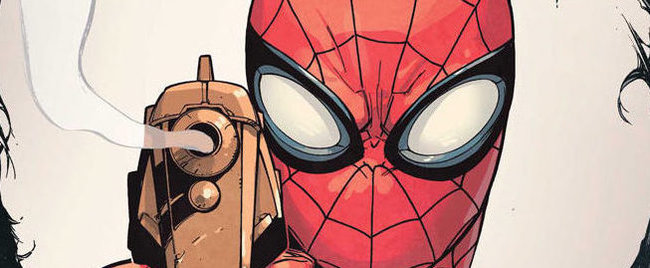 Breaking Bad's final season premiered last Sunday night. With nothing but that show on the brain, it was hard not to think about Walter White when examining Doc Ock's new life as Peter Parker. But ultimately, I don't think that is a fair comparison, because at least Walter White started out as a good person. The television phenomenon that more closely resembles the journey that Otto is going on is Tony Soprano.
The Sopranos was a show that toyed with the audience's expectations, particularly in the way they portrayed Tony. Tony was a character that we were inherently told that we could not trust. That he was a bad guy and beyond redemption. Through the course of the series we saw Tony again and again try to change his ways. The ultimate message of The Sopranos is that we don't change. That we cannot change.
Otto Octavius seems to be on a similar journey in Superior Spider-Man. Given a second chance at life, Otto vows to live by Peter's rules of great power and great responsibility. To do this, he is falling back on many of his old, villainous ways. He kills or viciously injures, without remorse. He constantly monitors the entire city. He allows others (the firefighters who saved Mary Jane, for instance) to do the tasks he finds to be beneath him. He has his own secret lair, an army of henchmen, and has blackmailed Mayor Jameson to give him the power to do as he pleases.
Otto may not have realized it yet but, despite his efficiency, he is falling back to becoming the same man he has always been. In this way he resembles yet another TV antihero, Vic Mackey from The Shield. In that show, Vic was a police officer who used dirty and illegal tactics to be the ultimate police officer. On a day to day basis, Vic could talk himself, and thus the audience, into believing what he was doing to be part of the greater good. Beating a confession out of someone would result in a child being saved. The show did a fabulous job of balancing the evil Vic did, to the good it accomplished.
So far, it can be argued that the only "evil" Otto is perpetrating is on super-villains. Otto has killed a man (Massacre) who was on a killing spree and mentally incapable of realizing his actions were wrong. Otto has helped execute a man on Death Row, who almost escaped. And he has even recently freed a section of town that was under an almost tyrannical rule by an army of ninjas.
But on the other hand Otto also nearly beat to death Screwball and Jester, a pair of "villains" whose crimes are so relatively insignificant that even The Punisher might let them live.
Vic Mackey's problem came when his personal goals got in the way of the greater good. In the first episode of the series, Vic's ambitions have gotten too big. He has to make the choice between potentially being jailed or killing an innocent officer. Vic chooses self-preservation.
Otto makes a similar choice when he learns that some of the essence of Peter Parker is left in that body. Otto "kills" what is left of Peter rather than giving up the body. And in doing so, he stole some equipment from a hospital, a choice that almost resulted in the death of a little girl.
Otto clearly has the ambition and the desire to be good. But he keeps falling back on his evil ways. They are both easier and more efficient. Dan Slott and his stable of amazing artists are crafting a tale that starts with redemption. Whether it ends there or not, whether they agree with The Sopranos premise that we cannot change who we are or not is yet to be seen. But a time is coming when Otto is going to have to choose between doing what's right or self-preservation. At this point, it's looking like it will be the latter. But unlike Walter White's journey, this one appears to have a bit longer left.