Press release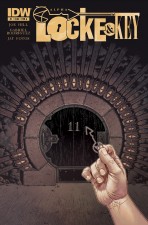 While it's long been announced that Joe Hill and Gabriel Rodriguez's Eisner-winning epic Locke & Key is approaching the story's conclusion, details of the finale have finally been announced, and the finale has become even bigger than originally revealed.
The concluding series, Locke & Key: Omega, will now run five issues instead of six, and the finale itself will bring the Keyhouse down in the form of LOCKE & KEY: ALPHA, a series of two forty-eight-page issues that will end the series with the kind of intense, macabre aplomb that made it a hit for six series!
"We hadn't wanted to reveal the direction this finale was going to take until now in order to maintain necessary secrecy over how LOCKE & KEY wraps up," said series editor and IDW's Chief Creative Officer/Editor-in-Chief Chris Ryall. "But after Omega, there can only be Alpha. And the series will end much the way it began, in the form of an extra-length issue. Two, in this case. Hard to fit this much death and destruction into just a regular-sized issue…"
Ryall added "It's been an incredible rewarding six years of Locke & Key, and we've loved seeing Locke & Key build a larger and more rabid audience with each volume of the series. Add to that the fans who've liked the series enough to tattoo it on their bodies, the actual keys built by Israel Skelton's Skelton Crew Studios, the Fox pilot, the Eisner Awards and everything else we've experienced, and it's been one of the more rewarding series IDW has ever published. And now it's time to close this storyline in a way that will be as equally memorable as everything we've seen over nearly 40 issues from Hill, Rodriguez and colorist Jay Fotos."
Locke & Key has enjoyed a massively successful critical and commercial run and found a die-hard group of passionate fans. Though all good things must come to an end, LOCKE & KEY: ALPHA promises to cap things off in the kind of legendary, eye-popping fashion that can only come from the minds of Joe Hill and Gabriel Rodriguez.
For the saved and the damned alike, it's always darkest before the dawn… or is it? This August, there's only one way to find out.