THOUGHT BUBBLE 2023! Rather than the Pekar-esque vignettes that have to date made up writer Chad Bilyeu's autobiographical comic Chad in Amsterdam (featuring collaborations with a who's who of indie and alt comics artists) The Re-Up is a longer-form account of a specific timeframe in his life, told in the form of a periodical, serialised comics narrative. Partnered this time with renowned children's illustrator Juliette de Wit, Bilyeu chronicles the period between 2004-2008 when he became a drug dealer at Georgetown University in Washington DC.
If you're a fan of Chad in Amsterdam (and if you're not you really should be) you will already be aware of Bilyeu's uncompromising authorial presence and his almost defiant on-page candour. They are qualities that combine to give his anecdotal storytelling a striking authenticity. In The Re-up he takes this a step further with a warts-and-all portrayal of his earlier years; one that is unafraid to adopt a policy of absolute frankness when depicting his lifestyle at the time.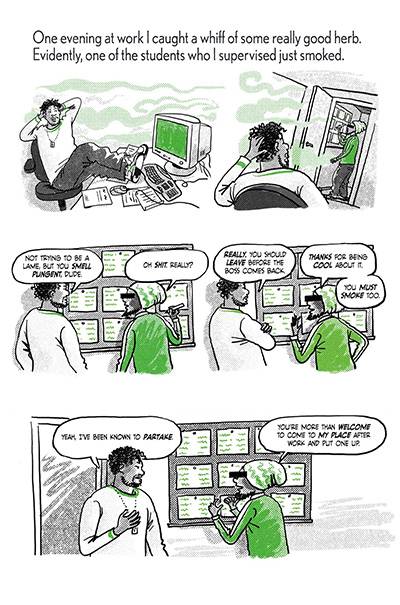 In The Re-Up #1 we meet Chad in his unassuming job working in AV at the university and studying there in the evenings, as he strikes up a friendship with a smaller-time dealer. In the second issue he becomes drawn into the world of dealing after initially trying to put his friend in touch with a source. By The Re-Up #3 Chad is established with customers but is still building up his nascent weed business and has yet to tap into the potentially lucrative market of the university he works at. But by #4 his new profession is beginning to have a less positive impact on his life on campus in regard to his studies…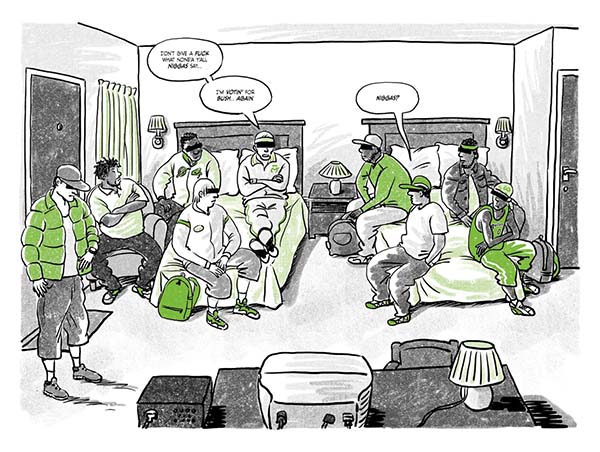 Bilyeu uses a mix of illustrated text and sequential art which allows us to experience events from the dual perspective of the Chad of the time and the older Bilyeu commenting on his youth with the benefit of hindsight. Here de Wit's fluid cartooning is used adeptly in multiple ways depending on the needs of the moment – whether that be to capture a single snapshot of an incident to invoke the spirit of a longer passage of prose; to portray extended interactions between characters in strip form using the nuances of their body language and expression to give us insights into their states of mind; or in entirely silent sequences when Bilyeu lets de Wit's visuals do all the expository work.
This is an account that is as much about the pedestrian… the monotonous even… parts of life as a drug dealer as it is about those moments of jeopardy and, as such, the laidback pacing is important in establishing the strange routines of Bilyeu's working hours. There are some neat visual touches that also help in stressing the different parts of his life here, especially the anonymity-enforcing black bars over the eyes of characters who are part of the drug side of the cast. Dialogue is a particular strength – there's an often cynical wit at play here that avoids coming across as contrived due to the naturalistic feel of characters' conversations.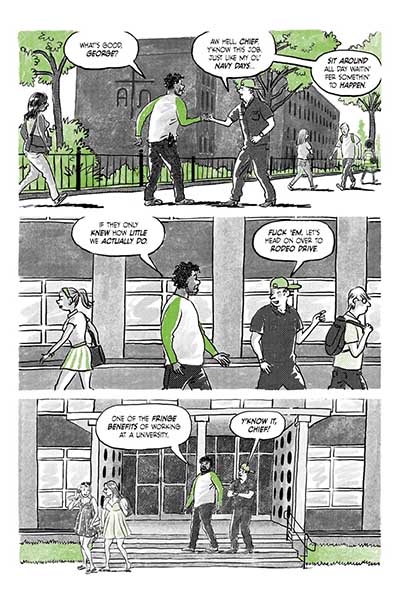 On his bio on the first issue's back page Bilyeu describes himself as a "contrarian" and this one word perhaps sums up why his autobio practice has such a distinctive voice. There's nothing sanitised about his approach; whatever self-editing is going on (there's some interesting reflections on the veracity of autobio in #4) it's certainly not about presenting a more reader-friendly on-page avatar for readers with fragile sensibilities. It's this edge to the work that makes him such a compelling read and, in his creative partnership with Juliette de Wit, there's a collaborative synergy that feels borderline symbiotic. Thought Bubble 2023 will be a rare opportunity to meet both these creators in the UK so take advantage while you can.
Chad Bilyeu (W), Juliette de Wit (A) • Bistro Books
Read our Broken Frontier interview with Chad Bilyeu here
Chad Bilyeu & Juliette de Wit are at Table B38 in the Dstlry Hall at Thought Bubble 2023
Review by Andy Oliver