It's the tenth Thought Bubble comic art festival at the weekend and this week at Broken Frontier we're taking a tour of just some of the debut book highlights. Up until the weekend we'll be looking at 25 or so of the very best small press comics launching in Leeds with preview images and pages (many exclusive to BF) and the locations of the creators/publishers for you to hunt them down at TB. Don't forget to tell them that Broken Frontier sent you when you do!
Catch up with all of our preview articles as they go up daily here…
Blood Blokes #6
Adam Cadwell's slacker vampire comedy Blood Blokes come its conclusion with this sixth and final issue debuting at Thought Bubble this weekend. Set in contemporary Manchester, it's the story of university drop-out Vince coming to terms with being transformed into a creature of the night with the aid of his three slovenly undead flatmates Mike, Arianna and the morose Douglas.
Dark wit sits side-by-side with overwhelming moments of pathos in this expectation-defying spin on familiar horror standards. You can read a Broken Frontier review here.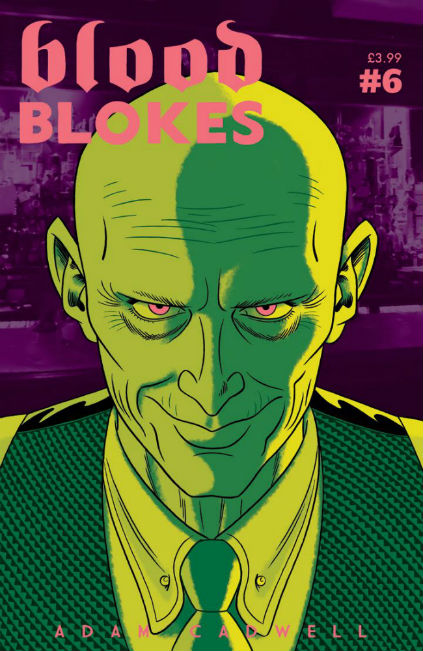 For more on Adam Cadwell's work visit his site here and follow him on Twitter here. You can find Adam Cadwell at Table 79 in the Royal Armouries. You can visit his online store here.
Hitsville UK #5 – John Riordan and Dan Cox
The occasionally surreal and always gloriously daft music biz send-up series reaches its fifth issue as John Riordan and Dan Cox continue their pop cultural romp with a suitably psychedelic cover. I once described Hitsville UK as "a riotous, frenzied whirlwind of a comic book" here at BF, not least because of the multitude of players moving through its pages.
One half of the Hitsville UK team John Riordan also recently had his book Sound and Vision – an illustrated guide to music's cult movers and shakers – published by Dog n' Bone and will no doubt also have copies of that tome on hand at TB.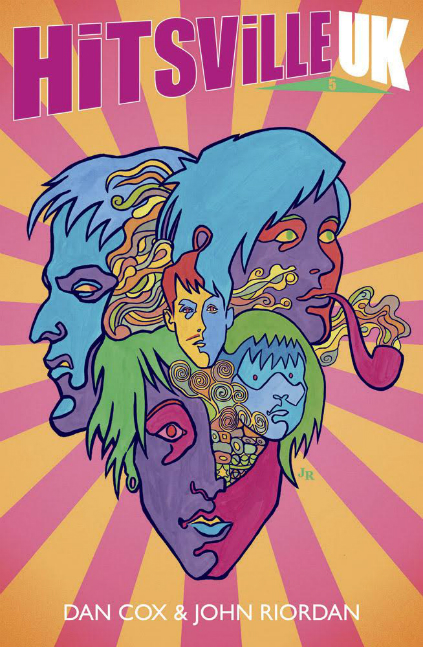 You can find out more about Hitsville UK from the site here and follow the comic on Twitter here. You can find Hitsville UK at Table 184b in the New Dock Hall. You can buy Hitsville UK from John Riordan's online store here. 
Killjoy #5
As I've said on a number of occasions before at Broken Frontier, nobody does awkward autobio quite like Robert Brown. He's something of a genius when it comes to recreating the most squirmingly embarrassing moments from his youth on the comics page. I've described his Killjoy series as "quietly understated but oh-so familiar childhood recollections that will, in turn, make you smile, wince and nod knowingly at Brown's spot-on depictions of those most awkward rites of passage."
With Killjoy #5 he'll be turning his attention to that most familiar of childhood oredeals – the family holiday…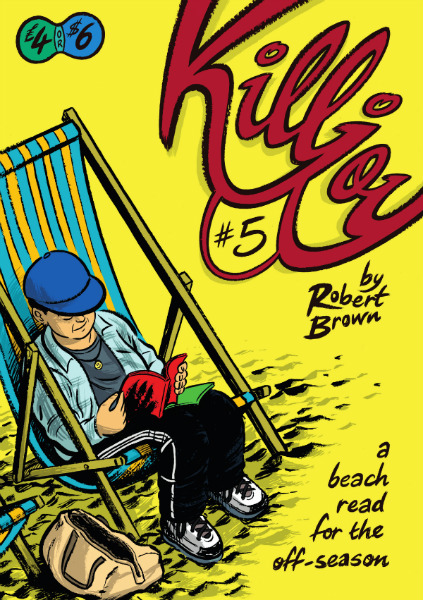 For more on Robert Brown's work visit his site here and follow him on Twitter here. You can find him at Table 69a in the Comixology Marquee. Visit his online store here. 
The Flying Ship: Prologue – Jess Milton
One of our original Broken Frontier 'Six Small Press Creators to Watch', Jess Milton has been busy working away on her fantasy webcomic series The Flying Ship since the publication of the Broken Frontier Small Press Yearbook featuring her well-received story of the younger days of the Marquis de Sade.
When I interviewed her about The Flying Ship here at Broken Frontier recently, Jess described the series as "a fantasy adventure story, loosely based on a Russian fairy tale of the same name. The story is centred around a royal decree released by the Tzar declaring that his daughter will only marry someone who can build a Flying Ship. As for the genre, I would call it a coming of age story set against a fantasy backdrop – it's about friendship and love in many different forms, but also the magic of adventure."
The prelude chapter will be available in print for the very first time at Thought Bubble!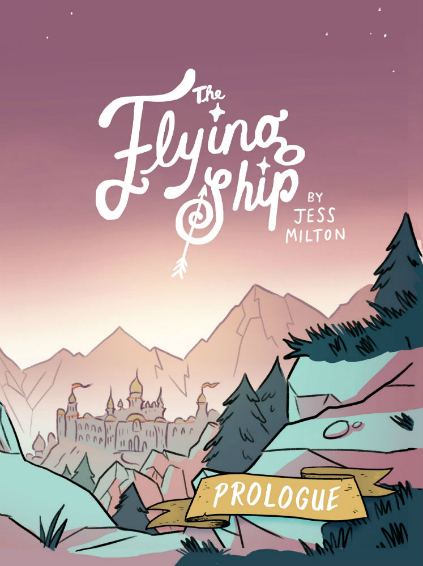 For more on the work of Jess Milton visit her site here and follow her on Twitter here. You can find her at Table 165a in the New Dock Hall. You can find her online store here.
Dogs Disco – Joe Decie
If you can't wait for Joe Decie's upcoming new book Collecting Sticks from Jonathan Cape then fret not! There's a print collection of some of his webcomics work debuting at Thought Bubble. Dogs Disco will showcase that special mix of autobio and out-and-out strange flights of fancy that Decie has perfected over the years. If you're a fan of his acclaimed work from Blank Slate like The Listening Agent or his self-published comics like There's No Bath in this Bathroom then Dogs Disco will, no doubt, be high on your TB shopping list.
For more on Joe Decie's work visit his site here and follow him on Twitter here. You can find him at Table 123 in the New Dock Hall. 
For more information on Thought Bubble visit the festival site here. 
For regular updates on all things small press follow Andy Oliver on Twitter here.