It's the tenth Thought Bubble comic art festival at the weekend and this week at Broken Frontier we're taking a tour of just some of the debut book highlights. Up until the weekend we'll be looking at 25 or so of the very best small press comics launching in Leeds with preview images and pages (many exclusive to BF) and the locations of the creators/publishers for you to hunt them down at TB. Don't forget to tell them that Broken Frontier sent you when you do!
Catch up with all of our preview articles as they go up daily here…
Tiny Pencil #5 – Amber Hsu and Contributors
Amber Hsu's graphite artzine is back with a fifth issue of comics and illustration based around a sci-fi theme for its "cosmic issue". Includes work by (clockwise from top left) Broken Frontier 'Six to Watch' artist Kim Clements, Lisk Feng, Alessandra De Cristofaro and Rebecca K. Jones as well as Audrey Niffenegger, Alexis Deacon and Renee French. You can read a full interview about it here at BF.
For more on Tiny Pencil visit the website here and follow the anthology on Twitter here. You can find Tiny Pencil at Table 98 in the New Dock Hall. Visit the Tiny Pencil online store here. 
Boys Club – Sarah Burgess
Sarah Burgess's work is always honest and keenly observed. I was a big fan of her The Summer of Blake Sinclair series a couple of years back stating that "This beautifully illustrated collection marks Sarah Burgess out as a creator we all need to be keeping a very careful eye on in the future." She's debuting a new book Boys Club at Thought Bubble with her ever inventive and distinctive command of the page very much on show in the pages below.
For more on Sarah Burgess's work visit her site here and follow her on Twitter here. You can find Sarah Burgess at Table 172 in the New Dock Hall. Her online store is here. 
Breakdown Press – Liam Cobb's The Fever Closing and Connor Willumsen's Treasure Island #3
Two more debuts from the cutting edge presses of Breakdown including new work by Liam Cobb whose Green Graves I was so enamoured of around Safari Festival time.
The Fever Closing – The latest work from rising star Liam Cobb, winner of the 2016 ELCAF Audience award for his self-published Shampoo, The Fever Closing is a hallucinatory masterpiece, charting the unanticipated events that follow a young man's arrival at a luxurious island costume party.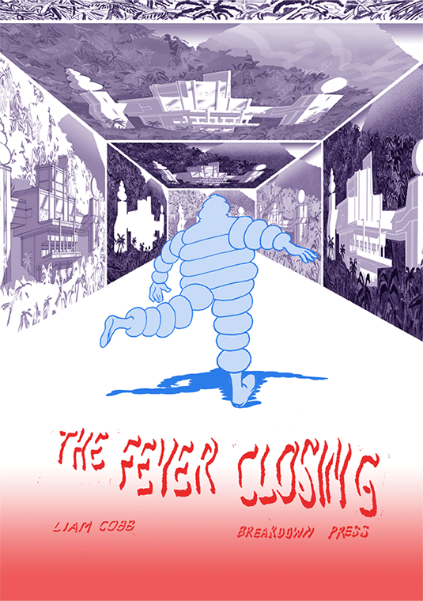 Treasure Isalnd #3 – In a remote research facility, two scientists struggle to maintain their funding, stave off boredom and stay sane in the jungle wilderness.  Rendered in the beautifully humanistic style of comics polymath and recent Center for Cartoon Studies fellow Connor Willumsen, Treasure Island is dreamlike and pragmatic in equal measure.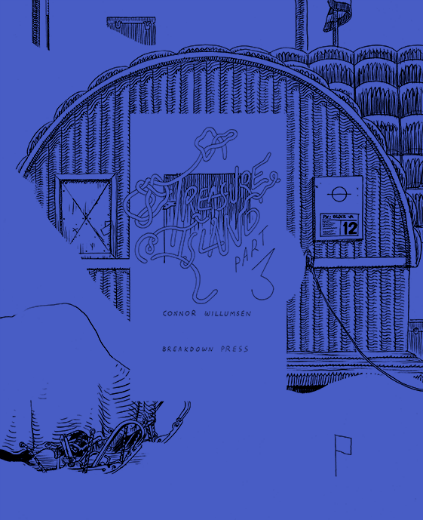 For more about Breakdown Press visit their site here and follow them on Twitter here. Breakdown Press are at Table 158 in the New Dock Hall. There's a launch party for the books at London's Gosh! Comics on November 11th. Details here. You can find their online store here. 
Tales from the Nonniverse! – Faye Spencer
The second festival debut from Good Comics, Faye Spencer's Tales from the Nonniverse! is described in the following terms by the up-and-coming micropublisher:
Welcome to the Nonniverse: it's a bit like the Britain you know, except everything is a bit…nonny (a meaningless word, often used in refrains in old English ballads). Join Evelyn as she and her puppet companion, Rott, search for meaning and respite in a bizarre, hyper-folk alternate universe, rendered in stunningly detailed pencilwork by artist and writer Faye Spencer.
Debut books are always worth checking out at TB, of course, but debuting books from debuting creators have an extra draw, especially with such an intriguing sounding premise.
You can find out more about the work of Faye Spencer here and follow her on Twitter here. Follow Good Comics on Twitter here.  You can find Good Comics at Table 181 in the New Dock Hall. Their online store is here. 
The O Men Book 5
We rarely cover super-heroes in 'Small Pressganged' so you can be assured when we do it's something special. Martin Eden's The O Men has been running since the '90s with just a  hiatus for his time on the critically acclaimed Spandex series. Your chance to witness the end of this sprawling saga…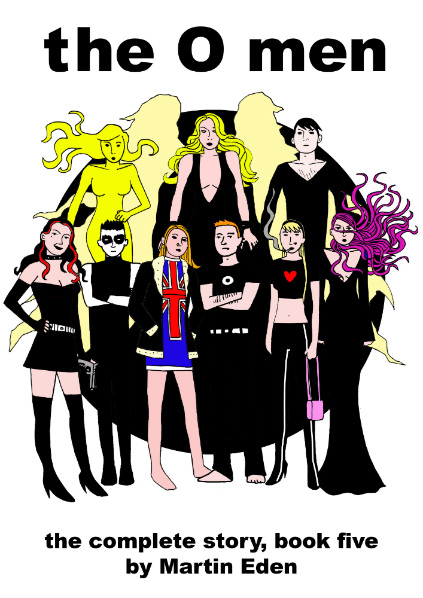 You can find Martin Eden at Table 176 in the New Dock Hall. Follow him on Twitter here and find out more about Martin's work here. Details on ordering a copy can be found here. 
For regular updates on all things small press follow Andy Oliver on Twitter here.