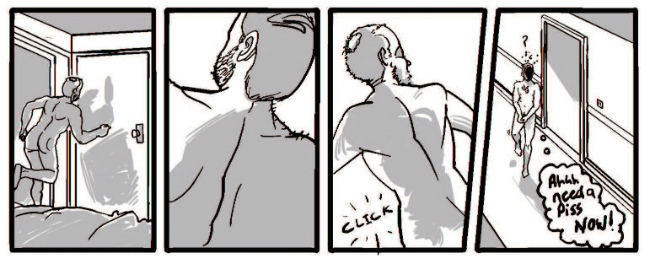 The wait for new autobiographical comics work from Sean Azzopardi – that great stalwart of the UK small press scene – has been a long time in coming. In fact, I reviewed his last offering Rain on Glass here at Broken Frontier a whole 18 months ago! Good things, perhaps, come to those who wait then? It may seem a trite proverb to be trotting out but it seems rather appropriate in the case of his latest short comic Tracks which is as good an Azzopardi offering as any I have covered in the four years of this column.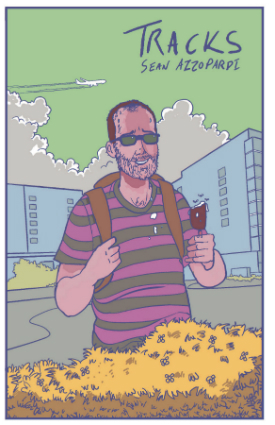 If there's a theme to this latest collection of loosely connected memories and anecdotes it's one of embracing our past life choices and being comfortable with how they shaped our present. It continues the change in tempo to Azzopardi's slice-of-lifers that began in Same Day Return in 2012 and continued into the aforementioned Rain on Glass. Sean's occasionally self-doubting on-page persona hasn't been entirely exorcised but there's a tangibly upbeat rhythm to his work now that is in stark contrast to the emotional rawness of his comics of a few years back.
Tracks jumps around in time through Azzopardi's life, initially using the familiar environs of the convention circuit as a narrative springboard for deeper ruminations on ageing and moving onwards. We begin at SPX in 2013 before taking a digressionary side road to a past Thought Bubble and an oft-repeated drinking story concerning the author being accidentally shut out of his hotel room naked (see top banner image). Sean Azzopardi as practised raconteur is something of a diversion but this sequence of unfortunate drunken farce displays deft comic timing with an unashamedly self-deprecating wink to the reader.
Next we move into a far more personal piece of reflection as, post-convention, Azzopardi meets his old friend Roger – a Brit ex-pat living in the States – and the pair reminisce about their shared history and what happened in the intervening years. It's here that Azzopardi's use of visual metaphor is particularly acute. A centrespread showing Roger being trampled under the passage of time, for example or, in a subsequent linked segment, Azzopardi's face merging into the landscape, symbolically bringing the then and now together as he visits Dani, a fondly remembered old friend (see below).
In terms of art and layouts this issue is a triumph with Azzopardi at the absolute top of his game. His pages are free-flowing and organic, eschewing a formal structure in a manner that, consciously or not, reflects the slightly scattered, anecdotal feel of the comic. There's a subtle sophistication to his technique here that ensures Tracks follows up on Rain on Glass in terms of its ability to so expressively exploit the full potential of the page.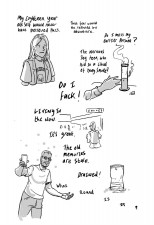 If there's one small niggling complaint about this issue it's that Tracks could have done with a final proofread. There's one moment, for example, where the substitution of the word 'dessert' for 'desert' takes the reader out of an otherwise compelling scene with an unfortunate, almost humorous, change of context. But that's a minor point in a comic that is otherwise such an identifiable piece of storytelling. To fully explain the book's title would be to do the reader a disservice and rob them of a sense of discovery from its interiors but those joyous, celebratory final three pages of Tracks will convert anyone who avoids autobio comics work on the grounds that it's self-indulgent, dour and overly introspective.
Is Tracks a little random in construction? Yes, but not disjointedly so. Contemplative but never melancholy, this is some of the finest work to date from one of the true mainstays of the UK self-publishing community.
For more on Sean Azzopardi's work visit his site here and follow him on Twitter here. You can buy copies of Tracks here online priced £4.00.
For regular updates on all things small press follow Andy Oliver on Twitter here.