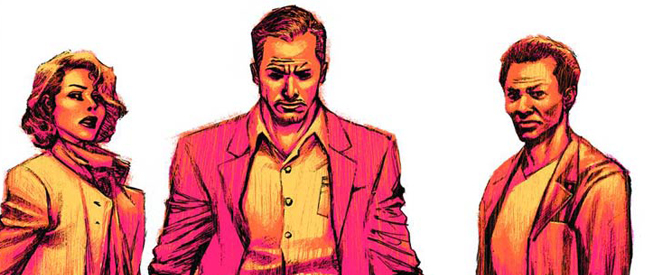 Michael Moreci and Ron Salas construct a slick, moody transtemporal caper that thrusts our fears surrounding the seemingly unstoppable spread of global terrorism into the realm of theoretical physics.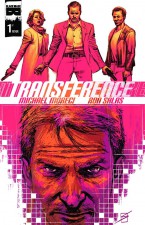 Comic books and science fiction are like peanut butter and chocolate: both are pretty damn tasty on their own, but put them together and you rarely fail to get something truly special*. From orphaned alien supermen to sprawling, fantasy-laden space operas, science fiction's impact on the medium of comics is deep and abiding.
It's somewhat disconcerting, then, that each year publishers seem desperate to catch the next big wave by producing reams of books mining the same tired territory. A couple of years ago, sparked by the success of Brian K. Vaughn and Fiona Staples' sci-fi epic Saga, publishers were suddenly desperate for genre-bending modern takes on the space opera. Indeed, much of the "pure" sci-fi resurgence still trending in comics can be laid at that book's doorstep.
This year, publishers seem to be on a time-travel kick, with numerous titles like Past Aways, Ei8ht, and Chrononauts hitting shelves in rapid succession. While certain elements of each of these books are successfully executed, none of them have really hit the mark and realized the full potential of one of sci-fi's most enduring storytelling devices.
And while it remains to be seen if this foray into the space-time continuum by Michael Moreci (Roche Limit) and Ron Salas (Existence 3.0) connects all of the necessary dots, their angle is by far the most intriguing of this year's batch of time-travel series. Dubbed "sci-spy" by its creators, Transference tackles the subject of time travel from a couple of different angles.
The plot revolves around the existence of a clandestine private organization with deep ties to the American military-industrial complex that has cornered the market on time travel. When they aren't filling the coffers running so-called "vanity" missions for the ultra-rich, intent on securing their futures by manipulating the past, the organization proactively polices the timeline, stopping all manners of threats to their country and the world before they occur.
When the previously deceased scientific pioneer who made this all possible resurfaces alive and well and in the hands of a mysterious new player, Colton Moss and his team of temporal anti-terrorist operatives are called in to investigate. If this sounds rather pedestrian so far, that's because on the surface it is.
What sets Transference apart from other similar works is that Moreci isn't using the concept of time travel simply out of convenience. Consider Millar and Murphy's Chrononauts, for example. It's essentially a buddy movie in comic-book form that just happens to involve time travel.
The temporal mechanics developed by Moreci for the series are not only original in their approach to an old sci-fi storytelling staple, but they're also intrinsic to the plot. People don't physically travel back and forth through time in Transference. Rather, they cast their consciousness back into the past to inhabit their younger selves.
This principle sets up the central conflict of the series: how does one find a terrorist who has escaped into the past and could literally be anybody?
Moreci then takes the idea one step further when Moss discovers that someone – presumably the terrorist known as Fasad – has deliberately altered his own past in fundamental ways. Suddenly, the hunt for Fasad takes on a whole new dimension, creating a refreshing immediacy and simmering sense of urgency lacking in other titles.
Ron Salas's visuals lend the series an appropriately timeless feel that evokes the work of artistic legends such as Caniff, Aparo, and Wood. His minimalistic linework and clean transitions ensure a pleasurable reading experience that doesn't sacrifice a crisp pace for the sake of clarity – or vice versa.
He creates mood and atmosphere with the judicious use of heavy shadows, grounding the book in the present and hinting at the secrets hidden in the dark. Overall, the interplay between words and pictures is one of the book's greatest strengths. Transference isn't a 2D popcorn blockbuster trapped on the comics page and built on spectacle, but a substantive thriller simmering with suspense and real emotion.
A spellbinding read that fuses the genres of espionage and science fiction into an intriguing and original new organism, Transference transcends its hybrid pedigree to stand head and shoulders above its competitors.
* The food-related opinions expressed in this review are the author's own and do not reflect the view of Broken Frontier.
Michael Moreci (W), Ron Salas (A) • Black Mask Comics, $3.99, July 1, 2015