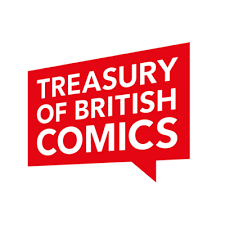 It's been a little while since we last ran a themed week at Broken Frontier, but over the next few days look for a mini-event of coverage focusing on Rebellion's Treasury of British Comics imprint. You can expect to see a series of reviews and features at BF on both the Rebellion reprint volumes of classic UK comics material and their annual range of one-shot specials, reimagining and relaunching some of those much loved characters of yesteryear for entire new audiences of readers.
If you're unaware of the Treasury series it launched in 2017 after Rebellion gained the rights to a large number of runs of past British weekly comics from the IPC range. A further acquisition in 2018 meant that Rebellion became the back catalogue custodians of around 130 years of IPC publications. While not everything published by IPC is part of that available archive (check out John Freeman's excellent resource on who owns what in British comics here at Down the Tubes) it's still an incredible library of publishable properties.
From lavish reprints of The Trigan Empire and Marney the Fox, to relaunching Roy of the Rovers for a whole new audience of new readers, to regular specials revisiting such classic comics as Misty, Scream!, Buster, Cor!! and Battle, Rebellion have ensured these much loved characters and strips live on for future generations. We will be celebrating that this week across the site with reviews of key titles like The Vigilant and the new The Spider collection, and a spotlight interview with Senior Graphic Novel Editor Keith Richardson.
Whether you're an old school nostalgist, or a newbie looking to discover these characters for the first time, keep checking BF each weekday for more Treasury articles and features…