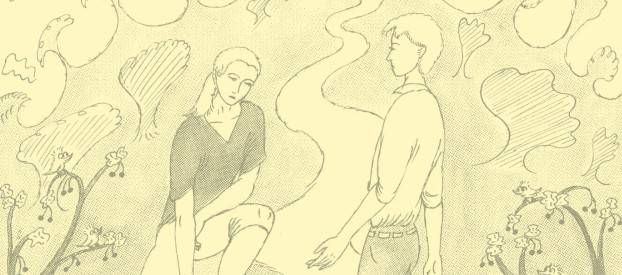 Potatoes! Love them or hate them, you can't ignore them! (Certainly not if you grew up in an Irish family in the 1970s.) Anyway, one of those magnificent jewels of the earth is at the heart of Louka Butzbach's Whistle, published by Breakdown Press – a book that starts with the flavour of a fairy tale, becomes a love story along the way and ends as an oblique fable about personal choices and the destructive power of ideology, populism and demagogues.
Set "in those days", it kicks off with Nicolino, a farmhand in a village on the periphery of Paris. One morning, while turning over his tubers, he comes across a strange, oversized specimen.
A wheelbarrow collision brings him tête-à-tête with local cherry-picker Antonella. As they sort out their upturned produce, they both begin "to feel funny inside". (Interestingly, a typo at this point recasts our potato picker as 'Nicolina', which made it look like the story was going in another direction altogether.)
Back at the cherry orchard, Antonella has a bit of an epiphany, tossing aside her basket and declaring that she'd be better off going for a drink. Meanwhile, the smitten Nicolino spends his time daydreaming and humming imaginary love songs. And all the while, the mysterious potato continues to grow…
Antonella's spirited rejection of work soon sends ripples through the local community, leading to a village debate: "Is work healthy?" The hot topic soon becomes an all-encompassing obsession, polarising the community and bringing regular activity to a halt. (Some of this might sound familiar to UK readers…) The discontent is stoked by a precocious young debater called Enrico, who radicalises the debate and pushes it towards bigger and more divisive questions.
With everyone's attention diverted, the giant potato continues to expand, threatening to destroy the town. The two threads come together in a catastrophe that spells the fate of both Fontenay-sous-Bois and our spud-crossed lovers.
The simplicity of Butzbach's style and the low-contrast reproduction give the book an ethereal feel that heightens the sense of fantasy. That airy impression is given further lift by the slightly wonky diction of the dialogue and narration (presumably an artistic choice rather than any slight on translator Ross Heselton), which walks a very fine line between charm and affectation.
Ultimately, your response to Whistle will depend on your appetite for whimsy, which Butzbach brings to market by the wheelbarrow-load. However, not far beneath the surface this is a bit of work that reflects some very timely thoughts about what can happen if we let a mania for ideology take precedence over human relationships.
Louka Butzbach (W/A), Ross Heselton (Tr) • Breakdown Press, £15.00
Review by Tom Murphy