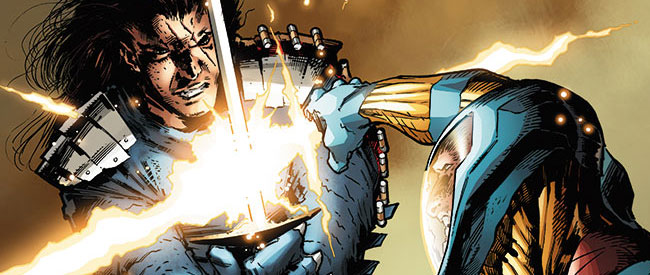 Aric of Dacia returns to Earth after his captivity by an alien race. But the world is not as he left it.
In the fifth century, Visigoth warrior Aric of Dacia was abducted by an alien race known as the Vine. With the help of a powerful suit of armor, Aric leads a slave rebellion and returns his fellow captives to Earth aboard a stolen spacecraft. But due to the vagaries of faster-than-light travel, 1,600 years have passed since Aric's capture. The former Dacia is now modern Romania and Aric's people and world are lost to history. Despite this, one of the first faces he sees is a familiar one from his past. Gilad, the so-called Eternal Warrior, still lives and opposes Aric's plan to conquer his former land and create a new home for his people.
X-O Manowar #15 is billed as a jumping-on point for new readers, a blessing since this reviewer was largely unfamiliar with the character and his centuries-spanning adventures. After a much needed recap page, Robert Venditti's script draws the reader in with its portrait of a tortured and determined hero. Aric's sense of loss is unimaginable but he faces it in a typical Visigoth way – by claiming what he can through strength of arms. The clash of this ancient and barbaric mindset with the governments of the modern world should present some excellent story potential in future issues. The character of Gilad is also an interesting one, though his development is somewhat less satisfying for a new reader. The Eternal Warrior's history and source of immortality are not touched upon much in this story, leaving him primarily a figure of mystery. This should not prove an issue for longtime Valiant Comics fans, though it did leave this reader somewhat frustrated.
Lee Garbett's art is solid draftsmanship well-suited to the superhero genre. It blends realism with just enough cartoonist's touches to remind us that this is a slightly heightened reality. Though his style only wows in certain moments, they are moments that create quite a dramatic punch. Particularly striking are the images of the ship floating over the city, reminiscent of similar scenes in sci-fi classics like V or Independence Day. Aric floating over the land like a god-king descending from the heavens is also a very powerful image that drives home the power this former slave has suddenly inherited.
X-O Manowar #15 boasts an intriguing premise and a slightly different approach to a superhero tale. While some elements will need further development, this is fairly solid set-up for what is to come.
Robert Venditti (W), Lee Garbett (A), Stefano Gaudiano (I), Moose Baumann (C) • Valiant Entertainment, $3.99, July 10, 2013.