HCZF FORTNIGHT!
From its front cover illustration of a weary individual who, on closer inspection, turns out to be a composite being made up of many others (or depending on your interpretation perhaps they're all different aspects of the same psyche given bustling human form) you know that Amy Browne's minicomic/zine Normal Day promises something special in the symbolism department.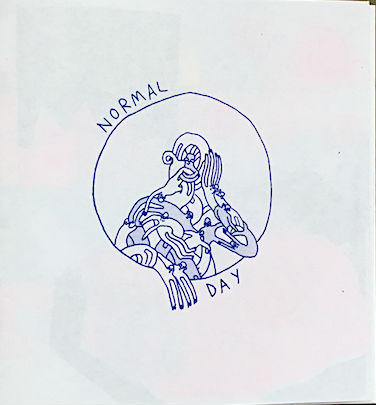 It doesn't disappoint. This collection of bizarre representational drawings comprise a loose narrative of sorts but each individual illustration can be appreciated and considered on its own merits and layers of meaning. As the day begins for our strange multi-faceted protagonist, his many component personalities coalesce into one symbiotic mega-being (below). One whose journey through the city will take in unlikely subterranean environments, peculiar workplaces and uncomfortable recreational downtime.
Replete with ready-to-be-interpreted visual metaphor and inventive physical characterisation (there's something creepily organic about Browne's central character with his fluidly elastic body parts that are literally bodies themselves) Normal Day is an adventure in the fantastic that nevertheless has an eccentric familiarity to its character's routines.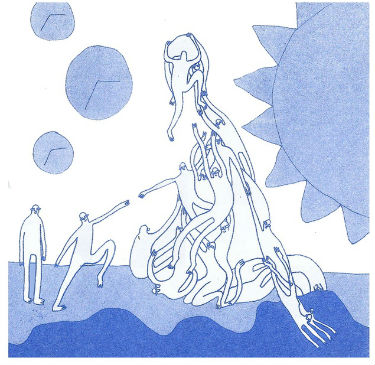 It's a visual conceit that Browne plays with in her other minicomics Sad Zine and Text Zine. In the former, additional appendages that interact with the main character's day-to-day rituals appear to signify differing emotional states, with their gradual shedding indicating a more buoyant state of mind. Text Zine also seems to play with that vying personalities metaphor as individual thoughts are anthropomorphised within the mind of the main character.
Of course, as is always the case with work that asks the reader to infer their own meaning, the definitive is subservient to the interpretive here. What is not in doubt though is Browne's clever and relevant use of the symbolic. I look forward to seeing something hopefully longer form from this truly intriguing voice in the near future.
For more on the work of Amy Browne visit her website here and follow her on Instagram.
For regular updates on all things small press follow Andy Oliver on Twitter here.
Review by Andy Oliver
Amy Browne will be exhibiting at Hackney Comic + Zine Fair on Sunday September 8th at Table 15.