Katie Craven's poignant twilight allegory is the first spotlighted book in 'Small Pressganged' from the attendees of the latest Comiket independent comics fair.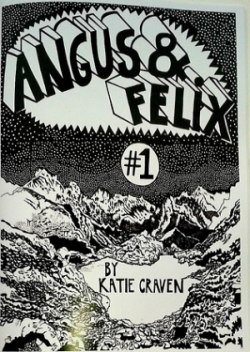 The recent Comica Festival Comiket – the twice-yearly British comics mart showcasing the best of UK small press, indie, micro and self-publishing – afforded me the opportunity, as ever, to discover work from a number of creative talents that I had not, as yet, encountered on my 'Small Pressganged' rounds. No doubt you will be seeing a number of those names covered here in this column over the weeks to come but I wanted to begin with an artist whose work particularly stood out to me when trawling through my Comiket haul – Katie Craven, whose haunting Angus & Felix I have gone back to on a number of occasions since obtaining it.
Ostensibly, but superficially, Angus & Felix #1 has the feeling of a child's storybook to it. Two monstrous beings, Angus and Felix, are nocturnally exploring our world via a hot air balloon when they come across a young woman prostrate on the lawn in front of her home. Mysteriously, however, she still claims to be lost, purposeless and vulnerable. What can our two troll-like protagonists do to help her find her place in society?
Both in terms of narrative set-up and visuals there's more than a hint of Maurice Sendak here; in particular there's something very Where the Wild Things Are about the two titular characters (with perhaps a smidgeon of Oddbod from Carry on Screaming mixed in for good measure!). Craven's art has an eerie whimsy to it, with the placing of the grotesque and the realistic side by side creating an effectively otherworldly atmosphere; the kind of fantastical realm that incorporates just enough of the everyday to be recognisable as a place we may all have visited in the slumbering, subconscious journeys through our psyches in those last hours before dawn.
Some of the interior pages on display at the exhibition to mark the first issue's publication
But as bizarre and detached as this strange dreamscape appears to be there's more than just homage to classic children's illustrators going on here. This tale of displaced souls from different worlds converging is actually a metaphor for something very contemporary. The careful reader will note that Craven proffers visual clues throughout –a discarded newspaper headline about the dashing of dreams and aspirations, or a notice defiantly refusing to pay tax for example  – hints and teases that underline that Angus & Felix is as more a reflection of youthful estrangement and bewilderment than the playful childlike surrealism that her darkly constructed panels seem to be presenting on a first glance. Her central female protagonist being the embodiment of this sense of uncertainty and dislocation.
While this shortish opening issue feels a little like a prologue there's plenty going on to grab the imagination and suggest that Katie Craven is a name to add to that impressive list of creators I have discovered via the eminently plunderable riches of  the Comica Festival Comiket treasure chest. I'm looking forward to sharing some more names with you in the run-up to Christmas…
For more on Katie Craven's work check out her tumblr here. Angus & Felix costs £3.00 and can be bought from Katie's online store here.