Rachael Smith is one of the rapidly rising stars of the British comics scene. Her self-published comic I Am Fire gained critical acclaim last year, including here at Broken Frontier in our 'Small Pressganged' column. I described it then as "a witty little sitcom of a comic combining disaffected, angsty teenagers, health and safety politics, and bitter rivalries in that ever cut-throat and competitive world of professional fire prevention."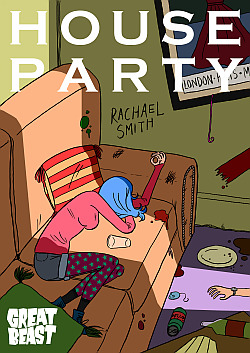 Smith's cartooning is energetic and expressive. Her comic timing is always spot on. And her characterisation has a darkly comedic side to it. There's no doubt in my mind (nor that of Richard Bruton over at the FPI Blog) that Rachael is one of the most exciting up and coming creative voices in the small press. Brit outfit Great Beast obviously agree because the publishers behind Blood Blokes, Hitsville UK and Show Me the Map to Your Heart will be publishing her new graphic novel House Party; a tale of three twentysomething housemates attempting to recapture their pasts with one big blow-out party.
The press release for the book is published below and it's available to pre-order now via its Kickstarter campaign here. Plenty of cool rewards for backers there including sketched-in copies and original art. If you're looking for lively, witty, character-led storytelling you can't go wrong with a Rachael Smith book. Crowdfunders take note – this one's well worth a punt!
HOUSE PARTY
A graphic novel written and illustrated by Rachael Smith and published by Great Beast Comics
Released 13 June 2014
Pre-orders open on March 21 2014
"Bloody brilliant storytelling, bloody brilliant comics…
I honestly dare you not to be impressed."
Forbidden Planet International
"With a balance of clean line, sharp wit and expressive cartooning 
Rachael Smith is shaping up to be a major talent in British comics."
GOSH! Comics

House Party marks the graphic novel debut by award-winning illustrator, Rachael Smith. The story follows three 20-somethings Michelle, Siobhan, and Neil, who are having trouble adapting to life in the real world since feeling like superstars at university. In an attempt to get their carefree composure and happiness back they throw a massive house party, just like they used to. Instead of reconnecting them with their younger selves, however, things go a little differently. In a story that will resonate with the 'lost' generation, we watch them try to move forward in lives that none of them really asked for.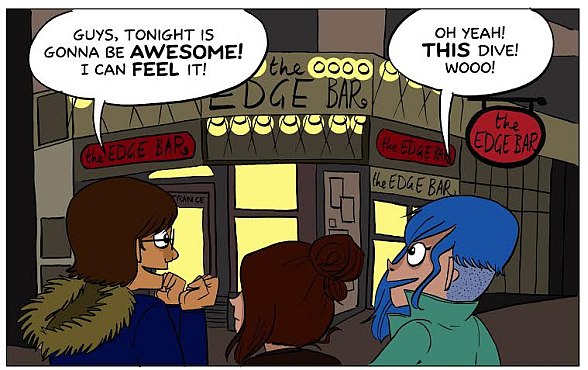 Rachael Smith is still relatively new to the world of comics, yet her output has been prolific to say the least. In 2013 Smith released The Way We Write and I Am Fire and has been published through David (V For Vendetta) Lloyd's digital publishing company Aces Weekly. I Am Fire was even selected as one of Forbidden Planet's best comics of 2013, so future critical acclaim surely awaits. If you like the comics of John Allison, Chynna Clugston Flores and Marc Ellerby then you'll find a lot to love from Smith's smart cartooning.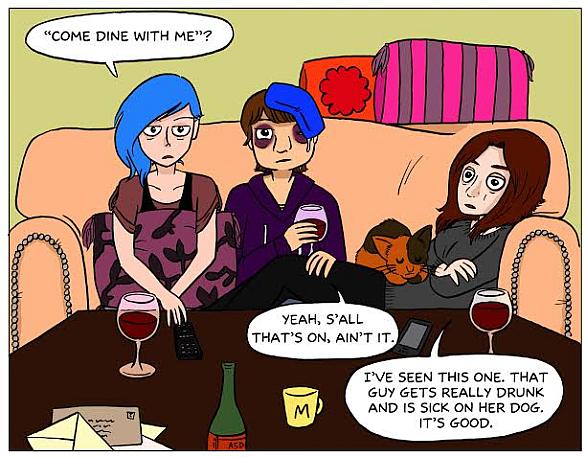 Great Beast Comics was founded in April 2012 by Adam Cadwell and Marc Ellerby, and aims to provide the most fun and creative stories to as wide an audience as possible. They are extremely excited to be able to release House Party and support this rising star.
Preorders for House Party are open on the project's kickstarter page here