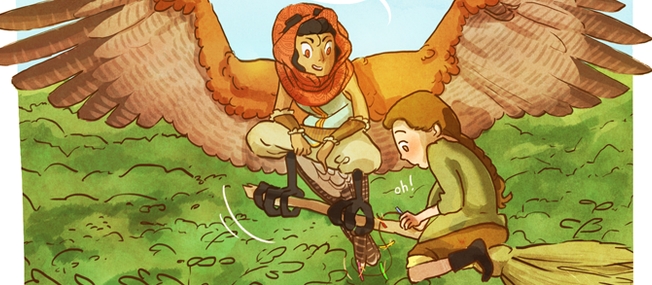 I first came across Kat Leyh's vibrant cartooning style when I reviewed her minicomic Pancakes here at Broken Frontier in 2013. Like that short story her graphic novel Bird Witch also comes to us via Chicago micropublisher Yeti Press (interviewed here at Broken Frontier last year), and collects six issues of the comic of the same name, along with a number of bonus extras.
Bird Witch is an all-ages fantasy that follows the adventures of two young chums – 10-year-old witch-in-training Nina Alexander and 11-year-old Tali Av' Hoon, a Tengu from Japanese folk tales. These adventurous girls live with their families in an ancient magical forest. Nina is under the guardianship of her two uncles Ollie and Isaac, and is part of a lineage of forest wardens protecting the woodland from the darker forces that reside there. The birdlike Tali and her kin have just moved to the Giant's Backbone mountain range in the area and the newcomer is just beginning to explore her new home.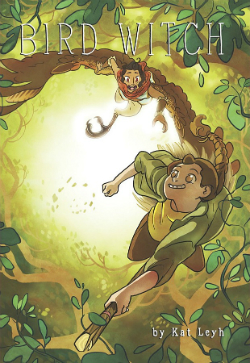 The main feature in this 153-page compilation details the first meeting of the girls, their burgeoning friendship and how Tali becomes a prisoner of the titular Bird Witch; a malevolent old crone who is sustained by draining the magical life forces of the land's avian inhabitants. In a number of back-ups we observe the blossoming relationship between the two leads as Nina gains a familiar, they visit a fairy ring at night (with almost disastrous consequences), and encounter a powerful eel dragon whose plight is not all it seems.
The first thing that stands out about Leyh's writing here is that Bird Witch is perfectly pitched at its target younger audience. The stories featured are, perhaps, slight in plot but that's somewhat deceptive as regards the bigger picture. The charm of Bird Witch is in its characterisation; in two main characters who, despite the fantastic world they live in, are wholly recognisable as authentic  pre-teens in personality, behaviour and their reactions to events.
Bird Witch isn't concerned with complex, twisting storylines. It's far more subtle work than that. What Leyh gives us in these pages is a celebration of friendship, an evocation of those heady days of childhood when there was always another adventure awaiting us just around the corner, and where the world was always full of exciting new  things to discover. That's not to say there aren't ongoing plotlines – the mystery of Nina's missing parents and the role of the forest rangers will hopefully be picked up on in future instalments – but primarily, just like the outlook of the engagingly mischievous  girls at the heart of its narrative, Bird Witch is about living in the moment. Because as kids that's all we care about – and Leyh's great triumph here is in recreating that familiar period in our lives. Albeit with a whole host of extraordinary mystical creatures thrown in for good measure…
There's a fluidity to the artwork that will most certainly grab the attention of a younger readership. Leyh has a keen eye for visual characterisation with a quizzical look, a startled expression or a beaming smile speaking volumes about her protagonists' state of mind. It's her panel-to-panel storytelling that most impresses, though, with an animated sense of motion and adept use of perspective that is quite exquisite in places. And let's not forget the use of colour in Bird Witch – those beautiful green and brown hues – to so effectively emphasise the verdant forest world the cast resides in.
Like all true fairy tales there's more than a hint of lurking horror in the pages of Bird Witch and it's that contrasting mix of the charming and the disturbing that plays such a large part of this book's appeal. A captivating world populated by characters the reader feels instantly invested in, Bird Witch is an all-ages gem and an ideal entry point into the medium for the youthful would-be comics fan in the family.
Bird Witch is published by Yeti Press and available from their online store here priced $20.00.
For regular updates on all things small press follow Andy Oliver on Twitter here.