Predating the trend towards comic-book genre mash-ups by a good thirty years, this creator-owned Victorian saga by David Michelinie (Iron Man, Spider-Man) and Bret Blevins (New Mutants, Inhumans), about a suicidal alien detective and his cohorts, still resonates decades later with fans and critics alike.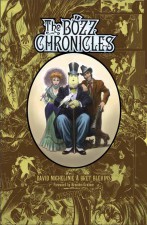 I read the first issue of The Bozz Chronicles when it first came out under the aegis of Marvel's ground-breaking creator-owned imprint Epic Comics. However, at the tender age of twelve years old, I lacked the critical tools necessary to truly appreciate its impact on the comics landscape.
The brainchild of stalwart Marvel scribe David Michelinie, the man responsible for putting an alcoholic Tony Stark through his paces in a classic run with the legendary Bob Layton, The Bozz Chronicles was quite unlike anything else on the shelves. Combining elements of sci-fi and classic Holmesian detective fiction, the proposed ongoing series followed a truly motley crew of Victorian private detectives specializing in bizarre cases that fell far outside the normal mandate of Scotland Yard.
Wi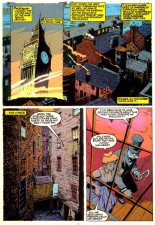 th art provided by a young Bret Blevins, before his acclaimed work on New Mutants and the Inhumans graphic novel, The Bozz Chronicles was – and continues to be – a deliciously atmospheric romp through Victorian London that ended far too soon for many fans.
The six-issue run continues to be one of the high-water marks of the Epic line, putting it in good company with properties like Tom Vietch and Cam Kennedy's The Light and Darkness War, J.M. DeMatteis' Moonshadow, and Starstruck by Elaine Lee and Mike Kaluta.
It's taken me thirty years to finally catch up with the Boswell & Flynn Consulting Detective agency, yet I was struck by how well the material holds up against modern comics sensibilities. The premise of the series pits a suicidal, egg-shaped yellow alien, desperately homesick for his own planet, against mad scientists, demonic incursions, and diabolical explorers.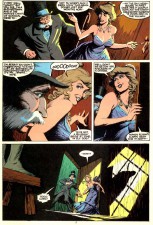 Along with Mandy Flynn, a tough-as-nails streetwalker with a heart of gold, and Salem Hawkshaw, a bombastic American outlaw and bare-knuckles champ, Bozz solves crimes in an effort to distract himself from his perpetual yearning for his own much more sophisticated civilisation. Using a combination of enhanced alien senses, levitation, and good old fashioned deduction – not to mention a healthy dose of moxie – the fledgling agency gains a reputation for solving cases beyond the norm.
While many readers might find Michelinie's narrative a trifle dated, I would suggest the adherence to traditional visual storytelling conventions one of the series' strengths. There's a sense of timeless wonder created by the dense narration, granite-like establishing shots, and heavily accented dialogue. This is simple, straightforward storytelling at its finest, and making it look easy is far more difficult than it appears.
My favorite character by far is Mandy Flynn. While Bozz's origins and personality provide no little fascination for the reader, he is in some ways a cipher or blank slate, responding to events as they occur, always striving to alleviate the incessant melancholic boredom he feels while stranded on this backwater planet of ours.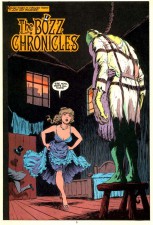 On one level, his actions are determined by self-interest (and self-preservation), yet he is infused with an overriding desire to do right. Mandy acts out of a sense of self-preservation as well, trying to avoid returning to the violent, destitute alleys of Victorian London, but she also dedicates herself to Bozz's continued well-being, even in the face of potentially losing him forever. She's a strong-willed female protagonist with surprising depths, who often drives the plot through sheer determination and street smarts.
I've long been a big Bret Blevins fan thanks to the artist's work on this series. Blevins considers himself a cartoonist, and the care and thought invested in each panel and character design lends credence to this view. His rendering is lively and expressive, his understanding of how to use exaggeration to infuse people and places with emotion and atmosphere highly developed, especially considering he was only in his mid-twenties at the time.
Although it came to a somewhat abrupt end, when Michelinie decided not to renew his contract with Epic, The Bozz Chronicles remains a wonderful reminder of the imprint's golden days of unbridled creativity. I can't help but hope this beautifully produced reprint edition from Dover Publications generates enough interest in this cult classic series to bring us more twisted tales of the Boswell & Flynn Consulting Detective agency.
David Michelinie (W), Bret Blevins & John Ridgeway (A) • Dover Publications, $24.99. Due for publication on September 16.