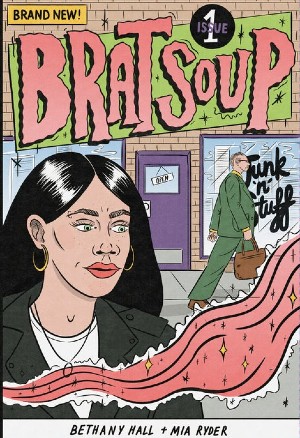 A few years back I took a look at Bethany Hall's allegorical comic Cosmo Hotel at Broken Frontier, a confidently presented piece of extended visual metaphor that I described as a comic the reader "experienced rather than read." Hall's latest self-published offering is the first issue in a new serialised series. Brat Soup #1 is co-written with Mia Ryder with Clowes-ian style visuals from Hall.
Annie Campbell is desperate to see the sold-out gig that her punk band heroes Atomic Peach are playing in town. But tickets are impossible to get hold of leaving Annie with the prospect of being "the least cool Queer on the planet" on the night. Trying to take her mind off her disappointment Annie browses the interior of 'Junk n' Stuff', a mysterious shop on the high street she had never noticed previously. Amongst its bizarre contents and treasure trove of weird curios Annie discovers a strangely decorated bottle. Its inadvertent destruction will bring a  demonic supernatural presence into her life as an unlikely quest to make the Atomic Peach show begins…
In terms of narrative Brat Soup #1 is largely a scene-setting affair and like many debut issues of serialised comics, of course, it remains to be seen where writers Hall and Ryder take the story before it can be fully appraised. This opener, though, provides a neat contemporary twist on the genie motif, translating the premise to an urban landscape of twentysomething angst and pop cultural cynicism. Dialogue and Annie's own internal narration are both notable in giving a disaffected and often sardonic air to the proceedings.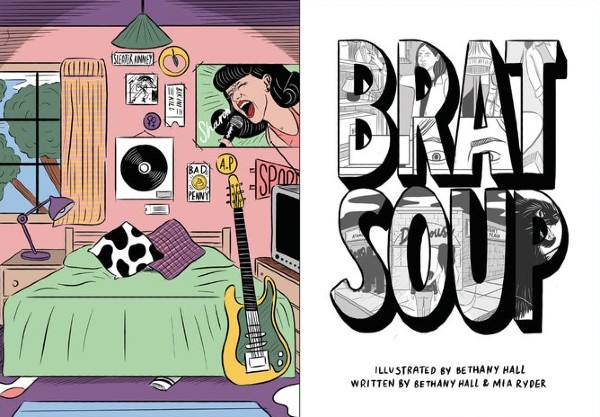 It's the pure visual storytelling that shines here though. Panels existing within sequential thought bubbles, distorted shifts in perspective to emphasise moments of acute drama, and one extreme close-up providing a portent of foreboding in a key scene in the 'Junk n' Stuff' store. One memorable quartered page plays with that sense of time unique to the form by presenting one static shot of Annie from four different chronological timeframes. Hall's use of lettering to create mood or tension is also particularly strong. Sound effects snake through panels or cross over from one to another, interlinking scenes with an effectively intrusive presence. It shows an intuitive understanding of the tools that comics and comics only can provide and Brat Soup is replete with such usage.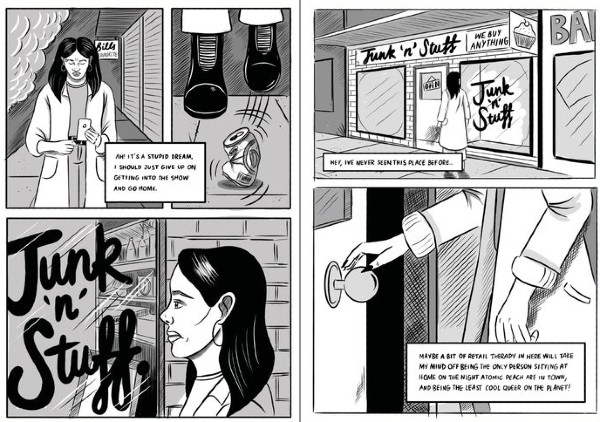 This first issue ends on a cliffhanger that will hook readers for what is to come. Brat Soup's distinctly urban fantasy vibe and its crisp black and white visuals should ensure it finds the indie-centric audience it deserves. Longer-term readers of Hall's work may also enjoy one hidden Easter Egg reference…
For more on the work of Bethany Hall visit her website here and follow her on Twitter here and Instagram here. You can buy Brat Soup from her online store here. 
Review by Andy Oliver