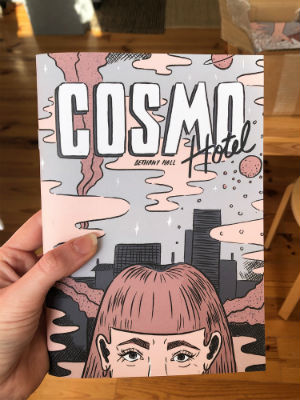 In terms of self-expression, comics is such a powerful form that narrative styles veering towards the oblique and/or the representational are not necessarily a barrier to the reader in connecting with work that can still resonate with them on a fundamentally empathetic level.
Bethany Hall's Cosmo Hotel follows the journey – both literal and allegorical – of a woman whose quest to find the titular locale will take her to an altogether different plane of perception. What she experiences within the walls of the Cosmo Hotel will lead her to a revelatory destination and a moment of epiphany, as ostensible reality melts away and a different state of being coalesces.
Hall's story is silent and delicately paced with visuals that, oddly enough, feel as dreamlike in the earlier sequences rooted in a more recognisable world as they do in the surreal otherworldliness the comics slowly transforms itself into.
Hall peppers her panels with visual metaphor and symbolism, with constant changes in perspective subtly manipulating the reader's interactions with the page, asking them to dwell and linger on each individual image and further building up the sense of mystery that permeates events.
Ultimately the reader will take their own meaning from what I suspect is a very personal piece of abstract storytelling but there is much here that could be interpreted thematically in terms of identity, awakening, self-expression, acceptance and fulfilment. The measured use of colour and nuanced visual characterisation add to that enigmatic tone and the sense of discovery that ensues; palpable darkness slowly giving way to something altogether more joyous.
There's a confidence to the storytelling here that impresses throughout. Hall is unafraid to allow her audience to look for their own meaning in events; to eschew exposition and instead ask the reader to experience the story rather than read it. Strong work from an artist new to us at BF but one we'll be keeping a close eye on in the coming months.
For more on the work of Bethany Hall visit her website here and follow her on Twitter here. You can buy Cosmo Hotel from her online store here. Bethany will also be a guest at this week's Gosh! Comics and Broken Frontier Drink and Draw.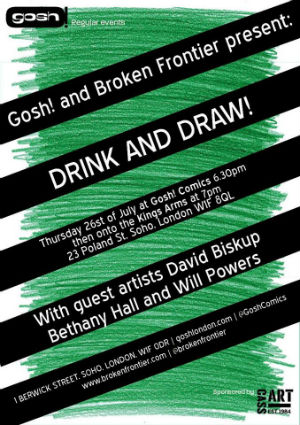 For regular updates on all things small press follow Andy Oliver on Twitter here.