We do like to remind you every so often that we have a rather impressive record here at Broken Frontier of predicting future stars of the comics world through our annual 'Six to Watch' programme. Catching up from our summer break today we have more news on that front, with announcements that both Alxndra Cook (BF Six to Watch, 2021) and Shanti Rai (BF Six to Watch, 2018) have had major awards recognition recently for their practice.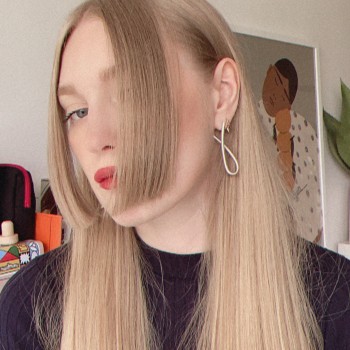 Alxndra (above) has been shortlisted for the World Illustration Awards for her illustration 'Overwhelmed' (below) of which she says on the WIA site: "Every now and then I feel the need to create work like this. Something that is so honest and vulnerable that it's almost scary to post it anywhere. It's a weird kind of release. If I can't put this kind of work out there for people to see how can I ever deal with these kinds of emotions internally too?"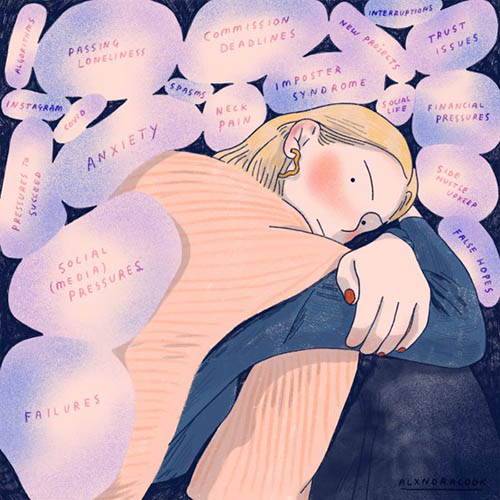 After self-publishing a number of short comics, Alxndra's first long-form book Momotekku was published by Koguchi Press in 2022. I said of Momotekku earlier this year: "Cook's use of colour has always been an integral part of her storytelling and here the peach-like hues that are infused into every page are employed to spectacular effect in maintaining mood and creating rich atmosphere. Every new comic offering from Cook shows a marked increase in confidence and Momotekku is no different." You can also read a full-length interview with Alxndra here at BF.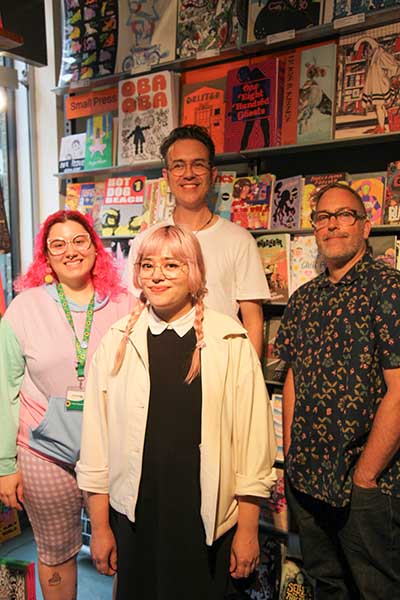 Meanwhile Shanti Rai (above far left at Small Press Day at Gosh! Comics on August 5th, photo by Mauricio Molizane) has been nominated for an Ignatz Award in the Promising New Talent category for her debut graphic novel Sennen, from Avery Hill Publishing. The second time a 'Six to Watch' artist has got an Ignatz nod after Dominque Duong's nomination for The Dog and the Cat a couple of years back.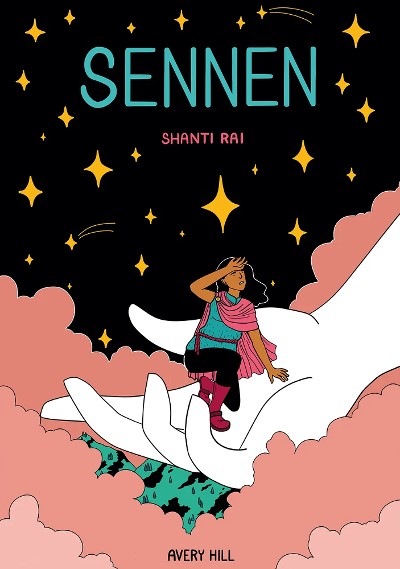 I said of Sennen in 2022 here at Broken Frontier: "Thematically Rai presents a story that works on multiple layers. It's a coming-of-age tale at its most obvious but it's also a testament to the importance of family, and an indictment on society's hierarchical divisions and the exploitation that ensues from that. Its finale is both open-ended and a fitting coda in itself meaning that Sennen feels like a complete, discrete work but at the same time replete with possibilities for future visitations to this world and its mysteries.." You can also read an interview with Shanti here at BF.
Congratulations to both artists (each one a graduate of the University of the Arts London) on these much deserved accolades!