HCZF MONTH! Irish artist Stephen Morton's Conniptions takes a distinctively dark approach to (assumed) autobio comics. If creators like Joe Decie and Matthew Dooley can be said to be combining autobiographical work with surreal flights of fancy then Morton is perhaps doing something similar but with soberingly strange dives of despondency instead. Conniptions is a 40-ish page collection of short strips that provide brief meditations of a bleak, sometimes nihilistic nature. If you're looking for a diverting comfort reading then this isn't the comic for you. But if you're more into densely packed monologues that touch on themes of futility, death and disappointment this may well be more your thing.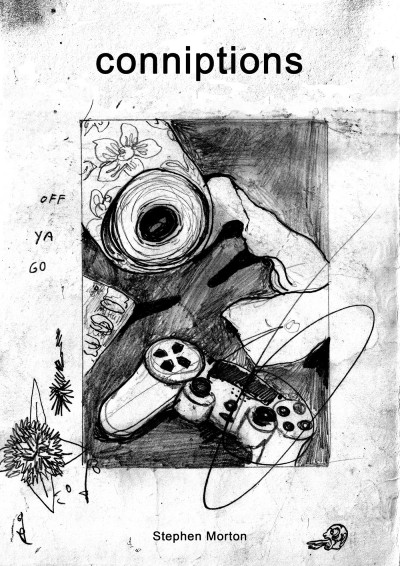 Compilations like this are, of course, an excellent entry point into the practice of artists who may be unfamiliar to us and Conniptions was put together by Morton specifically for the Hackney Comic + Zine Fair as one of the event's debut books. A preoccupation with mortality is a recurring motif in these pages, particularly in the strip 'Ritual of Life' which contrasts immediate bereavement with the death of a stranger, looking at the fleeting and ephemeral nature of life by way of a sidestep to a visit to Bucharest and magic mushroom-induced hallucinatory digressions.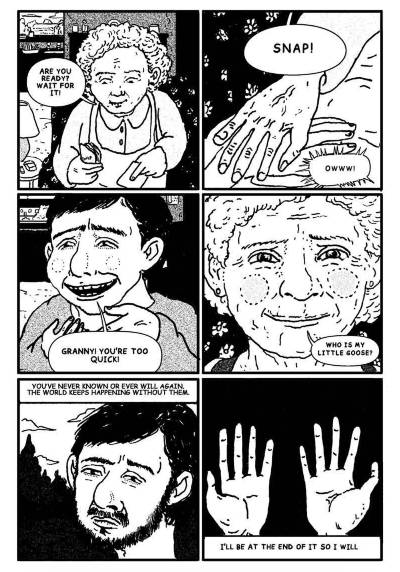 Extracts from a longer narrative 'This Is The Place I Happen To Be Now', which Morton produced while employed as a care worker during the winter of 2020-21, may need a wider context to be fully appreciated but as a taster for that larger work are certainly intriguing in isolation. It's a philosophical, almost anti-existentialist dialogue between Morton and an oddly formed mentor figure where the walls between mundanity and nightmare have broken down. The final line of "Maybe the inequality, the wars and pandemic coupled with rampant capitalism has finally killed our souls" seems particularly relevant right now.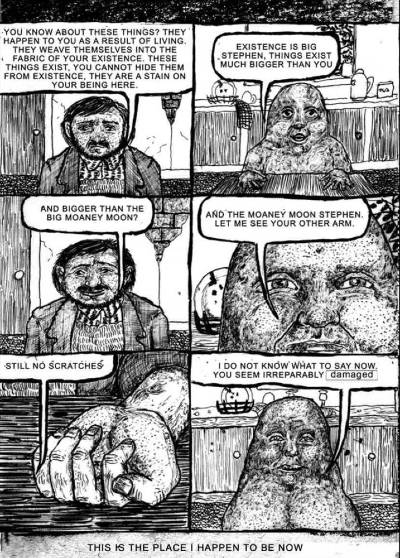 Shorter one to four page comics are interspersed around the longer strips including the visual metaphor of 'If I Get Any Sadder I Will Die' and 'Waiting Room' which casts existence as merely a prologue to oblivion. 'Soulmuncher' is another one-pager reflecting on the grim reaper's voracious appetite – "You look into the eyes of a newborn child on the escalators in Tesco's and you see Death". Morton's visuals perfectly complement the subject matter with their dark, desolate, often cramped, and raw feel. Conniptions isn't always the easiest of reads given its implacably stark voice but it does have a strangely morbid appeal. Catch Stephen Morton in Hall Two before Hackney Comic + Zine Fair comes to a close.
Stephen Morton (W/A) • Self-published, €11.63
Follow HCZF on Instagram (@hackneycomicfair) and Twitter (@hackneycomics) for updates, and head over to www.hackneycomicfair.com for more information about the event.
You can also find Stephen Morton's online store here.
Review by Andy Oliver