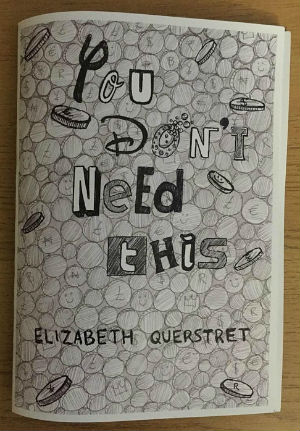 A collection of personal reflections on consumerism and identity may not sound like subject matter that one would naturally associate with feelgood DIY culture, or that most readers would think could be a diverting, escapist read for that matter. But when I say that You Don't Need This is the newest zine by Elizabeth Querstret, that truly unique yet familiar face on the UK small press circuit, then those familiar with the artist's work will no doubt instantly dismiss the apparent incongruity of those adjectives.
Querstret is, of course, the voice behind everything from the slapstick employment antics of Enter My Working World to Avery Hill's meditative ruminations on canine friendship in Walks with LuLu; not to mention a whole host of anthology contributions over the years. In You Don't Need This she asks us to question our materialism and the importance we ascribe to our material possessions in a visual stream-of-consciousness that is part comics and part graphic essay.
The inherent contradiction of a typical Querstret offering, of course, is that there is no typical Querstret offering. That's probably a large part of why she is such an endearing and enduring fixture of UK indie comics. She creates the zines she wants to create, never compromising that conversational, accessible approach that epitomises what she does. The appeal of work like this isn't in its narrative sophistication – Querstret makes few concessions to that – but in its heart and its honesty; material that seizes the democracy and the freedom of self-publishing to get its message across.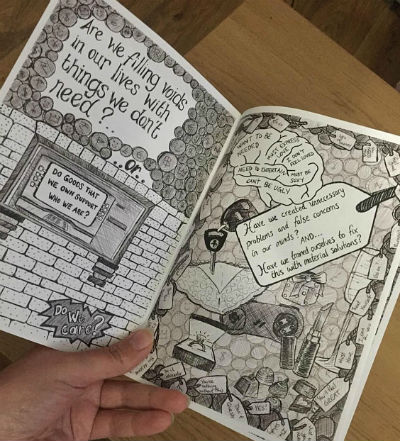 Through a series of visual metaphors and playful comparisons Querstret explores our relationship with the things we own, the advertising world that tells us we need them, and invites us to think about whether they truly enhance our existences or help us define ourselves. Ultimately her goal here is to underline that our yearning for human interaction trumps the lure of consumerism and that we are far more than our need to accumulate. This she seeks to display in a social experiment where she connects to random strangers by asking them to pose for a photograph with her and a banana.
Whether you feel the premises of her line of reasoning lead seamlessly to her conclusions is largely irrelevant. This very human, very likeable publication is about making you quietly think about the points raised, not about constructing a rigid and unshakeable argument. Only Elizabeth Querstret can ask the big questions with such whimsical eccentricity. In You Don't Need This the quirky and the profound converge in a zine that provokes thought and smiles in equal measure.
For more on the work of Elizabeth Querstret visit her site here. You can buy her print comics from her store here including You Don't Need This priced just £2.00. You can also follow Elizabeth on Twitter here.