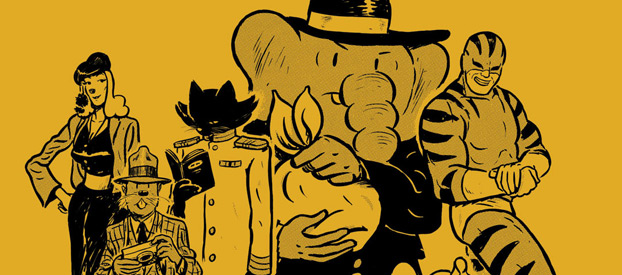 Mixing anthropomorphism with crime, classic newspaper comics and superheroes; Pierre Gabus and Romuald Reutimann have created a unique series in District 14 full of intrigue that oozes atmosphere by the bundles.
Animals, humans, aliens and superheroes all live next to each other in District 14, a retro-futuristic city district in an undisclosed time frame. It is a district bursting to the seams with corruption and shady rackets where even the city elevators and taxi blimps are operated by gangsters. It is also a haven for alien and political refugees and the perfect place to disappear if you have a shady past. It is here that the elephant Michael Elizondo chooses to emigrate to. He finds himself embroiled with beaver star reporter Hector McKeagh and finds himself stumbling upon protection rackets, alien castaways, sex-crazed poodles, corrupt superheroes, felines with fantastic powers and more and that's not even taking into account his own mysterious past.
Writer Pierre Gabus and artist Romuald Reutimann have created a unique feel mixing Walt Kelly's Pogo and Jean Pierre Melville's Le Samuraï and forties gangster movies like Little Caesar  into a cohesive anthing-goes universe. The tight multiple plot lines converge and go their separate ways in an organic way and are mixed in with small mysteries. The dialogue is exciting and snappy with some great banter between the overly excited McKeagh whose enthusiastic approach to his job never fails to get him into trouble and the more stoic elephant Michael who is adjusting to the fast pace of living in District 14, agonizing over his own past.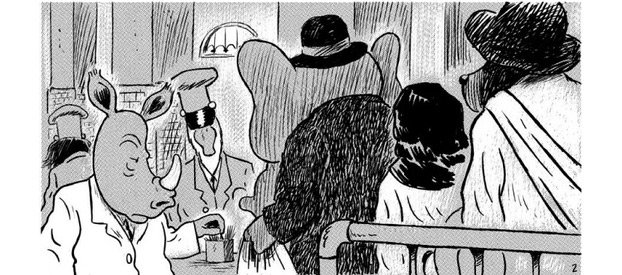 The visuals by Reutimann complement the story in such a way that the combination creates magic. The airy panels are filled with cartoony line work and the detailed backgrounds recall contemporary children's comics like Babar The Elephant and classic newspaper strips with Walt Kelly seeming a major source of inspiration. It provides solid ground work for Gabus' adult stories and makes sure the reader can follow the story and characters at all times. Reutimann is at ease with both solid black, cross hatching while still retaining a smooth brush sporting cartoon elements. His superb use of gray scale only further adds to the visual pleasures this series offers.

Receiver of the Best Series Award of Angoulême 2012, this Humanoids edition of District 14: Season 1 clocks in at 304 pages but is a fairly breezy read despite the multiple plot lines and abundance of characters being introduced. Gabus and Reutimann keep it all clear and turn District 14 into a roller coaster of an anthropomorphic Noir ride! Highly recommended for all lovers of good comics.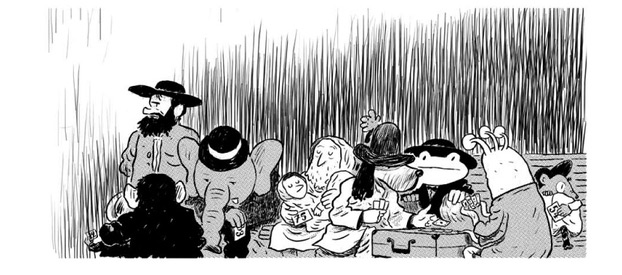 District 14: Season 1 by Pierre Gabus & Romuald Reutimann is published by Humanoids. It is a black and white hardcover counting 304 pages and retails for $39.95.