The Crouch End Cartoon Art Festival (CECAF) – one of the friendliest, most accessible and endearingly laidback fairs on the UK comics show circuit – returns to the Earl Haig Hall this Saturday June 18th as part of the larger Crouch End Festival. CECAF has always been an event that takes comics to the local community and the line-up this year is once again an eclectic mix of established industry names, micropublishers and acclaimed small pressers ready to be discovered by an uninitiated audience.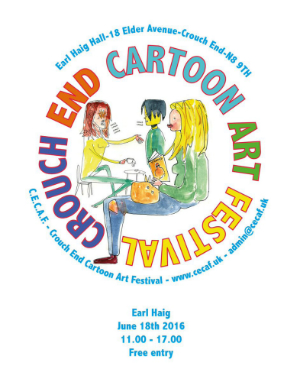 With Broken Frontier's recently published Small Press Yearbook gaining rave reviews online our presence at CECAF will be, as it was in 2015, a more active one. For a second year the BF table will be championing the work of (both generations of) my 'Six Small Press Creators to Watch'. Attendees will have the opportunity to pick up the Broken Frontier Small Press Yearbook and get it signed by contributors like Emma Raby and Danny Noble.
I've described CECAF in the past as "a festival that seeks to take indie comics out of their usual confines, and to promote the form to an audience beyond the regular devotees." Take a look below as I guide you through some of the highlights of this year's event and the projects you should be keeping an eye out for whether you're completely new to the form or a committed enthusiast!
Full details can be found on the CECAF site here…
Broken Frontier's 'Six Small Press Creators to Watch'
The BF table will be spotlighting the work of some of our 2015 and 2016 Six Small Press Creators to Watch including Emma Raby, Rozi Hathaway, Rebecca Bagley and Kim Clements. We will also have our Broken Frontier Small Press Yearbook on sale featuring 100 pages of top new small press talent for the near giveaway price of £6.00. Come find out why the Forbidden Planet International Blog's Richmond Clements said of the Yearbook "I really can't recommend this book enough. This is what comics is."
Danny Noble
It's been quite a year for Danny Noble since the last CECAF. Another of our inaugural 'Six to Watch' artists she's been featured in a number of small press anthologies, was a contributor and the cover artist for the Broken Frontier Small Press Yearbook, and was also nominated in the Breakout Talent section in last year's Broken Frontier Awards. The drunken misadventures of her alternate universe incarnations of Oliver Reed and Alan Bates in her Was it… Too Much for You? strips also proved to be hugely popular in 2015.
I said of her Ollie & Alan's Big Move last year here at BF that "Danny Noble's comic genius is surpassed only by her comics genius. In a decade of Broken Frontier reviewing I have never encountered an artist with a more naturally instinctive command of the unique storytelling possibilities of the comic page." Find out just why her work is deserving of such fulsome praise on Saturday…
Avery Hill Publishing
The acclaimed micropublisher have gone from strength to strength since the last CECAF. A British Comic Awards-win for Tim Bird's third Grey Area and nominations for EdieOP's Maleficium and Rachael Smith's The Rabbit. Not to forget that Eisner Award nomination for the phenomenon that is Tillie Walden, plus a Broken Frontier Breakout Talent Award for Walden and nomination for AHP.
Avery Hill will have their new books Artificial Flowers by Rachael Smith, A City Inside by Tillie Walden, Parsley Girl: Carrots by Matthew Swan, Internal Wilderness by Claire Scully, Metroland #3 by Ricky Miller and Julia Scheele, and anthology Reads #4 to look out for.
Backwards Burd
This small press collective have become well known on the London comics scene for their irreverent material. I've reviewed both their multi-creator anthology F*ck You! Kitty Jenkins here and Sajan Rai's Petty Beach here in 'Small Pressganged' but other work includes Shane Melisse's Pickles and Chips and the Kitty Jenkins follow-up Purrvana.
Breakdown Press
Breakdown Press describe themselves as being "dedicated to publishing the very best in comics art, whether the cutting edge work of new cartoonists or undiscovered classics of the past." Recent releases include Hayashi Seiichi's Red, Red Rock, Alexander Tucker's World in the Force Field and Richard Short's Klaus Magazine. You can check out past reviews of some of their books at BF including Antoine Cosse's Mutiny Bay, Lando's Gardens of Glass, Lale Westvind's Hax, and Conor Stechschulte's Generous Bosom.
Craig Conlan
Craig Conlan's comics were covered last year here at BF when I said of them, "The Ghost Cat comics are a genuinely all-ages read. Kids will love the grotesque naughtiness inherent in the strips – it's cutesy but rather unsettling at the same time – while for adults the sinister but clever jesting will be a source of great appeal." They were nominated for a British Comic Award last year in the Young People's Comic category.
Douglas Noble
The often boundary-pushing work of Douglas Noble runs the gamut from the measured comedy of Robotnik to the more oblique narrative of Youthful Attack. You can read a full interview with Douglas here at Broken Frontier. His new collection is What We Know About Falling Apart.
Francesca Cassavetti
One of the true mainstays of the UK self-publishing scene Francesca was also one of the six finalists in the Myriad First Graphic Novel Competition in 2014. You can find out more about her autobiographical comics work here.
Limehouse Comics
Publishers of the alternative World War I anthology To Arms! that developed from Gosh! Comics's Process Group and included work from the likes of Jess Milton (below centre), Tim Hassan (below left), Mike Medaglia, Alex Potts, Matt Boyer (below right). Owen D. Pomery and Jessica Martin. Read my full review here.
Matt Boyce
I said of Matt Boyce's minicomic anthology Everything here in 2015 "while much of the work here may seem unassuming to the eye Boyce has a sophisticated understanding of the communicative power of the form." Deceptively modest in visual style Boyce is nevertheless an artist who can evoke the most profound of emotional connections with his readership. A definite "must-visit" table at CECAF.
Mike Medaglia
Mike Medaglia's spiritual comics work has been gaining critical acclaim for years now, with his Wu Wei anthology being a particular favourite in this column a few years back. His book One Year Wiser from SelfMadeHero provides a year's worth of meditative reflections, deftly appealing to a crossover audience outside of just the traditional comics readership.
One Beat Zines
Sarah Broadhurst and Julia Scheele's One Beat Zines collective have continued in their stated aim to distribute zines and work by women with strong feminist voices. Since last year's CECAF they have been nominated for a 2015 Broken Frontier Award for anthology Identity.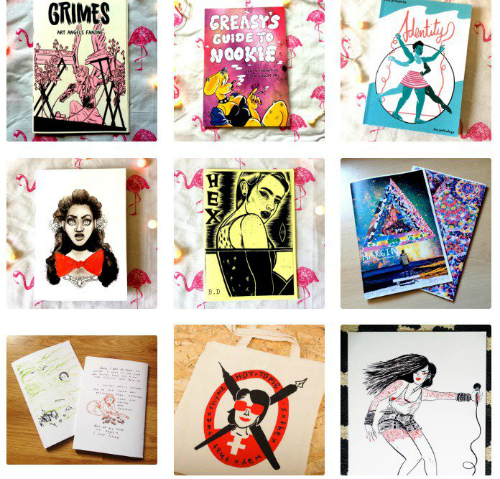 Paul B. Rainey
Another pillar of the UK small press community, Paul B. Rainey's time-travel/slice-of-life epic There's No Time Like the Present was published by Escape Books. You can read a full interview with Paul here at Broken Frontier. His most recent offering is the brilliantly witty Pope Francis Goes to the Dentist.
Rachael Ball
Rachael Ball's The Inflatable Woman from Bloomsbury was one of 2015's most anticipated graphic novels – a combination of graphic medicine and magical realism. She's also one half of London's Laydeez Do Comics team alongside fellow exhibitor Wallis Eates.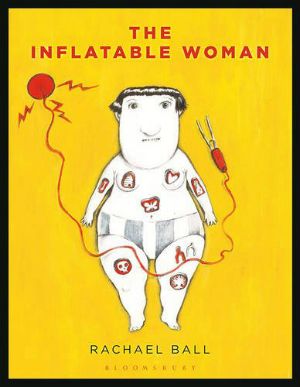 Richy K. Chandler
Richy K. Chandler's Lucy the Octopus strips may have a colourful comic strip appeal but they also have a darker edge to their brilliantly paced mini-narratives. Our Broken Frontier top tip though is his multi-creator collaborative anthology Tempo Lush Tales of the Tanoox; a powerful group effort on the power of positive transformation.
Roger Langridge
Roger Langridge's quirky and always fun comics work encompasses everything from the self-publishing arena to licensed characters like Popeye and The Muppets.
Sarah Gordon
Sarah's fertile imagination, wicked sense of humour and often animated visuals are always a joy to behold. But it's her versatility that impresses the most. Last year she was nominated for a British Comic Award for Strip, an altogether darker piece of storytelling. Her most recent comics work was the 48-hour comic Queen Rat.
Tiny Pencil/Amber Hsu
Amber Hsu's graphite-based artszine mixes pure illustration and comics and has been one of the most consistently excellent anthology titles on the small press scene over the last couple of years. You can read all of our Tiny Pencil-related coverage at Broken Frontier here.
Wallis Eates
Fresh from the debut of her acclaimed Fear of Mum-Death and the Shadow Men at DIY Cultures, this 2014 Myriad First Graphic Novel Competition finalist makes her CECAF debut with her own powerful brand of autobio comics.
Zoom Rockman
Teen Beano artist Zoom Rockman also has his own exhibition as part of this year's Crouch End Festival featuring his art, including 'Skanky Pigeon' pages. This prolific young creator has been making comics since he was 8-years-old!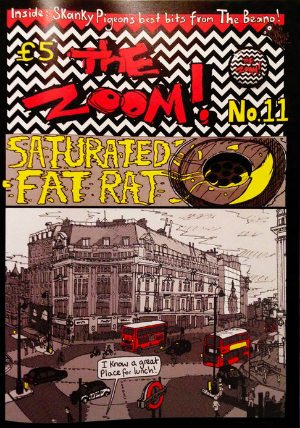 Also tabling at CECAF are…David Baillie (top left), Oliver Lambden (top centre), Karen Rubins (top right), Daniel Merlin Goodbrey (middle left). Claude TC (middle centre), Sally-Anne Hickman (middle right), Darrell Thorpe (bottom right) and Cliodhna Lyons (bottom right).
For more on CECAF 2016 check out the site here.
For regular updates on all things small press follow Andy Oliver on Twitter here.