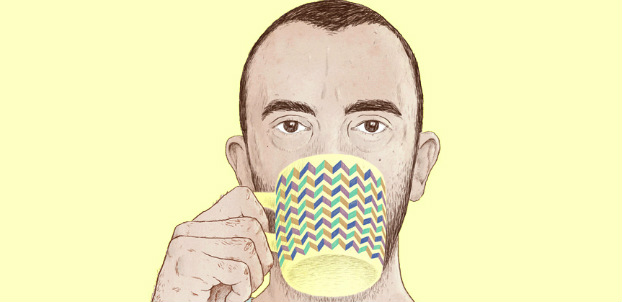 If you weren't aware of UK comics creator Andy Poyiadgi's love of the humble brew it wouldn't take too much research into his previous work for you to quickly come across plenty of references to the restorative power of a nice cup of tea.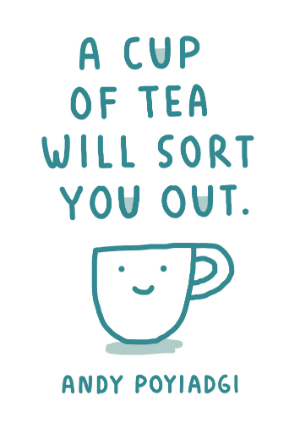 Poyiadgi first came to prominence for his Cape/Observer/Comica Short Story Prize 'Teapot Therapy' – a beautiful and poignant piece of storytelling that examined the very human connections involved in the tea-making ritual (you can read it online here). This wasn't the story's only link with the drink however – he even used tea to colour the pages! He also later produced his tactile Teabag Theories series of minicomics in a teabag format.
Which all goes to show just how much Andy Poyiadgi is a particular fan of that boiled aromatic beverage. Indeed, when I interviewed him back in 2013 he said then "I love the shared ritual of having a cuppa; it's a time for confiding and confessing and listening."
Tea japes aside, Broken Frontier readers will also know him for his  critically acclaimed Nobrow Press book Lost Property which won the 2015 Broken Frontier Award Best One-Shot Award winner or for 2016's thought-provoking Veripathy, one of my 'Ten UK Small Press Comics You Need to Own!' for that year.
But back to the tea and Poyiadgi's new zine-style minicomic that debuts this weekend at the inaugural South London Comic and Zine Fair. A Cup of Tea Will Sort You Out is, as the title would suggest, a collection of tea-related cartoons masquerading as beverage-based advice and wisdom that positively revel in the absurd.
Poyiadgi lets his imagination take him on a wild ride here in a sequence of rapid-fire gags that take in everything from punning wordplay to the most richly ludicrous visual humour. It's a far cry from the deep social commentary of Veripathy, his last festival-debuting comic and, as such, a fine example of his versatility as a creator. This is an artist as equally at home working with throwaway funnies as he is the profoundest analysis of modern living.
A Cup of Tea Will Sort You Out begins with whimsical observations on the art of enjoying a freshly brewed cup and gets distinctly dafter as its pages progress – all illustrated with an accessible cartooning clarity. From teapots as surrogate children to tea-inspired fashion, through to alternative uses for teabags, it's a mirth-filled piece of fond silliness that will appeal not just to Poyiadgi's established readership but also to the zine crowd looking for a distractingly escapist fun read.
We have a number of preview images here today at Broken Frontier but the comic in its entirety debuts at SLCZF this Saturday. You will be able to order it online after the weekend from Andy Poyiadgi's online store. As soon as you have your copy then get out the best china, remember that milk goes in last, settle down with a refreshing cup of Early Grey and some delicate biscuits, and make sure to enjoy this endearingly entertaining piece of comics ephemera.
For more on Andy Poyiadgi's work check out his site here, follow him on Twitter here and visit his online store here where you can buy A Cup of Tea Will Sort You Out for £4.00 plus postage. 
For regular updates on all things small press follow Andy Oliver on Twitter here.