SAFARI FESTIVAL FORTNIGHT!
For well over a decade Decadence Comics have been showcasing their own particular brand of socio-political sci-fi, with their eponymous anthology comic acting as the micropublisher's flagship title. Decadence showrunners Lando and Stathis Tsemberlidis debuted the book's eleventh volume this week and it will also be available at Safari Festival.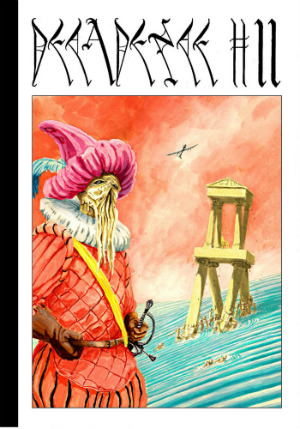 Decadence #11 features around 120 pages of futuristic fables from such distinguished small pressers across the international spectrum as Lala Albert, Dunja Jankovic, Noel Freibert, Inés Estrada, Alexis Beauclair and Emix Regulus. Dystopic and bleak in tone, it's also a compilation that positively embraces the richly diverse potential of the form in terms of approach, structure and narrative craft.
Last year at Broken Frontier I wrote more extensively about the work of Lando in his Gardens of Glass collection here and fellow Decadence editor Stathis Tsemberlidis's Picnoleptic Inertia also debuted from the same publisher Breakdown Press this week (you can see a preview at BF here). Both artists contribute shorts in Decadence #11 that highlight the meticulous and intricate linework and careful pacing that is such an integral part of their comics.
Tsemberlidis's chillingly nihilistic 'Imperium' (top banner image) combines fungal terror and arcane ritual and juxtaposes it with the banality of the recognisable to truly horrific effect. Mood and atmosphere is heightened all the more for the rhythm and beat to his precisely timed storytelling and the organic element to his visuals. Lando's 'Martian Avenue' is a largely wordless strip that further explores those themes of post-humanity that have become such a staple of his work as the artefacts of humankind are subverted when an alien landscape is reclaimed.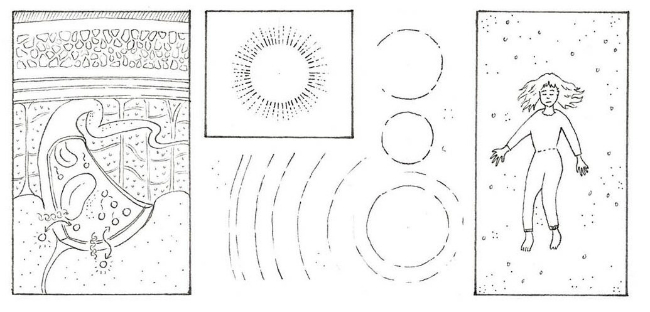 A number of creators to have been featured in 'Small Pressganged' over the years are also a part of Decadence #11. Decadence regular Emix Regulus (Hepatic Portal) inserts pop cultural references into her slightly trippy archaeological short (above); her use of the pure language of comics and its iconography is as eloquent as ever. Inés Estrada (Sindicalismo 89) extrapolates our obsession with immersive reality to a logical and sobering end in 'Eclipse 2056' (below), reminding us of the irony inherent in the benefits of all-encompassing technological accessibility making us more detached from our environment than ever.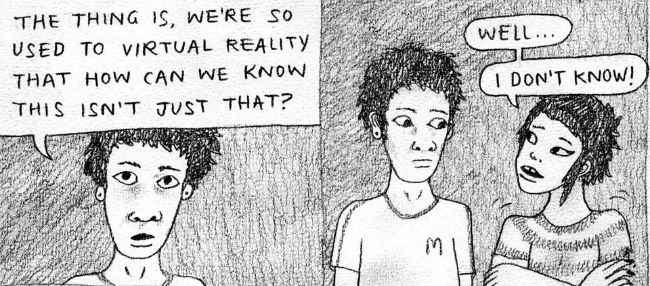 Lala Albert (mini kuš #32) brings an underlying humanity to the surface through her expressively distorted visuals in a tale of near future relationship facilitators, while Alexis Beauclair (below) provides one of the highlights of the issue with an intelligent use of the medium to bring us a sensuous, tactile yet simultaneously abstract meeting of two souls. There's an interconnectivity and intimacy to this story that is both compellingly immersive and slightly disquieting.

From the outset Decadence #11 requires a commitment from the reader to think about their relationship with the page, to be prepared to interpret, and to show a willingness to infer and decipher – whether that's in constructing a personal narrative from Dunja Jankovic's obscure abstractions or submerging yourself in Esther McManus's haunting use of line, shape and symmetry.
Challenging, provocative and experimental, if you didn't buy Decadence #11 at one of the pre-festival events then make sure you grab a copy on the day. Otherwise the social humiliation of posting a Decadence-free image of your Safari stash on Twitter on Saturday night will be just far too great to bear…
For more on Decadence Comics visit their site here where you can pre-order Decadence #11 for £10.00 plus postage. You can also follow them on Twitter here. 
Decadence Comics will be exhibiting at Safari Festival on August 27th.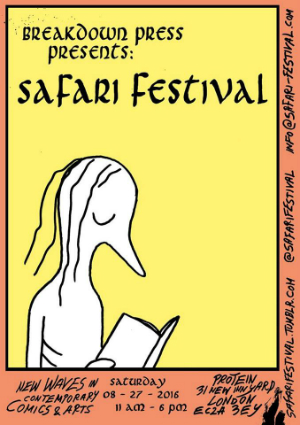 For regular updates on all things small press follow Andy Oliver on Twitter here.