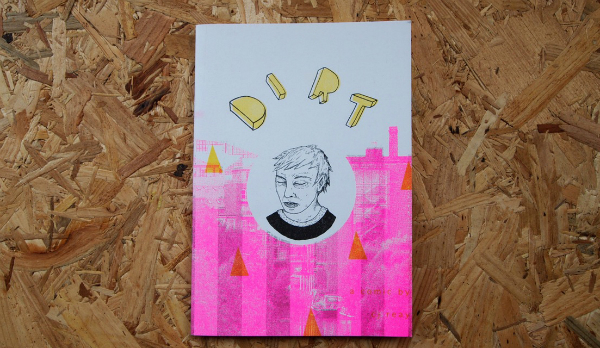 CELEBRATING BCZF!
"A story of death, grief and breaking the fucking law" is the tagline for Cj Reay's Dirt which comes to us via Reay's micropublishing imprint Black Lodge Press. If you are an attentive 'Small Pressganged' reader you may remember BLP as the same outfit responsible for Andrew Lips's Transgender Step Parent, a minicomic I reviewed very positively here at Broken Frontier a few weeks back.
Dirt tells the story of Josie, described as "a feminist, anti-fascist punk" in the comic's promotional material. Having recently lost her brother she has withdrawn from her social group, immersed herself in her anguish, and is struggling to deal with the constant reminders of the past. But one chance decision in her local Poundland leads to Josie finding a surprising outlet for expressing her pain. Armed with a can of spray paint she begins a campaign of vandalism that will be destructive in both physical and personal terms…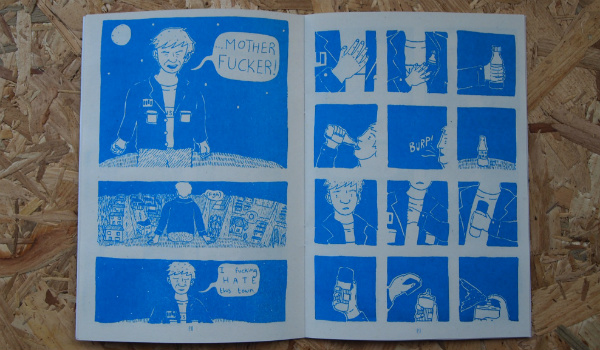 Cj Reay explains in Dirt's afterword that much of Josie's story is autobiographical in nature. That will come as no shock to most readers because this an affectingly observed character study of our impotence in the face of tragedy. What's captured so acutely here is not just the grief we feel at someone's passing but also that sense of anger; that need to lash out at the world for the unfairness and the perceived injustice of our loss. Josie's spiralling behaviour is at the same time both reckless and yet strangely liberating; internal torment given a kind of spiritual emancipation through acts of random damage.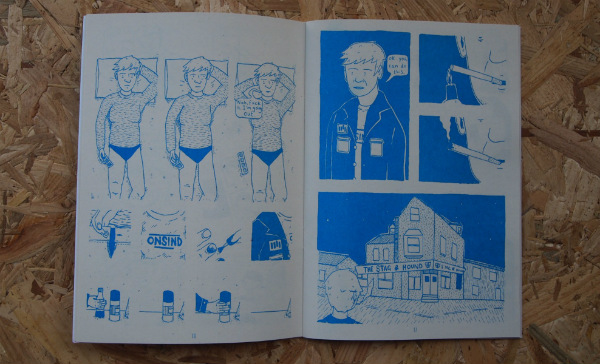 While Reay's art is, perhaps, unsophisticated in presentation it is highly expressive in terms of visual characterisation – Josie's pain and exasperation with her situation and the reactions to it of those around her being particularly well depicted. His panel-to-panel storytelling is also generally very strong with an assured playfulness with the passage of time and an ability to break sequences of everyday life down into a kind of prosaic minutiae that serves to emphasise the ennui of Josie's subsistence to poignant effect.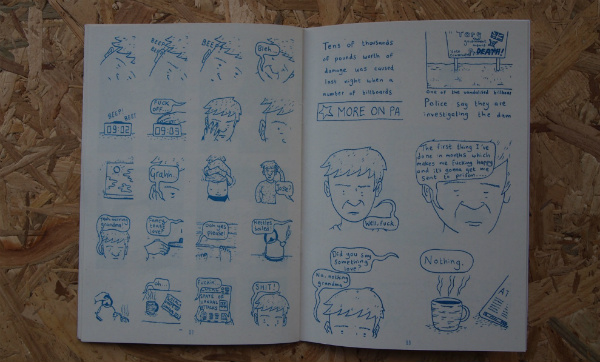 Dirt's main drawback, though, is that it feels like there's so much more to Josie's story and to the subject matter that could be explored. I would be interested to see an expanded take on this because there's the seeds of an intriguing full-form graphic novel here. As a short study of dealing with bereavement (or not dealing with it depending on your viewpoint), though, it's an emotional kick of a minicomic that underscores Black Lodge Press's intriguingly alt line-up of material.
You can purchase Dirt here from the Black Lodge Press site priced £4.00. You can also buy it today, October 3rd, at the Bristol Comic and Zine Fair.
For regular updates on all things small press follow Andy Oliver on Twitter here.