Wedged as it is this year between Thought Bubble and the Lakes we probably haven't given the Bristol Comic and Zine Fair anything like the attention it deserves here at Broken Frontier. BCZF is traditionally the welcome (and welcoming) precursor to the UK's festival season. But with Thought Bubble relocating from its traditional November slot in 2017 it finds itself slightly overshadowed by those two much bigger shows this year.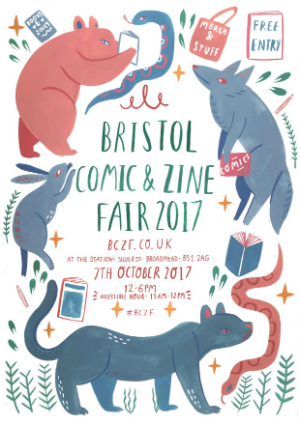 And that's a shame because BCZF is one of the friendliest and most enjoyable events I attend on the UK circuit – an engaging mix of local artists, old favourites and, quite often, some newer faces that lead to new discoveries. It's a day that always inspires and reinvigorates. Indeed it was through BCZF two years ago that I first met Broken Frontier 2016 'Six to Watch' artist Ellice Weaver who has gone on to massive acclaim this year for her debut graphic novel Something City from Avery Hill Publishing.
So here's a quick round-up of just a handful of the artist and comic highlights of this year's BCZF today at BF and where better start than with a festival debut book from the ever reliable Avery Hill? Local creator B. Mure's fantasy mystery Ismyre (below left) is officially released at the fair on Saturday. I reviewed the book here this week and described it as "undoubtedly the breakout work of a small press creator who has long been due far greater recognition."
There's also a healthy grouping of our Broken Frontier 'Six Small Press Creators to Watch' at Bristol. Anja Uhren has been putting out some truly captivating slice-of-life work this year in books like Visual Thoughts III (below centre) and the tactile A Portrait of Sheffield while Rozi Hathaway's autobiographical Self-Care and Vegetables was a Thought Bubble highlight with its raw and uncompromising honesty being a world away from Hathaway's usual brand of colourful magic realism.
Other 'Six to Watch' stars exhibiting include Emily Lambert of the Big Brown Eyes Collective (consisting of her and sisters Freya and Karis) whose new anthology Habitat – dealing with explorations of the environments we exist within – is something of a who's who of the newest wave of UK small pressers (including Rozi Hathaway below). Josh Hicks will also be there with the latest issue of his brilliantly inventive sports spoof Glorious Wrestling Alliance. And you can pick up Olivia Sullivan's SID (above right) – a dark journey through a fractured mindscape that underlines her place as one of the most exciting new voices in British indie comics – from the Good Comics table.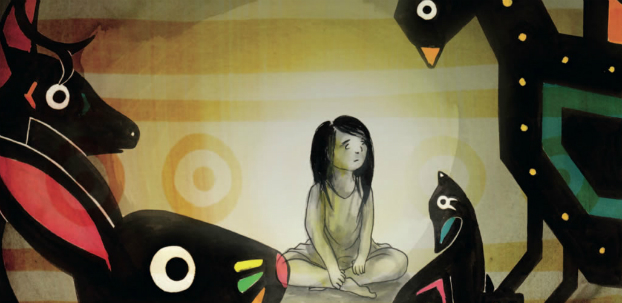 There are a number of regularly BF-featured artists also on show. Gareth Brookes of this year's acclaimed graphic medicine/urban mystery hybrid A Thousand Coloured Castles (below left) is always worth checking out for the Brookesian rarities he often sneaks into these events. Comic Book Slumber Party will be there, no doubt alongside their mascot Greasy and Ignatz-nominated anthology Deep Space Canine (below centre). And if you're looking for sci-fi with a rich seam of social commentary then the Decadence table is a must.
Two of the UK's great practitioners in the area of autobiographical comics put out arguably their career best comics this year so make sure to get hold of Simon Moreton's Minor Leagues #3 (above left) and Sean Azzopardi's 50 (below) if you haven't already. Like Moreton, British Comic Award-winning Tim Bird is also a vital voice in psychogeographical narratives with his Grey Area series. He also does the odd sideline in snooker comics for you to peruse on Saturday!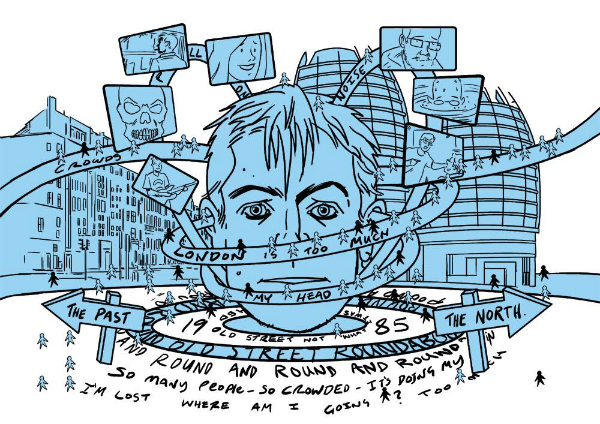 A handful of other names to look out for… Mindfulness maven Mike Medaglia has a new book coming out from SelfMadeHero and a new series of inspirational zines (below left) on spiritual well-being. Jayde Perkin is at Bristol with her powerful examination of loss and grief in Time May Change Me (below centre) and the Dirty Rotten Comics chaps have a new issue of their influential anthology out if you want a taster of the fine health of the contemporary self-publishing scene. And make sure to visit two recent guests from our Gosh! Comics and Broken Frontier Drink and Draw nights – Wai Wai Pang was responsible for the charming detective mystery Ripples (below right) from Peow! Studio and the darkly alluring work of Yoyo the Ricecorpse is always worth your time!
Of course the true excitement of a show like Bristol is in finding new work and artists for yourself so make sure to visit every table and make your own new discoveries. I'm particularly excited this year at the number of tabling artists whose work I'm unfamiliar with. Especially as this is the time of year when we start thinking about the next intake for our annual Broken Frontier 'Six to Watch' programme here on the site…
For more on BCZF visit the fair's site here. 
For regular updates on all things small press follow Andy Oliver on Twitter here.