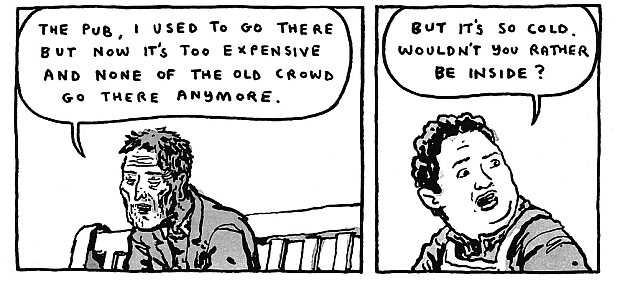 While many UK small press anthologies theme themselves around specific subject matter or topical material Dirty Rotten Comics has a more philosophical focus to its contents. Each and every issue exists not just to give a showcase to some of the very best new voices in small press comics but also to provide them with the opportunity to be published side-by-side with more established names, including British Comic Award winners and nominees. It's filled a vitally important niche in UK self-publishing over the last couple of years and the subsequent evolution of DRC into micropublishers Throwaway Press has been a hugely deserved development.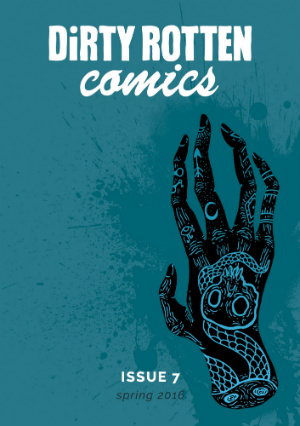 What immediately stands out about Dirty Rotten Comics #7 is the sheer diversity of the work within its pages. Anthologies are often easily dismissed by reviewers for the patchwork quality of their contents and, while the tired "hit and miss" cliché is not without at least some validity as a critical response, it overlooks the possibility that an eclectic array of approaches can also act as a celebration of the potential of the medium and its boundless possibilities.
DRC #7 highlights that in not just the variety of styles and genres on offer but also in their clever placement. The subtle pacing (and most unsubtle punchline!) of Matthew Dooley's amusing one-page 'Insect Aside', for example, leading into the pensive Alex Potts 4-pager 'A Canoeist' (top banner image) with its fragile and affecting study of loneliness and isolation. Both Dooley and Potts have become established stars of the UK indie world in the last year or two and, for very different reasons, these two shorts underline exactly why that is the case.
'Sleep Fairies' (below left) by 2016 Broken Frontier 'Small Press Creator to Watch' Jey Levang is yet another expectation-defying story that entices us with cutesy conversational supposition about twee nocturnal spirits that playfully tangle our hair in the night. This being a Levang short, though, nothing is quite as predictable as it seems. Their visuals are particularly strong here, contrasting the adorable and the menacing to great dramatic effect.
There are over 25 creators involved in this edition of DRC but the following potted highlights particularly stood out. Peony Gent follows up on her contribution in #6 with 'Drift' (above right), a stylised slice-of-life reflection with the most carefully crafted panel construction. The fusion of clipped imagery and poetically rhythmic language in Douglas Noble's 'Places Where We Cross' (below) is an in intriguing counterpoint to Tom Mortimer's similarly psychogeographical ode to teenage years hanging around in underpasses.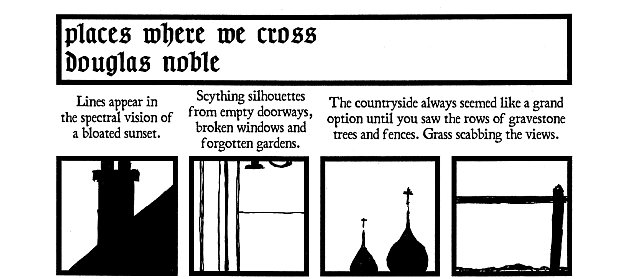 'Loser..Nobody…' (below right) is a notable piece from Andrez Bergen and Chris Wahl on living with depression in that it adopts a more "mainstream" visual style to communicate its themes than one would normally expect from the graphic medicine strand of comics. And Andrew Warwick provides a brilliantly eerie tale of night terrors in 'The Laundry Goblin' that is perhaps obvious in conclusion but highly atmospheric in build-up.
I recently reviewed Lucie Ebrey's diary comics here at BF and her contribution to Dirty Rotten Comics #7 displays her versatility beyond the autobio world. The panel-to-panel fluidity and sense of motion in 'The Golem' (above left) brings the potential destructiveness of love to the page with great poignancy. As for Julian Hanshaw's 'Shit List' feature (below), we can only hope that we see more of it in DRC in future. The gleeful, almost celebratory cynicism of this second entry on that list is quite delightful in its portrayal of a kind of cathartic malice as Hanshaw remembers a firing from an animation job with a grudge-bearing relish.

When we previewed this issue at BF earlier this year I conjectured that it may well be the most accomplished edition to date. With #8 arriving imminently I suspect Team DRC may well surpass even that in the very near future. We have just a few days to wait and see…
You can follow Dirty Rotten Comics on Twitter here and Throwaway Press here. Visit their websitehere for more details on the anthology. You can order DRC #7 here priced just £4.00. 
For regular updates on all things small press follow Andy Oliver on Twitter here.