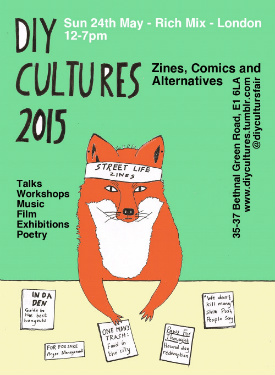 Billing itself as embracing "the spirit of independence, autonomy, and alternatives", 2015's DIY Cultures fair takes place at London's Rich Mix on Bethnal Green Road this Sunday 24th May. While comics make up just one part of this event it's always a hugely rewarding and inspiring day, mixing a zine, self-publishing and comics fair with a whole host of talks, workshops, exhibitions, films and artist-run spaces.
When you attend most of the shows on the small press circuit – as I do for 'Small Pressganged' – you soon get to know which will essentially be simply a chance to catch up with familiar faces (however welcome that may be!) and which provide a true opportunity for finding work from new creative voices you may not have discovered to date. It's at places like DIY Cultures and the Alternative Press Takeover (held earlier this month) that I can always be assured to find something/somebody new in self-publishing to pique my interest…
Among the comic creators exhibiting at DIY Cultures to have featured in this column in the past are the likes of Avery Hill Publishing, Dirty Rotten Comics, Gareth Brookes, Lindsay Draws, Mike Medaglia, One Beat Zines, Elizabeth Querstret, Tiny Pencil, Isabel Greenberg, Keara Stewart, Joel Millerchip and Centrala. But they make up just a small percentage of the total number of people tabling! See the full list here.
Zines and comics from Lindsay Draws, Elizabeth Querstret and Dirty Rotten Comics
Other events on the sprawling programme for the day include: DIY Justice – an exhibition of ephemera from social justice movements; Gareth Brookes's (The Black Project) 'Embroidery Circle'; panels on DIY Justice, DIY Education and DIY Work; poetry readings; an artists' book exhibition and much, much more. The complete programme of events can be found here.
DIY culture has always been at the heart of what we have tried to achieve with this column over the last nearly four years at Broken Frontier. For those wanting to investigate those worlds of grassroots publishing further then Rich Mix this Sunday really is the place to be…
Get a taste of DIY Cultures from the video of the 2013 event above… 
For full details on DIY Cultures check out their site here. 
For regular updates on all things small press follow Andy Oliver on Twitter here.