Fairs, submissions and Kickstarters feature in our latest round-up of what the great and the good of the small press scene are up to, both within and without the world of comics…
DIY Cultures 2015, May 24th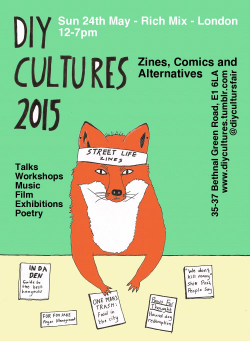 A quick reminder that DIY Cultures – a celebration of self-published zines and comics returns to London's Rich Mix on May 24th.
The DIY Cultures Fair is one of those shows that has true crossover appeal and, like the Alternative Press Takeover, you're almost guaranteed to discover exciting new work you may not have experienced otherwise.
With a mix of exhibitor tables, talks, workshops, music, films, exhibitions and poetry, this is an event with its own distinctive vibe. Check out the video below from DIY Cultures 2013 to get an idea of what you can expect on the day.
For more information on DIY Cultures visit their site here. You can also follow them on Twitter here.
Nerd Hutch Small Press Expo, April 11th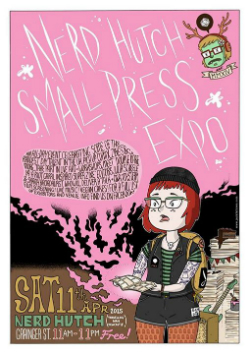 Small press creator Jack Fallows (Axolotl) has been in touch to let us know about the Nerd Hutch Small Press Expo in Newcastle on April 11th. A free event showcasing self-publishing and DIY Culture, it will run from 11am to 11pm and feature a comics and zine fair, workshops, interactive art installations, talks, film screenings and live music.
The creator guest list is an impressive one featuring the likes of Kristyna Baczynski (Vantage), Gary Bainbridge (Sugar Glider), Sarah Broadhurst (One Beat Zines), Jack Fallows (Axolotl), Gill Hatcher (The Beginner's Guide To Being Outside, Team Girl Comic), John Pearson (Beast Wagon), CJ Reay (Anxious & Worrying), Julia Scheele (One Beat Zines), Neil Slorance (Dungeon Fun), Andrew Waugh (BOO!) and Lydia Wysocki (Asteroid Belter) amongst others.
You can find out more – including the full schedule for the day – from the event's Facebook page here.
Off Life #12 – Submissions Open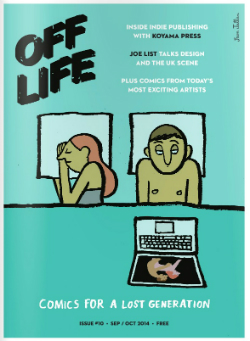 Free quarterly comics anthology Off Life is looking for contributors for its twelfth issue. With Off Life #11 having featured a number of notable newer voices on the scene like Darren Cullen (Below), Brigid Deacon (Coma Deep) and Alex Potts (A Quiet Disaster) now seems like the ideal opportunity for those yet to feature in its pages to get their work in for consideration. The deadline for 1-4 page submissions is Tuesday June 30th.
Don't forget, as well, that Off Life are running weekly topical strips by a variety of artists as part of the 'Yellow' strand on their site. From their description… "Yellow will allocate 52 artists to 52 weeks and give them two pages on which to comment, analyse or skewer the news that occurs within their seven days. With no set political persuasion or style guide, Yellow will gradually build an illustrated take on a whole year of news from 52 unique perspectives."
Woodrow Phoenix, Joe Decie, Jean Jullien and Kristyna Baczynski are just some of the names to have been a part of 'Yellow' to date. Discover more here. Information about submissions can be found here.
Australian Horror Graphic Novel 'The List' Launches on Kickstarter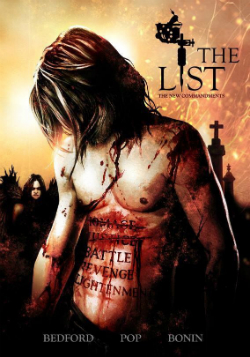 Some years ago on the old Broken Frontier site here, I covered an Australian self-published graphic novel called The List. Written by Paul Bedford with pencils by Henry Pop and inks by Tom Bonin, The List was a tense psychodrama that followed its protagonist's violent quest for enlightenment after a supernatural visitation from an apparently angelic being.
The book's often ambiguous storyline – Bedford was unafraid to make his readers work to piece together the plot points – and uncompromising brutality made it a challenging and disturbing read. Indeed, it was described at Broken Frontier as "an unyielding, tenacious work" and "horror comics at their most unflinching".
The various volumes of The List are now being collected into one deluxe hardcover edition The List – The New Commandments by Canadian publisher Under Belly Comics. The Kickstarter for the project can be found here with a scheduled delivery date of August 2015 should the campaign be successful.
For regular updates on all things small press follow Andy Oliver on Twitter here.