Over the last two years the "street press" anthology Off Life has firmly established itself as a vital showcase for the indie side of the UK comics scene, proactively bringing the form to an uninitiated audience through its free print distribution network and accessible online availability. This month Off Life – sporting a Jean Jullien cover – reaches its landmark first double figures issue with a suitably diverse collection of strips and short introductory interviews. Handsomely packaged with impressively high production values, #10 features an eclectic mix of strips from creators of both the firmly established variety and those still building up what will be, undoubtedly, loyal followings in the very near future.
On one level Off Life shares the same fundamental philosophy that this column has embraced in its near three years of publication: a desire to propel the work of exciting new talents to an entirely new readership. In Off Life's case, of course, there's an added mission to convert those whose understanding of the medium extends no further than the usual assumptions that comics embody little more than capes and costumes or juvenilia. Those that do hold such beliefs will no doubt find #10 something of a revelation with its mix of slice-of-life storytelling, bizarre flights of fancy, contemplative reflection, and powerful sharing of experience.
Two of the shorts that I found particularly effective in this issue approach similar subject matter from different angles, but both make carefully crafted use of panel layouts to communicate their message. David Biskup, whose work with Jazz Dad Books has impressed of late, provides the vibrantly coloured 'Remnant' (see top sample image) with its densely packed pages giving an irreverent and slightly mischievous take on entering old age. Bookending this strip is John Cei Douglas's 'Tick Tock' (sample below) which is a far more poignant rumination on the aging process that nimbly manipulates comics' unique ability to play with our perceptions of time in considering the transitory, unrelenting and cruel nature of its passage. Longer term readers may remember my thoughts earlier this year here on Douglas's masterful Show Me the Map to Your Heart & Other Stories from Great Beast and this two-pager is another visually articulate piece from one of the most important new voices in UK comics.

Amy Pearson has a similarly intuitive understanding of how to control the conceits of the form to convey intense emotional states and connect with her readership on a wholly empathic level. 'Lucky' (see image below) is an account of a sexual assault in the street that displays an evocative positioning of speech balloons and dialogue on the page to further narrative intent and bring the reader into the moment. The main character's sense of outrage and feelings of helplessness will overwhelm the reader and I would defy anyone new to comics to read these three pages and not instantly be convinced of the strengths of the form.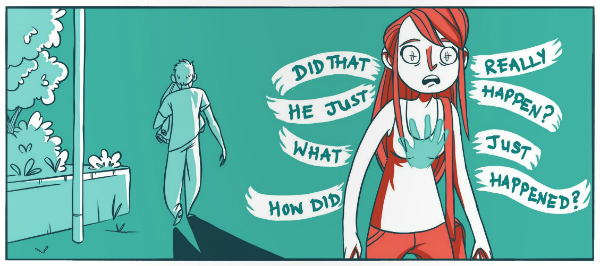 Ten creators have contributed to Off Life #10 and, as is always my refrain when covering anthologies, I can only cover a selection of those involved. Of those, Dan Berry's 'Pirates & Prospectors' – a  knowingly self-indulgent ode to longjohns as a fashion statement – displays some of that self-deprecating silliness that Berry is so adept at providing. It's a simple joke, admittedly, and one that works up to an obvious punchline but the audience is willingly complicit in that build-up and its inevitable denouement from start to finish. Kristyna Baczynski's 'Scratcher' (bottom image) is a mind-bendingly surreal two pages of comedic body horror while Joe Decie's downbeat 'These Cans' epitomises the fusion of everyday mundanity and the bafflingly oddball at the heart of his work. A Decie offering, of course, is always a treat in a laidback, understated, dreamy kinda way.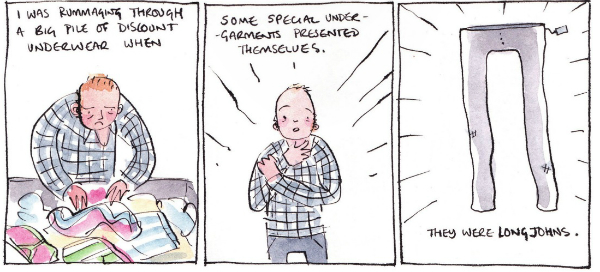 Two short form interviews with Annie Koyama of the excellent Koyama Press and artist Joe List of Freak Leap fame complement the comics material with concise introductions to important players in the small press scene here and in North America. These are pitched just right for Off Life's environment, giving a taster of the output and work of both without swamping the potential newbie comics reader in too much information. (Those looking for comprehensive interviews on the worlds of self and micropublishing are, of course, reminded of this column's own 'Small Press Spotlight on…' series here!).

There have been points in the past where I've felt Off Life was too weighted in the favour of more established artists on the small press scene and not as much about emerging talent as I would liked to have seen. But then that's possibly indicative of a whole other debate as to what constitutes an "up and coming" creator; a question of definition that we may all have very differing opinions on! What's important is that editor Daniel Humphry's initial concept for the project has gone from strength to strength over the last two years and continues to play a vital role in getting the work of important creators in front of those who would otherwise never even think about picking up a comic. Think of Off Life as a kind of comicky pre-emptive strike against those ignorant assertions about the validity of the form that we've all rolled our eyes at from time to time and you won't be going far wrong…
Off Life is distributed free in London and Bristol in print form but all issues to date including #10 can be read on the Off Life site for free.
For regular updates on all things small press follow Andy Oliver on Twitter here.