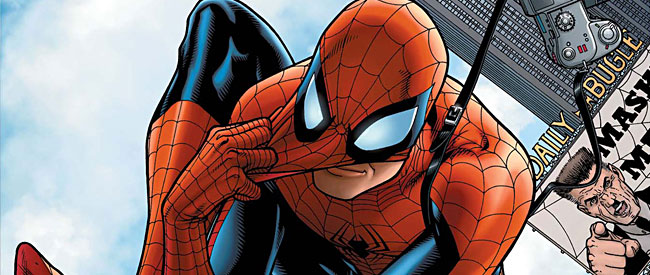 Over at Multiversity Comics, David Harper wrote the article 'In Defense of Comic Reviewers', in which he responded to the discussion about the value of comics journalism (and reviewing in particular) that has been going on this week.
Harper's piece was spurred in particular by the comments made by artist Declan Shalvey (Conan, Venom, Deadpool) and writer Antony Johnston (Wasteland), who both echoed the same sentiment: reviews that merely summarize what happens in a comic don't serve any purpose whatsoever.
I agree.
Reviews should always have an added value to either entice people to pick up the book or to spur discussion on the events inside, the writing, the artwork, the series in general or whatnot. That's why I ask my writers to use proper arguments whenever they write a review, especially when it's a critical one – saying a comic sucks is easy, saying why constructively is a little bit harder. That insistence on added value is also why I ask them to avoid the easy "Hey, what's it like working with creator X on your book?" type of questions during interviews. That's not the kind of journalism I had in mind when I wrote my mission statement for this website.
That said, while Johnston and Shalvey's statements generated much discussion, there was not a word in them saying they applied to all comics reviews. But their quotes did strike a chord and lit a flame under the debate whether comics journalism in and of itself has much value, if any.
Everything depends on how you perceive 'comics journalism'. No matter which dictionary you consult, they all define 'journalism' in pretty much the same way: the activity of reporting news for one or more media in written or oral form. If that's the case, then there's a lot of comics journalism being done in various shapes and sizes.
The problem comes in when you interpret journalism as what many people think it is or want it to be: qualitative, objective, professional, and as Wikipedia puts it, 'intended to inform society about itself and to make events public that would otherwise remain private'. If you factor that in, there's very little comics journalism being done.
As Antony Johnston mentioned in his post, making a living creating comics is damn hard, so it's easy to realize that a derivative activity such as reporting on a medium where making money is difficult won't net you a lot of dollars. And since comics reporting is (to some extent) a profession for only a handful of people at only a handful of (online) publications, true professionalism is hard to come by.
This holds true especially for websites that are not in a position to pay their staff, in which case you've got to find kindred souls who want to strive for professionalism driven by a passion for writing solid commentary. I'm lucky that I have found those people.
It's not just the lack of money though that's an issue. Doing true reporting is often hard, not just in comics. Part of it is that we live in an age where getting the news out fast has become more important than getting the news out best. Part of it is because the news is largely steered by the content providers (in comics it's the publishers, in film and television it's the studios), whose marketeers hold watch over what gets said, where and when. You can't strive for true, objective journalism if the interviews you do have to be proofread by, or the questions going through the publishers, first. But that's the way it is, otherwise you don't get access to their talent.
And lastly, shouldn't true journalism say both the good and the bad? Mostly – and I'm talking actual website content here, not message boards or social media – it's the good that's being focused on. That's because most of us prefer telling positive stories, but arguably also because it doesn't burn any bridges and doesn't kill any future content opportunities we all so desperately want.
So unless you still want to talk to us after we've (repeatedly) given your work a bad review or asked too many tough questions, and unless publishers stop looking over our shoulders, true/hard/investigative journalism will remain hard to come by.
The question is: would you be interested in reading that sort of content? If so, I'd be more than happy to take more steps in that direction here at Broken Frontier. But is that what we want, and moreover, is it what the comics medium needs? Since we're dealing with entertainment, with a form of escapism that we consume because it brings joy in our lives, shouldn't the focus be on the positive, the bright and shiny in the hopes of getting more readers excited about comics or existing ones to try out new books?
While it may not be 'true journalism' some have in mind, that's the kind of comics coverage and commentary that's already out there plentifully. And it's also the type of content that does make a difference, and has made for years.
Since the start of Broken Frontier now almost 11 years ago, there have been enough encouraging examples that what we're doing here is worth our while. Many many moons ago, when Chuck Dixon and Andrea Di Vito's CrossGen series Brath was in danger of being cancelled, our rave reviews helped the book from getting axed, at least temporarily. We're appreciated for helping releases from the UK and the European mainland find an international audience and for shining the light on Kickstarter campaigns that were successfully funded later on. Creators regularly thank us for spotlighting their books, especially the ones that may not get much attention elsewhere.  Publishers use quotes from ours on front or back covers and in their press releases.
I'm not saying all this to toot our own horn, but to illustrate the point that this kind of work does mean something. None of the above would be happening if what we're doing has zero value. Can the quality of comics coverage/journalism improve? Absolutely, but I don't think it's too shabby where things stand at present. Even if we only indirectly contributed as little as 1% to a Kickstarter campaign's funding or got five readers to pick up a book they wouldn't have if not for our coverage, it means we're succeeding in our goal: to spread the love for all things comics and to get people to broaden their reading horizons. Every little bit helps.
And it's not just us. Or David Harper and the rest of the crew at Multiversity. Comicosity, Robot 6, Comics Alliance, Comics Continuum, Comics Worth Reading, Graphic Novel Reporter, ICv2, Newsarama, Eye on Comics, Comics Bulletin, Major Spoilers, The Beat, Comic Geek Speak, Word Balloon, The Comics Reporter, Comic Booked, Bleeding Cool, The Outhousers, Comic Related, iFanboy, The Comics Journal, IGN, Comic Book Bin, Geek Syndicate, Comic Book Resources, Forbidden Planet, Comic Vine, Sequart along with many other websites and podcasts I'm forgetting here. We all make a difference in our own ways, some greater than others, some more professional or tabloid-y than others, but we all contribute to the greater comics debate, all with the same intent and purpose: to push the medium forward.
We are legion. And we will soldier on.