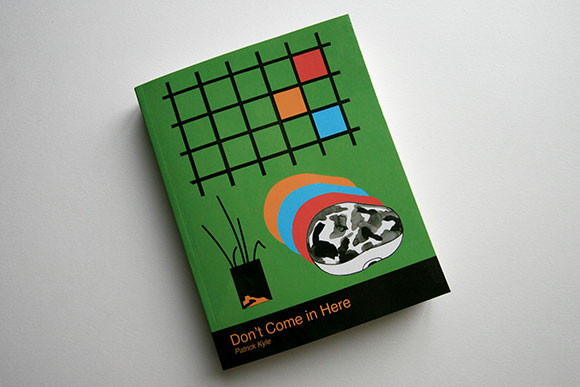 Circuitous in narrative and largely indefinable in premise beyond the most superficial terms, Patrick Kyle's Don't Come in Here from the ever essential Koyama Press is a meandering yet gloriously oblique piece of comics. It centres on a nameless protagonist and his relationship with his strangely evolving apartment space; an ever mutable environment that defies the normal laws of time, space and even the canvas of the comics page with its dizzying and illusory properties.
The central character's peculiar interactions with these living quarters are presented in short, seemingly detached segments which slowly build into an even more discombobulating whole. There's both a dreamlike functionality and logic to these odd environs and something intrinsically contradictory about them as well; their seemingly never-ending scope still feeling claustrophobic, cramped, creepy and more than a little oppressive in nature.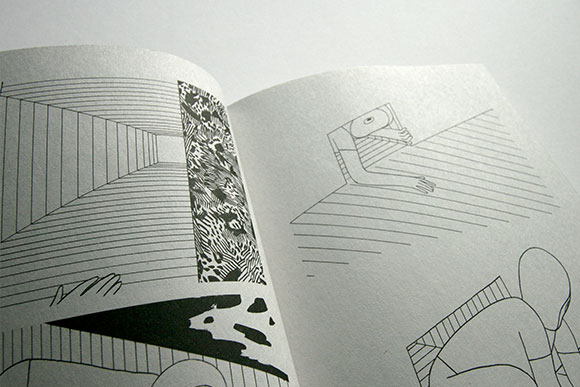 Recurring scenarios include our protagonist's adversarial relationship with his computer – one that gradually degrades as the book goes on – and which may (or may not) have an element of social commentary to it. Elsewhere we are left to wonder if the coldly dismissive personality of his landlord is autobiographical in origin, while a hole in the wall is an opportunity to snoop on the unlikely organic semi-jungle world next door with rather unfortunate consequences. And let's not forget what lurks in the kitchen which proves persistently distressing to our hero…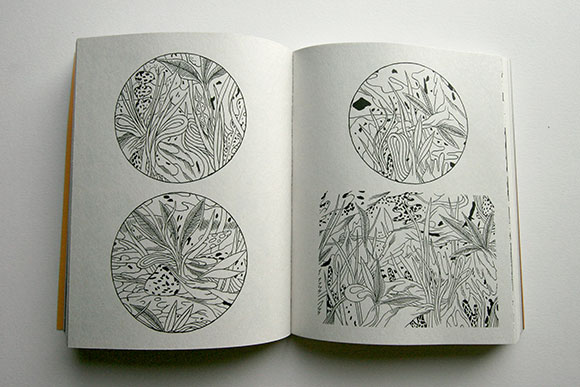 The sense of ambiguity permeating each vignette in Don't Come in Here is a key element of Kyle's rapport with his readership. This is a book that asks its audience to elicit their own meaning from its pages, and invites an interpretative reciprocity as they react to on-panel events. But this collaborative connection is not simply a thematic one.
Don't Come in Here puts the emphasis on the fundamental sequential aspect of comics in a way that few other books you will read this year will. Kyle's manipulation of shape, form and location ensures an exploitation of the language and mechanics of the form, and a requirement for the most nuanced of readings between the panels, that is breathtaking in the elegance of its construction.
That is represented in his explorations of the inextricable links between time and space, for example, as sequential images present layered realities that shift and merge and smudge and smear with dreamlike contradiction. The physicality of characters can evolve and devolve from panel to panel and abstract shapes are juxtaposed with organic backgrounds creating a strange visual incongruence that is simultaneously entrancing and disturbing. Meta and knowing, Don't Come in Here is playful not so much in the way it deconstructs the possibilities of the form but rather in the way it reconstructs them.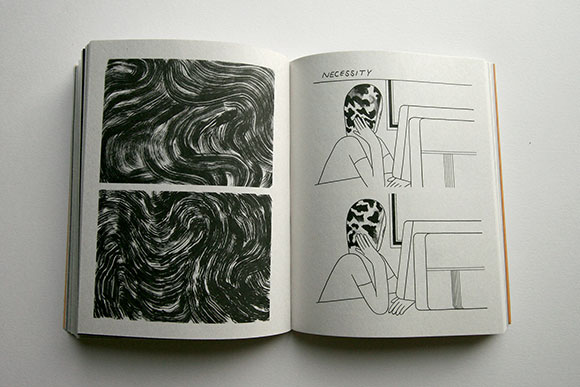 There's a sense, then, of otherness throughout these pages; of a world that exists within four walls with its own internal rules and logic, and a trapped, enclosed fatalism permeating its constrictive environs. In many ways it's up to the individual reader to take what they want from Kyle's eerie interweaving mini-narratives; to decide for themselves whether they're reading an observational piece on how we shape our environment and how it shapes us, a series of visual metaphors on the fears of modern living, or simply a stark Kafkaesque nightmare.
What is for certain is that Kyle's oblique and alluring tale exhibits a fluid understanding of the properties of sequential art that simultaneously celebrates and subverts both the intricacies of their structure and the reader's relationship with the page. Unsettling yet hypnotic Don't Come in Here is, quite simply, an abstract comics masterpiece.
For more on the work of Patrick Kyle check out his site here and follow him on Twitter here. You can find information on how to buy Don't Come in Here from Koyama Press's site here.
For regular updates on all things small press follow Andy Oliver on Twitter here.