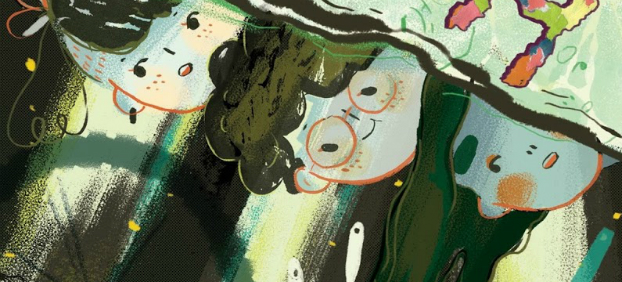 With a new book coming from Avery Hill Publishing later this year Bristol-based artist Seekan Hui's comics will no doubt be finding whole new audiences in 2018. As part of the Froglump collective (alongside Lizzie Houldsworth and Lucy Haslam), her work may be familiar already to regular UK small press fair attendees, or to subscribers to the acclaimed Shortbox collections where Fish Flake originally appeared in 2016. Those who read our recent interview with the Avery Hill crew will remember that co-publisher Ricky Miller recommended Fish Flake as an excellent entry point into the practice of Seekan Hui.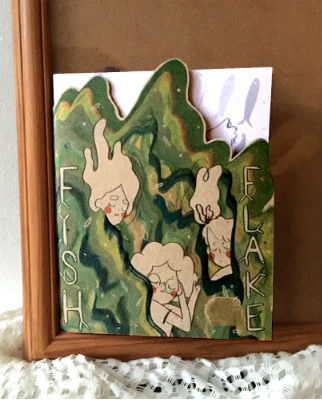 Fish Flake begins with a date on a pedalo ride for Cat and Mina which has become somewhat less intimate for the inclusion of Cat's younger sister Cod. As tensions surface, the discovery of a cave entrance on the river provides an intriguing distraction. With the pedalo trapped in its claustrophobic environs the three soon find the cave is the portal to a strange aquatic world, complete with an underwater fair. Here Cat, Mina and Cod will discover truths not just about themselves but about  their relationships with each other as well…
Fish Flake is an immediately amiable character study of which the whimsically bizarre fantasy elements are really only a colouring. It's the inter-relationships between the cast that are the book's real draw. They're effectively realised in Hui's likeably sketchy visual style which, alongside her irregular panel structure gives a sense of motion and fluidity to her kinetic storytelling. All three characters are touchingly and expressively portrayed, whether it's in their moments of affection, petulance or vulnerability. Where Fish Flake does suffer, however, is in the comic's size which doesn't always give the art the chance to breathe that it deserves and needs, making events on the page distractingly indistinct on occasion. 
Prominent throughout is Hui's skilful use of lettering tricks and placement, enhancing mood and adding to characterisation. Anger, frustration and a sense of urgency are all memorably evoked in suitably shaped or overlapping speech balloons and changing text effects within them. It's an effective tool in underlining the conflicts that arise as part of the awkwardness of the trio's outing.
With a tactile cut-out cover adding to the ethereal atmosphere of the setting, Fish Flake gives readers wanting to investigate Seekan Hui's work before her Avery Hill book later this year a perfect taster of her style. Those unfamiliar with her comics to date should take notice of this rapidly rising indie star. Because to be published by both Shortbox and AHP is obviously an achievement that speaks for itself. 
For more on Seekan Hui's work visit her website here and her online store here. You can also follow her on Twitter here. 
For regular updates on all things small press follow Andy Oliver on Twitter here.
Review by Andy Oliver