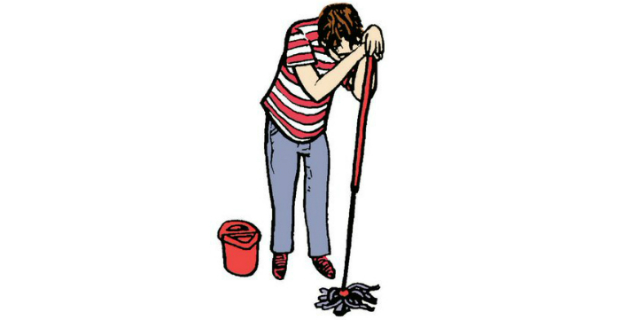 The first three issues of Fraser Geesin's darkly witty The Cleaner: Man of Destiny were a post-Thought Bubble 2016 review pick at Broken Frontier so, in the run-up to this year's festival, it seems only fitting that we preview the first five pages of the fourth and final issue today at BF.
Geesin describes the finale as "concluding his humourously autobiographical tale of adventures in the gig economy." You can read my full review of his comics catalogue of disastrous employment misadventures (including the titular cleaning role as well as fairground ride attendant, traffic surveyor, photographic model, stand-up comedian and bar person) here at BF.
This is one of my top Thought Bubble recommendations for small press work based on those first three issues of which I said last year: "The Cleaner is a gloriously self-referential meditation on the tediousness of work that, fittingly, is almost too apathetic to muster the energy to skewer its subject matter; an indictment on the 9 to 5 that can't really be asked to be angry or confrontational; and a languid sigh in the direction of the career-orientated and the professional climbers."
Enjoy the preview below…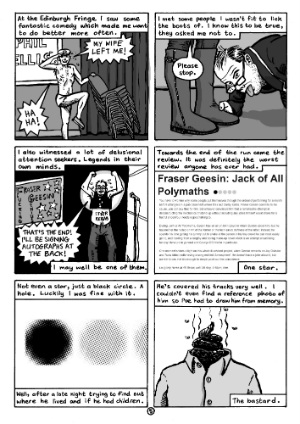 For more on Fraser Geesin visit his site here and follow him on Twitter here. You can buy the first three issues of The Cleaner: Man of Destiny here with #4 debuting at Thought Bubble. 
You can find Fraser on on the Mindless Ones and Silence! table at Thought Bubble – #76 in the Cookridge Street Marquee.

For regular updates on all things small press follow Andy Oliver on Twitter here.