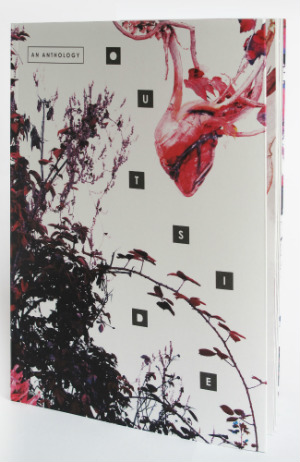 Another day here at Broken Frontier and another round of Thought Bubble 2017 previews and reviews. Our next subject is Outside, a horror anthology produced by Ash Pure that you can pick up in Leeds at the weekend and squirrel away until Halloween. With its mix of established genre artists and small press creators (including that perennial Broken Frontier favourite John Riordan) this looks like a book with a very BF ethos to it.
The press release and sample images are below along with details on where to find this chilling collection at Thought Bubble…
Released in collaboration with TOPICS BERLIN and PURE STORY Productions, OUTSIDE is a graphic anthology featuring today's finest horror writers and a stunning array of visual artists. The book has been carefully curated and beautifully packaged to provide readers with a diverse, thought provoking and powerful collection of stories to disturb and delight in equal measure. Priced at EUR 24.50 (launch price – 19,90 for a limited time) the book is available from outsideanthology.com or from the Topics Bookshop in Berlin.
Compiled and curated by Doron Hamburger and Amir Naaman, founders of Topics Berlin, OUTSIDE is a multi-coloured wunderkammer of distorted and disconcerting treasures, setting a new benchmark for originality with its diverse and disturbing visual storytelling.
Writers and artists featured in the anthology include:
HEX-CHANGE (below left): Visionary artist Amit Elan and porn star Author Conner Habbib team up to tell a story of magical activism
Legendary writer Joe R. Lansdale and the inimitable Daniele Serra dig deep into the horror of social isolation in THE BOY WHO BECAME INVISIBLE (above right).
Author Chesya Burke and Artist Jennifer y Crute take us to 1920s Harlem where prostitutes, gangs and racist cops must face a gifted child and a voodoo deity in SHIV (below left).
Weird Fiction's avant garde master Joseph S. Pulver and artist Kim Bo Yung show how sexual obsession can lead to the darkest pit of despair in KNOTS, GESTURES AND POSITIONS (below right).
In SIILKY'S ROOM by Travis Jeppesen and Winston Chmielinski a teenage girl turns into a plant… and likes it
Lovingly produced to the highest standards the print volume features 148 pages, offset printed, perfect bound, with wraparound gatefold cover by cult artist Ashram J Pure.
Other contributors include: Diamnda Galas (POEMS below left), Lavie Tidhar, Lynda Rucker, Sean Hogan, Maura McHugh, Matthew Dunn, John Riordan, Sarah Ann Langton, John Shirley and Gabriel S Moses (SOLID – below right).
You can find Ash Pure at Table 61 in the Cookridge Street Marquee at Thought Bubble. Visit his site here and follow him on Twitter here. You can buy the anthology online here. 

For regular updates on all things small press follow Andy Oliver on Twitter here.