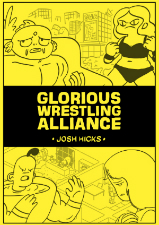 Josh Hicks's Glorious Wrestling Alliance came as something of a revelation to me when I reviewed it here last summer. I wasn't expecting that on finishing this comedic take on those flamboyant warriors of the ring (one that had sat for far too long in the reviews queue!) I would be instantly pencilling its creator's name onto my list of potential candidates for 2017's Broken Frontier 'Six Small Press Creators to Watch'. But the ever inventive and playful use of the structure of the comics page on show here ensured that Hicks's place in that number was deservedly assured.
I said at the time that "my exposure to Hicks's comics to date has been limited but it's already abundantly clear he's an artist with a wickedly fertile imagination. Glorious Wrestling Alliance is a fantastic introduction to his longer-form work. It would be criminal if we don't see more of this vividly realised company of players in future." And, as you'll see in this latest creator's commentary on artistic process in our regular 'Small Press Inside Look' series here at BF, my pleas have been answered with the news that there's more GWA in the pipeline this year.
Sit back then and enjoy this first long-form article at BF from one of this year's 'Six to Watch' creators as Josh Hicks talks about the origins of the Glorious Wrestling Alliance and how he brought their world to life…
(Click on images to enlarge)
How Possibly Not to Write a Comic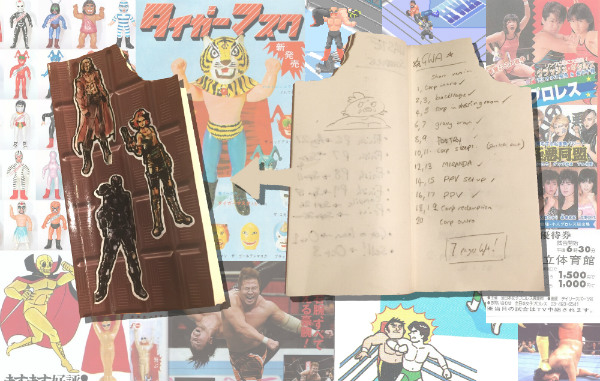 Because I have a full-time non-comics job, and am a living human with some semblance of a life outside of drawing, the majority of my comics work takes place at weird, irregular times, in little chunks throughout the week. This means that I have a lot more time to think about comics than I have to physically work on them, and so by necessity everything has time to float around in my head before I get to my desk, at which point I'm so wracked with time-sensitive panic and anxiety that I just start drawing. All of this is to say: I probably didn't write this comic properly.
Glorious Wrestling Alliance was the first thing I ever did that was longer than nine pages, and all the pre-drawing writing happened across iPhone notes (sadly lost to time, due to a rain-based incident) and in this little chocolate themed notebook that my girlfriend bought me.
I'd think of things over the day, put them down somewhere, and then end up trying (and often failing) to decipher them weeks later, which is either reckless and lazy or an ingenious method of introducing an element of chance and spontaneity into the process. Who's to say? Collating a private Pinterest moodboard was also a big thing at the start, not least because it gives you the reward of feeling like you've accomplished something without you having to actually do any work.
Backstage World Map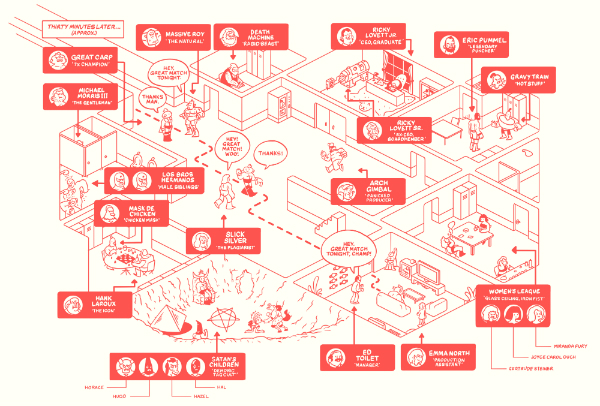 This spread is the only real image I had in my head before making the book and is kind of the entire reason that the comic exists at all. I really wanted to give off the feeling that there was a little miniature Gameboy world living and moving in between the covers, and that you were getting the chance to swoop down into it to get a better look.
I drew this over the course of the book, adding and changing rooms and characters as I drew their individual scenes so that everything would match up in these two pages. There is a level of attention to detail and consistency here that is not necessary, but became important to me as I got deeper into it, for reasons not entirely understood now — at one point I even attempted to build the whole thing with 3D software so I could get a good sense of scale and size.
A big thing I hear from people who flick through GWA at comic conventions without buying it is that the introductory spread must have taken ages. It did take ages. Big shout out to Manga Studio's Parallel Line ruler. ILU.
Gravy Train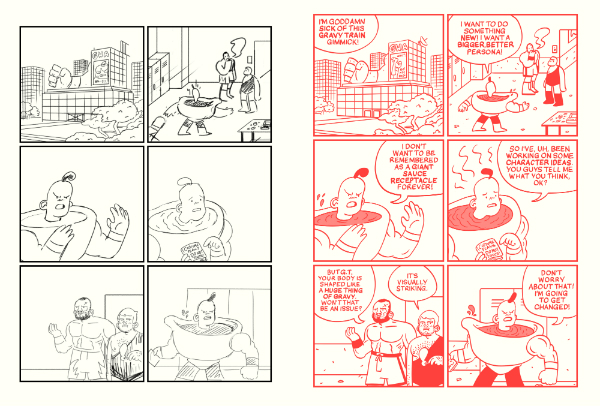 A massive influence on GWA is beloved Japanese video game series Fire Pro Wrestling. I love the feel and the aesthetic of those games, and tried to ape their signature isometric camera angle wherever possible, usually in establishing shots as in this page. As a kid who knew nothing about Japanese pro wrestling, playing these games — along with AKI's Virtua Pro Wrestling and their western spin-offs — were like being thrown headfirst into a fully constructed world that you didn't understand but about which you wanted to learn every detail, and I definitely tried to create a bit of that in GWA.
Part of the initial idea of Glorious Wrestling Alliance was to see what would happen if you took a bunch of weird, mish-mashed Create-A-Wrestlers from one of those games and got to see what happened to them outside the ring — what their lives and foibles and anxieties were — and while it grew a bit from that, the premise is probably most apparent here, in this scene about a man with a gravy boat for a torso.
Death Machine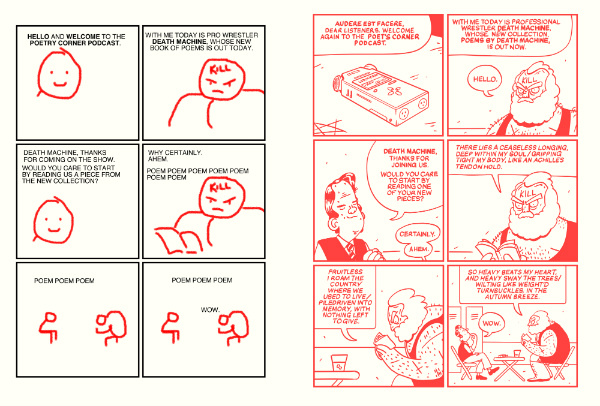 Here you can see the arduous scripting process at work. This scene concerns a wrestler who is also a poet, and required me to write poetry, which is something I don't regularly do and had to sort of be in the mood for, and so I just did it later. I end up doing this a lot: writing the dialogue of a scene to the point where the panel structure is locked in and all the beats are hit, and then dropping the lines in as they come.
The poetry in this was fun to write, and as I am too unskilled to write poetry in real life, gave me a nice little release. It's good to exercise other artistic urges within comics, especially in forms in which I'll never work. It'd be cool to put a full song, or a stand-up comedy set, or a choreographed dance routine or something into a comic. There are lots of things I can't do, so there are a lot of options here.
Ultra Brawl XXV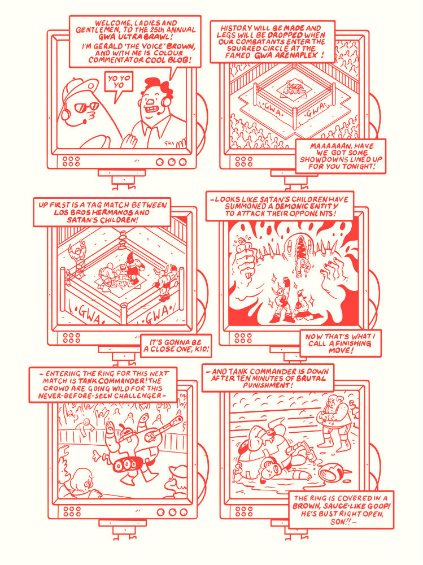 I also think it can be productive and helpful to impose rules on yourself when you make anything, and one of the rules I made myself follow for GWA was that the camera would never actually go into the ring. I'll probably end up breaking this in future instalments, but it worked well here in clearly focusing us on the backstage drama and forcing me to be creative in how I showed any wrestling.
Because I wanted this big pay-per-view segment to tie-up all the individual vignettes peppered around the first two thirds of the book, I had to show a lot of in-ring action. It might have been nice to draw big, swooping action shots, but I think showing it all through the crew's camera monitors is a cool way to go about it.
I was and still am annoyed with myself for copying and pasting that monitor frame for different panels, and did take some pains to change it up. I considered drawing each monitor from scratch each time, but then realised that we all have a finite amount of time on this Earth and that nobody would care.
Great Carp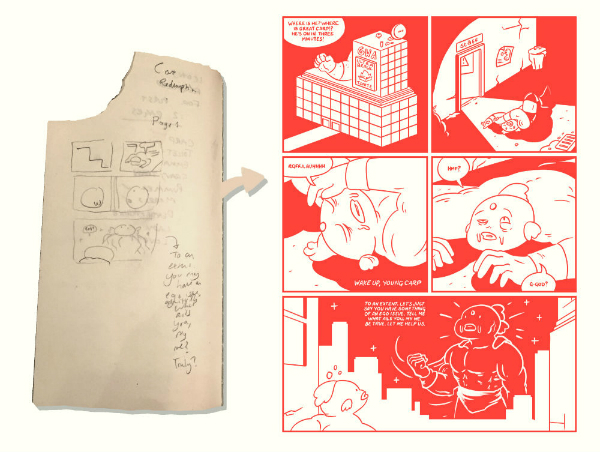 The whole book was initially going to follow Great Carp's descent into the abyss, but early on I decided it would be more fun to try and do a Nashville, Boogie Nights, Gummo type ensemble thing, and I think the comic is better for it. This throughline with Great Carp's existential crisis is the leftover from that, and hopefully anchors the book in a more real emotional place.
This dialogue he has with a 50ft projection of his own self-image is probably the least jokey, most honest part of the whole book, so I irresponsibly left it all til the last minute to write. As a younger person I read a lot of stuff on story structure and dramatic writing, and I feel like I utilised none of that learning here.
The Great Carp stuff is probably the bit out of this book that I wish I could go back and have another go at, and I think any issues that do is exist here could be solved with just an extra couple of pages of resolution at the end. It's a process. It's important to to be aware of these flaws, I think, for the next time. It's easy to finish everything, identify the problems, fix them and then identify new ones, ad infinitum, and that's a good way to never complete anything.
At some point you just have to put something out and use it to improve next time — and there is no learning process like finishing a comic. If life were a video game, finishing a comic and reading it back and seeing all the glaring things you should have done better feels to me like advancing 10 levels and gaining a bunch of hit points.
Maybe routine exercise feels like that for normal people, but as a sedentary mess it's all I have. All this learning will hopefully factor into the next Glorious Wrestling Alliance; though I initially made all of this with the expectation that it'd be a stand-alone one shot, I'm now making more and may continue to do so until I'm old and decrepit. GWA 4 lyf.
You can buy Glorious Wrestling Alliance online priced £3.00 for print here and £2.00 for a digital copy here.
For more on the work of Josh Hicks visit his site here and follow him on Twitter here. 
For regular updates on all things small press follow Andy Oliver on Twitter here.