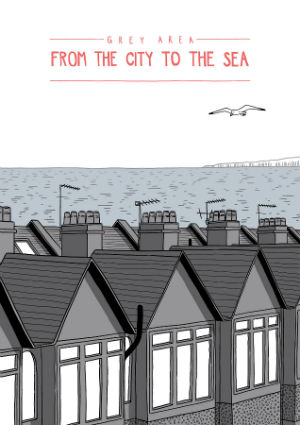 The first two issues of Tim Bird's Grey Area – psychogeographical comic narratives that are a perfect complement to the work of creators like Oliver East and Simon Moreton – received very favourable reviews from me in 'Small Pressganged' last year. Bird was one of the great finds of Avery Hill Publishing's early, experimental days and it's fitting that, as AHP evolves into one of the most intriguing micropublishing outfits around, Bird's profile continues to rise. He also recently illustrated half of their relaunched Reads anthology, reviewed by me here in July.
The opening issue of Grey Area – subtitled 'While the City Sleeps' – took us on a nocturnal tour of London in three tangentially intersecting short stories, casting the nation's capital city as the comic's protagonist. An observation of London's population at evening play, its night time life, and the phantoms of the past that echo within its environs, it was a debut that I described as "atmospheric and enticing" back in January 2013.
In Grey Area #2 – 'The Old Straight Track' – Bird took us on a haunting, semi-mystical tour of the nation's motorways, turning that roadway network into a kind of sprawling entity in and of itself. I also covered that instalment at BF last summer here. While physical copies of both books are now out of print you can still buy digital versions from Avery Hill's Comicsy store.
Next month AHP release the eagerly anticipated third offering, Grey Area – From the City to the Sea and, from the preview pages below, we can see that although Bird has adopted both colour and a more traditionally structured comics narrative, the essential heart of Grey Area – its ruminations on the emotional resonance of landscape and architecture – remains unchanged. The press release is below. Look out for a review here in 'Small Pressganged' later this year.
Avery Hill Publishing today confirmed pre-release details of Grey Area – From The City To The Sea, by writer and artist Tim Bird. Planned for release in October 2014, Grey Area – From The City To The Sea continues Bird's psychogeopraphical explorations of our modern existence as he travels east out of London to the North Sea through the outskirts of the city, suburban streets and marginal spaces, loosely following the route of the River Thames to the Estuary and beyond.
Printed in full colour A4 format across 36 beautifully illustrated pages, Grey Area – From The City To The Sea is a comic about landscape, and how personal stories and historical memories become embedded in a place.
Tim Bird is a writer and artist based in South London, UK. He makes comics and drawings that mainly reflect on our environment, and our place within it. His series, Grey Area, is published by Avery Hill Publishing, and he is a regular contributor to Reads (Avery Hill Publishing), Off Life and The Brixton Bugle.
"This is beautiful work, Bird creating images that sit there and demand the reader ask questions, images that look gorgeous yet also demand that the reader engage." – Richard Bruton, FPI Blog
"Grey Area is a piece of beautifully understated storytelling from writer/artist Tim Bird, and one that fully deserves your considered attention and support." – Andy Oliver, Broken Frontier
For more on Avery Hill's output visit their site here. Tim Bird's website is here. 
For regular updates on all things small press follow Andy Oliver on Twitter here.