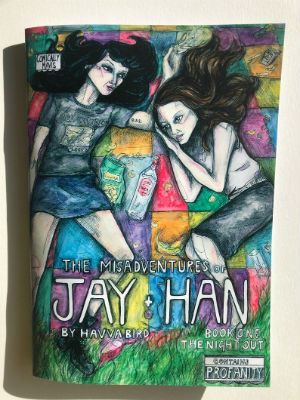 Returning to covering more grassroots self-publishing is one of my main aims for 'Small Pressganged' this year at Broken Frontier and, after my recent look at Beatrice Mossman's The Lure of the Flesh, I'm considering another acquisition from last December's Catford Comic and Zine Fair with the first instalment of Havva Bird's The Misadventures of Jay+ Han.
As we know, numbered serial small press comics are always a bold move for comics self-publishers learning their craft. They can be a hard sell in terms of getting them on small press shop shelves simply because the requirement the store has to then keep all issues in stock, and then there's the inherent danger of George Lucas Syndrome associated with this method of delivery. I can't tell you how many times over the years small press artists have confided to me about struggling to resist going back and amending their art to disguise the naivety of early issues when collecting long-running series.
Conversely, though, comics self-publishing is also about developing and growing by listening to and considering feedback, appraisal and the odd criticism. That's the importance and even the joy of being part of a supportive artistic community. In that way producing narrative work in increments also gives creators an opportunity to reflect on how their material is being received and to work on perceived weaknesses. Swings and roundabouts, indeed.
The immediate thing to strike the reader about The Misadventures of Jay + Han is the dreamily atmospheric cover which perfectly encapsulates the worlds of its student slacker protagonists. Jay is described as greasy-haired, a little morbid and somewhat consumed by a fascination with Ian Curtis. Friend Han is the more conscientious of the two, with a diligent attitude to her studies. This first "book" of the series is subtitled 'The Night Out' and introduces us to the duo in the day before a dramatic evening out drinking; one that ends with a pivotal twist in this first issue…
Bird is clearly enjoying finding her voice here and interrogating the possibilities of the page, frequently toying with panel layouts and structure with invention and a keen eye for movement and motion. One page towards the end is particularly interesting in its experimentation as multiple Jay and Hans move through the confines of one extended panel. Sound effects and lettering are also used to ramp up a sense of either drama or emotion, sometimes breaking free of traditional speech balloon delivery and coming to the forefront of panels, or becoming almost defiantly overwhelming in intensity.
There is room for further consideration, though, in terms of characterisation. In this first issue Jay and Han are defined not so much by their own character traits as by their contrast to each other; differences which are largely described in the text introduction where we probably learn more about what makes them tick than we do in the story's 16 pages. Perspective and anatomy, too, are a little skewed on occasion and some pages are just a little bit too busy in terms of composition, with transitions between scenes feeling somewhat awkward in places.
However, there's so much evidence here of an artist who is carefully thinking about those ever crucial unique storytelling possibilities of comics that we are so fond of talking about here at BF. It's always pleasing to see that kind of careful consideration in self-published work and it means I'll make a point of returning to these characters and their exploits at Broken Frontier as and when the second issue of their misadventures surfaces. In the meantime you can visit their world via the shop link below.
Order The Misadventures of Jay+ Han Book One for just £2.50 plus p&p from Havva Bird's online store here. You can follow Havva Bird on Instagram here. 
Review by Andy Oliver