"The Inking Woman is an excellent celebration of a diverse mix of talent. The comics world can often (perhaps not intentionally) sideline the female creatives. I feel it is important to celebrate and highlight how much talent there is and always has been from Inking Women. I am very proud to be a part of this exhibition – I got happy warm fuzzy feelings in my tummy when I saw my work displayed alongside creations produced by women I admire." – Elizabeth Querstret
'The Inking Woman' – spotlighting 250 years of British women cartoonists – recently opened at London's Cartoon Museum to great acclaim. From household names to enthusiastic self-publishers through to historical figures from the medium's rich past, the exhibition has a truly celebratory zeal to it. It runs until July 23rd and you can get full details on admission, opening times and directions from the museum site here.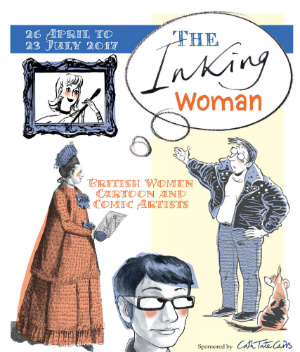 With so many of the exhibition's contemporary artists having been featured extensively here at Broken Frontier (and a number of them getting their very first coverage on this site) it seems only fitting that we support 'The Inking Woman' with a series of BF blog posts linking back to some of our key coverage of individual featured creators – with images selected by the artists themselves!
Today's 'Inking Woman' is the irrepressible Elizabeth Querstret who we first covered here on the site way back in January 2014. Elizabeth's wonderfully idiosyncratic brand of slice-of-life storytelling values the immediacy of the moment over polish and refinement and is all the more engagingly honest for it.
Her autobiographical comics range from the humorously anecdotal to the more profound in nature and deal with everything from her employment history to darkly comedic stories of euthanising pigeons. She's a prolific self-publisher with her work extending beyond comics and into humorous cartooning in zines like Zoological and tactile objects like her "matchbox ark" project.
Elizabeth is also a frequent contributor to UK anthology comics and has had comics published in Dirty Rotten Comics, A Bit of Undigested Potato, Dead Singers Society and Sneaky Business. In 2015 she showed another side to her repertoire when esteemed UK micropublisher Avery Hill published Walks with LuLu – her philosophical account of the cathartic qualities of human-canine friendships.
You can find out more about the comics of Elizabeth Querstret in the links below…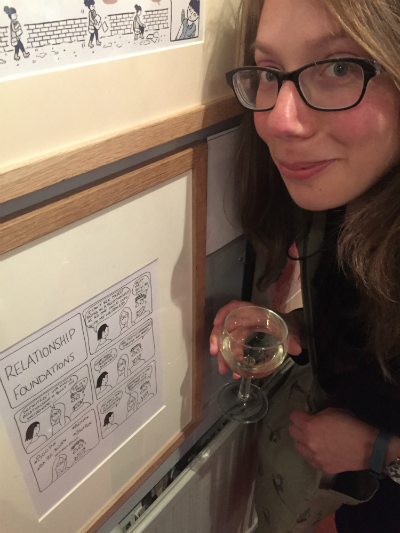 Key Broken Frontier Reviews
Enter My Working World (2014) – Self-published. "Enter My Working World succeeds to the degree it does because it connects with its audience on two crucial levels: its personable and affable host on the one, and the absolute expanse of shared experience it embodies on the other. One to pick up, digest, and nod to knowingly in agreement…"
A Day with Querstret (2015) – Self-published. "Personally, I find it impossible to dislike a Querstret comic – they have a charm and a pull all of their own and a creative voice at their core who, quite simply, redefines the term 'idiosyncratic'."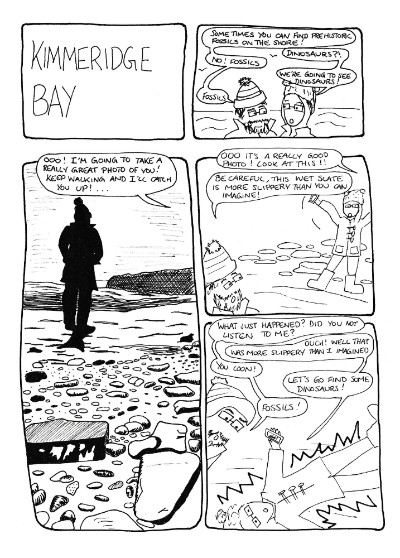 A fine example of the Querstret-ian comic timing of Elizabeth's diary-style comics
Walks with LuLu (2015) – Published by Avery Hill Publishing. "Walks with LuLu is a notable departure from her  previous offerings and yet it's still imbued with that instantly identifiable Querstret candour and sincerity throughout. A flexing of her artistic muscles that underlines the perhaps under-appreciated depth to her work to date."
The Last Time (2016) – Self-published. "Less a narrative and more a catalyst for further individual meditation on its themes, The Last Time invites us to celebrate the importance of those small comforts that we must all inevitably eventually leave behind."
Art from Walks with LuLu from Avery Hill Publishing
Key Broken Frontier Features
Interview with Elizabeth Querstret (2015) – "My approach in content can be very to the point. I do occasionally ponder if I should expose myself so honestly. That quickly passes with my slightly sadistic sense of humour being amused by the content. These strips are predominantly made with me in mind."
'Inside Look' Creator Commentary (2016) – "I do also find that the process of making the autobio comics can be quite therapeutic and encourages me to look rationally over my emotional state. I am aware that I could potentially make myself vulnerable by exposing such things. Yet I will only ever share work that I am comfortable to share."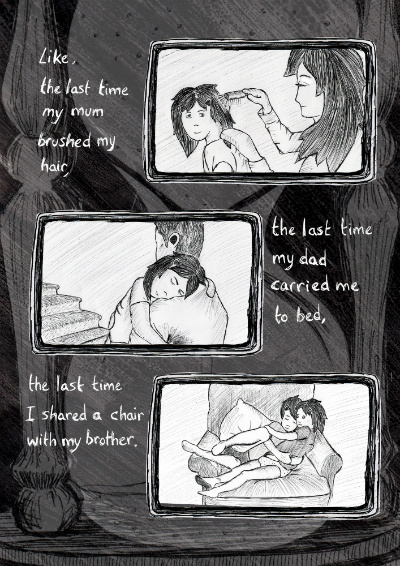 For more on 'The Inking Woman' visit the Cartoon Museum site here and follow them on Twitter here.
For more on the work of Elizabeth Querstret visit her site here. You can buy her print comics from her store here. You can also follow Elizabeth on Twitter here.