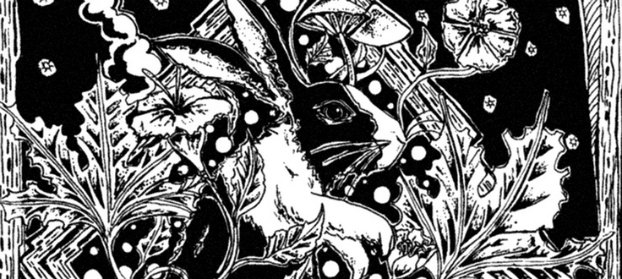 One of this year's Broken Frontier 'Six Small Press Creators to Watch', Kate-mia White has been building up a steady buzz around her work over the last couple of years with her eerily atmospheric series A Dark Forest.
Set around the 19th century environs of the small town of Blackwood it's the story of two sisters – 17-year-old Elizabeth Kathrine Moss and the much younger Grace – and the mystery that surrounds both their own familial relationship and the supernatural happenings in Blackwood; events that appear to be focused on the strange forest that surrounds the Moss family's remote homestead.
I looked at the first issue of the book here at Broken Frontier back in 2015 and described White's style as displaying "an elaborate approach that creates a sensation of overwhelming claustrophobia, poignantly reflecting the plight of lonely Elizabeth who is effectively detached from the rest of existence in the bubble of her own reality."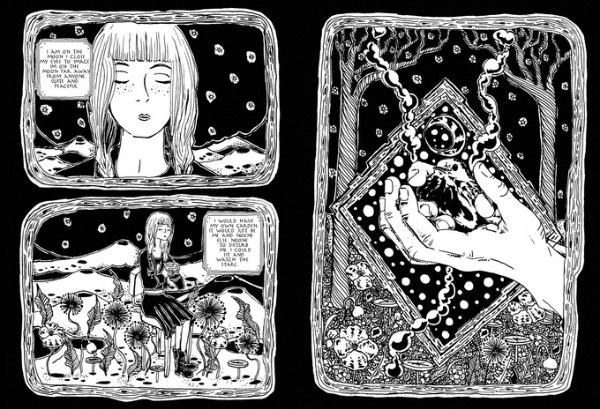 That first issue introduced us to the two sisters and the enigma at the heart of this tale: Elizabeth's suspicions about the true nature of her sister. As the story has progressed and developed extra layers have been added to this darkly bewildering narrative. What will the nocturnal mystical ritual that Grace and her friend Connie performed in the forest lead to? Why did Elizabeth's friend Thomas's mother go to such lengths to avoid having another child? What is the secret behind Grace's schoolmate Elijah's feral transformation and what is behind her dreams of talking crows? And just why do the residents of Blackwood harbour such antipathy towards the Moss family…?
White's brooding story has continued to heap question upon inter-related question on the reader as every issue sees her cleverly obscuring matters further and posing new riddles for her audience to dwell on. It's ensured that each instalment has continued to captivate us and grab our attention as we attempt to slowly put the puzzle pieces together.
Adding to this sense of investment is the way in which the tale jumps between the perspectives of Elizabeth and Grace. The former remains full of suspicion and distrust of her younger sister and her possible role in the events in the town while the latter seems to adore and aspire to be Elizabeth. It creates a dual sense of the "unreliable narrator", further adding to the mystery of how we interpret what is actually occurring.
White's art will be the immediate draw of A Dark Forest to many readers, though, and in terms of pure, intricate craft it is absolutely mesmerising in its gothic detail. Its taut, unsettling imagery on those deep black backgrounds adding to the bleakly ominous atmosphere that permeates every panel of the book.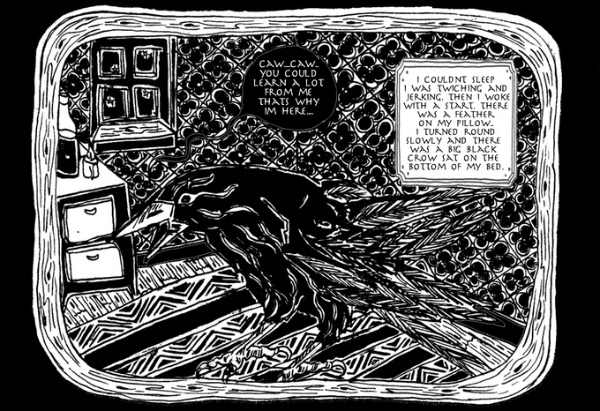 With three issues to go it remains to be seen whether White will pull together all the strands of the plot  into a coherent and satisfying whole but one thing is for certain – A Dark Forest continues to completely entrance and enthrall its readership both narratively and visually. Without a doubt, one of the most distinctive looking comics you'll find from the British small press scene at present.
Follow Kate-mia White on Twitter here and visit her online store here.
For regular updates on all things small press follow Andy Oliver on Twitter here.