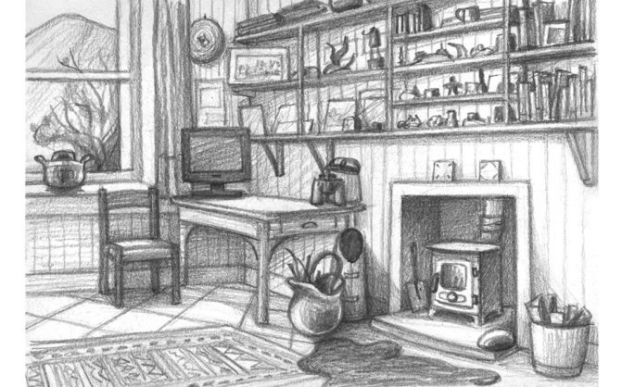 When a small press publication is as consistently excellent as Katriona Chapman's very personal and individual series Katzine it's sometimes easy to focus attention elsewhere on books that aren't getting similar word of mouth in reviews and on social media. That seems to have been very much the case with Katzine at BF in 2016 as I realised coming into this review that we haven't given it coverage since this artist's commentary back in March!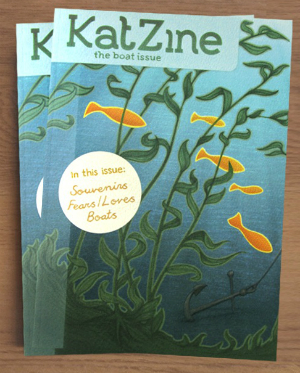 Chapman's collection of autobiographical comics, prose pieces and illustrations was one of my favourite UK offerings last year. Indeed, I listed it among my picks of 2015 at Broken Frontier here in January when I described it as "one of the most engaging reads of the year" in what had undoubtedly been a very strong twelve months for UK small press publishing.
As I've said before of this book one of the prime strengths of Katzine is its host's immediate rapport with her readership and her comfortable, conversational relationship with them. Chapman recently discontinued the sequential numbering for the book and chose instead to subtitle each issue. A wise move in making it appear more accessible to potential casual readers.
The most recent edition is 'The Boat Issue', though its coverage remit is far wider than that thematic labelling may imply. Indeed, the opening feature here is a non-autobio comics offering 'Darkness Falls' – an examination of opting out and living in the moment that encapsulates a sense of freedom and liberation in adversity in its affecting three pages.
Many of the usual features are on show including the one-page idiosyncratic philosophical ruminations of Chapman's partner in 'Sergio Talk!', another charming introduction to the colourful characters who run the local shops in her vicinity in 'Local Business', and the usual 'Love Fear' double-page spread that contrasts some of Chapman's anxieties and comforts side by side.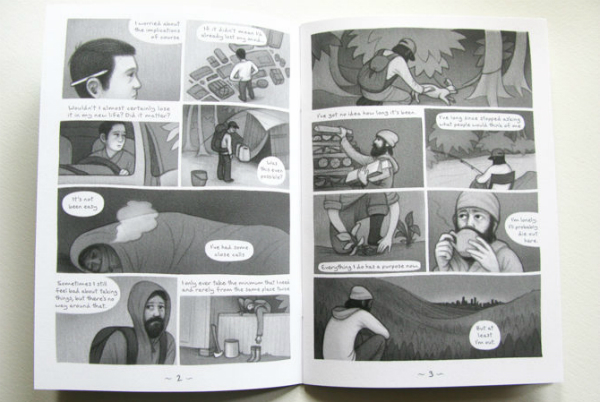 Katzine always mixes these familiar regular pieces with one-off ruminations and 'The Boat Issue' is no exception. There's a pensive double-pager on her love of the sea followed by some gorgeously flowing illustrated reflections on sailing vessels. Sketchbook pages from a Scottish holiday, mini-essays on favourite international souvenirs and a candid commentary on her graphic novel-in-progress complete proceedings this time around.
As ever, Katzine: The Boat Issue combines the eclectic and the down-to-earth, the profound and the relatively trivial. As the series has moved on, Chapman's ease with her audience has grown and Katzine has become akin to a Chapman-esque Sunday supplement edition of her life – warm, inviting vignettes of her existence that the reader becomes immediately engrossed in and will want to return to time and time again.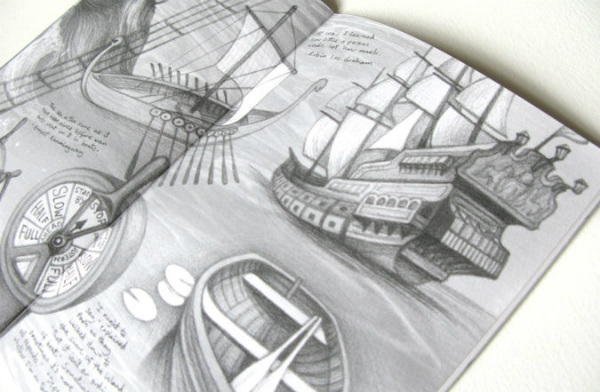 Those who have never experienced her work before will, of course, be instantly drawn to her sumptuously shaded art. Her ability to capture the beauty in small moments is as pronounced as ever (check out the tender body language in this issue's 'Sergio Talk!' for example). Despite the relative serenity of her visuals they simply burst with life and humanity. Six issues in and the geniality and amiability of this quietly life-affirming series remains undiminished.
For more on Katriona Chapman's work visit her site here and follow her on Twitter here. You can visit her online store here to buy her books including Katzine.
For regular updates on all things small press follow Andy Oliver on Twitter here.