THOUGHT BUBBLE 2019!
Shortlisted for both the 2018 Myriad First Graphic Novel Competition and the Laydeez do Comics Prize, the first chapter of Cathy Brett's work-in-progress graphic novel Who Killed JoJo? debuted in Autumn 2018. Rather fitting, perhaps, for a story that was set at Halloween and one that we very favourably reviewed here at Broken Frontier.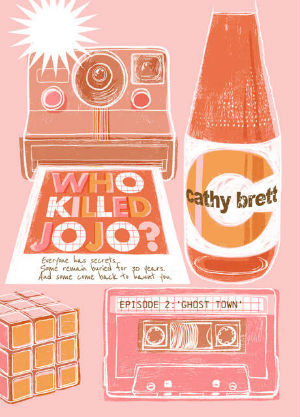 That initial chapter focused on two connected timeframes, hearkening back to the events of 1985 but with the main thrust of the story set some thirty years later in 2015. Our entry point characters are Tom and Tilda, two teens dragged along to the village funeral of one of their respective parents' childhood friends. In that opener the pair slowly began to put together the links between their mother and father's peer group three decades before and the local legend of a young murdered woman called JoJo, whose spirit is alleged to have visited a poetic revenge on her murderer Ed.
That first instalment saw Brett constantly playing with the structure of the page to create atmosphere and emphasise mood in a way that only comics possibly can. It was particularly noticeable in the creepy presence of the ghost of Ed lurking between the panels of the page with an air of wronged belligerence. Once again, that's something that's very much in evidence in this second chapter, as Brett knowingly toys with the idea of "between the panels" reading comprehension in ever more inventive and meta ways. It becomes not simply a presentational tool but a thematic motif as well, with the ghost of Ed both commenting on and attempting to encroach on events. The recurring references to decades old photos of JoJo which are inserted into the narrative in varied sequential ways also heightens the mystery with a self-referential glee
It's Ed's effect on events, in particular, which displays Brett's acute understanding of how to utilise the tools of the form to layer her story. In turns, he broodingly drifts through panels, manipulates the very substance of the page and seems to have an almost destructive influence on the fabric of the narrative. Brett's haunting visual style and that often murky colouring ramps up the tension in a chapter that continues to underline that Who Killed JoJo? is simply next level comics storytelling.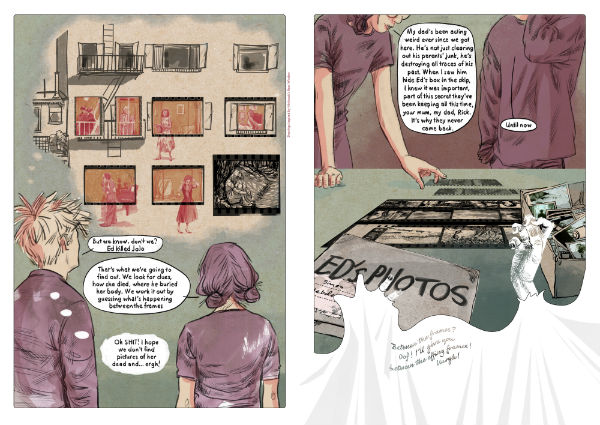 As this episode progresses as many questions are posed as are answered, sucking the reader ever further into the mystery behind JoJo's death and the youngster's growing suspicions about their parents. While there are occasional lapses into overcrowded panels, in terms of expository speech balloons, this second chapter remains an outstanding example of how to exploit and manipulate the unique storytelling devices of comics.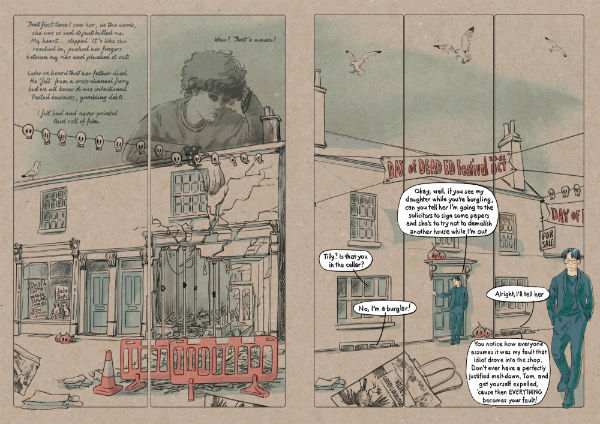 When I interviewed Brett last year at BF she said of the project "It started when I took a couple of years off from the rat race of the commercial illustrator and did an MA. The idea of the book came out of that. I love movies, I love old photographs and those two things started coming together. I did a lot of research of film theory and the frame of sequential imagery, and how you can have a narrative that's actually hidden because it's outside of the frame." Who Killed JoJo? is living up to that promise and I remain hugely surprised at this point that a year after that initial issue was published it still, as far as I'm aware, hasn't been snapped up by a publisher. It needs to be. And soon.
Review by Andy Oliver
For more on the work of Cathy Brett visit her site here and follow her on Twitter here. Cathy Brett will be exhibiting at Thought Bubble 2019 in the ComiXology Originals Hall at Table 2B. 
For regular updates on all things small press follow Andy Oliver on Twitter here.