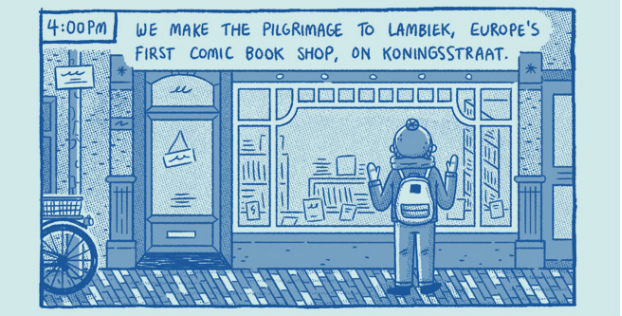 Diary comics, in all their varying forms, have often seemed to me to be an unfairly maligned subset of the autobio genre of comics so readily associated with the small press world. I have always had a fondness for the insights into a creator's world they afford – the chance to be a part of their creators' triumphs however large or small and, conversely, to commiserate with them when life throws up its inevitable obstacles.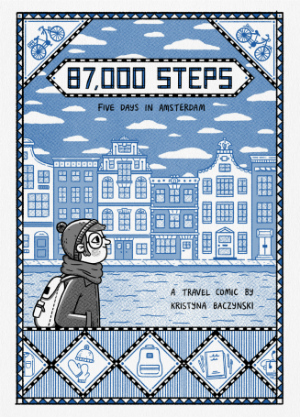 For this particular strand of slice-of-life to really connect with the reader, though, it needs to achieve two essential things. Firstly, the artist has to be unafraid (and unashamed!) to inject their personality into the proceedings with an absolute minimum of self-editing. And, secondly, they can't be simply prose with accompanying images. The language of comics has to enter into the equation somewhere as well.
Eisner Award-nominated Kristyna Baczynski's 87,000 Steps: Five Days in Amsterdam embraces both of these facets, giving us a minicomic with an amiably self-deprecating narrator and, for all its travelogue scrapbook structure, some playful uses of comics' unique relationship with the passage of time and between-the-panels comprehension.
87,000 Steps charts a trip Baczynski took alongside 47 students as part of her job as a university lecturer in Graphic Arts. There are two simultaneous thematic strands running through the comic: firstly a slightly self-referential one full of nods in the direction of comics aficionados and, secondly, the artist's own exploration of Amsterdam wherein she invites the reader to join her in all the (often pop) cultural delights the city has to offer.
On that vocational level we visit academic institutions, stop by the legendary Lambiek comics shop and indulge in the thrill of comic-buying in another country. From a more tourist-based perspective we take an expedition to multiple bars, attractions, shops and markets, all punctuated with Baczynski's witty and conversational anecdotes and notes on food. (And there are a lot of notes on food here, all guaranteed to get your gastric juices stirring…)
It's the gentle humour of 87,000 Steps that makes it such a relatable reading experience though. Baczynski recreates that instantly recognisable feeling of hustle and bustle, of constant movement and of trying to absorb as much as humanly possible that is such an integral part of a trip away. That's emphasised by the frequent chronological updates that together with the often tight and busy panels create an illusion of time contracting in on itself.
Baczynski's appealing cartooning makes use of that ever reliable comics trick of placing a caricatured cast on a detailed and realistic background to great effect. It ensures the audience's emotional connection to events – that we become invested in her on-page incarnation's awe, frustrations and excitement as she interacts with her new environment.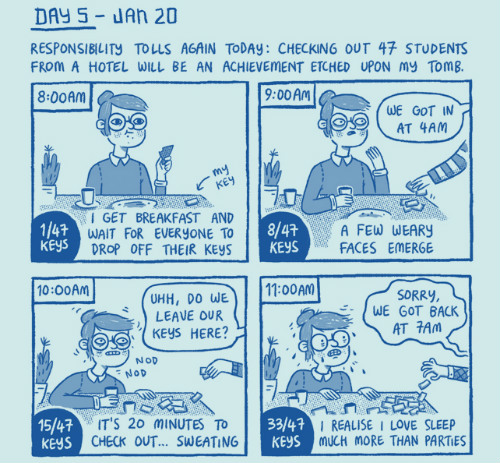 As is often the case in work of this nature there is, indeed, an element of the author recording events for themselves but Baczynski is such an affable host that there's never a sensation of self-indulgence to proceedings. Rather, the reader feels like they've been invited into her world for a brief moment and that they're being given a rare opportunity to share her Amsterdam experiences with her. Her moments of discovery become ours, as do her disappointments (most of them centred on museum opening times!).
As much a mini graphic travel guide as it is a narrative, 87,000 Steps is a warm and welcoming riso-style zine that underlines just how engaging and rewarding these brief comic strip forays into the lives of others can be.
For more on the work of Kristyna Baczynski visit her website here and follow her on Twitter here. You can buy 87,000 Steps and more from her online store here. 
For regular updates on all things small press follow Andy Oliver on Twitter here.