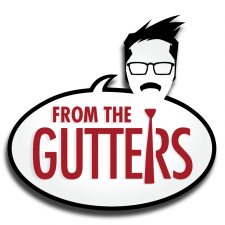 After weeks of teasing about the content of their new program "From the Gutters," producers Ryan McCluskey and Martin Vavra are ready to unveil the full content of their online series. A comic book-themed talk show, "From the Gutters" is set to debut on October 4. The show is hosted by well-known comics writer Jamie S. Rich, and the guest for the debut episode is Matt Wagner, the creator of "Mage" and "Grendel," who also currently writes "The Shadow: Year One" for Dynamite Entertainment and "The Tower Chronicles" for Legendary.
"We knew we wanted to start big," McCluskey said, "and there is no bigger name in comic book circles than Matt Wagner. Plus, he and Jamie have a relationship that dates back to when Jamie was just a reader, and it's great to see two friends and colleagues sit down and talk shop."
"From the Gutters" episode 1 will appear on the show's dedicated YouTube channel, http://www.youtube.com/user/fromthegutters, as well as via the website, fromthegutters.com. After the October 4 debut, the next eight episodes will debut weekly, released every Friday through October and November.
"The Wagner episode will establish our basic routine," explained Vavra, who also serves as the show's cameraman and editor. "Each interview will be edited down to at least two 10-15 minute segments, with some having a third bonus segment, usually for interview sessions where we were able to shoot in the artist's studio."
The shorter segments will be followed a week later by the full version of the interview, allowing viewers to eavesdrop on the longer conversation between guest and host.
"In the case of Wagner," McCluskey added, "we had a full day where he cooked for us, chatted about his passion for the kitchen and for comics, and then took us down into his office to take us through some of his process. There were so many good moments, it was hard to pick and choose. That's why we decided that, with every new episode, 'From the Gutters' fans will also be treated to the extended cut of a previous favorite."
That means the uncut Matt Wagner interview will be online October 11 at the same time as the second episode with Becky Cloonan debuts.
"Becky is a powerhouse in her own right," Rich said, "and it was fun to chat with someone who is a little bit newer to the business. She had already finished her run on 'Conan' and was just starting 'True Lives of the Fabulous Killjoys' at the time, and she had yet to win her Eisner for her own comic 'The Mire.' It's like we knew her when…."
Future guests include Michael Allred ("Madman," "FF"), Ming Doyle ("Mara"), Ted Naifeh ("Courtney Crumrin"), Dave Stewart ("Hellboy"), Michael Avon Oeming ("Powers," "The Victories"), Eric Stephenson (publisher of Image Comics, writer of "Nowhere Men"), and Bob Schreck (editor at Legendary Comics).
"Our intent with 'From the Gutters' is to peel back the page a bit and show you the creators behind your favorite comics," Rich concluded, "both as artists and as people. We're going to dig down to uncover the motivations behind choosing comics as a profession, and the personalities that bring these stories to life, so that we can start to see the art and the artist as a singular unit."