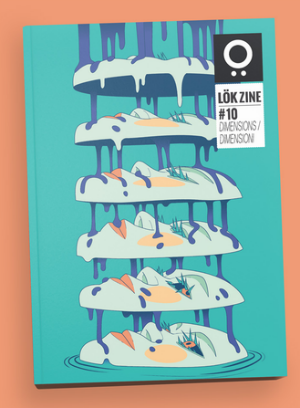 ELCAF FORTNIGHT!
When I last reviewed LÖK ZINE at Broken Frontier – fittingly as part of last year's ELCAF coverage on the site – I was suitably impressed by the European indie sensibilities of this often experimental anthology offering. Presenting strips in both English and Italian, the latest issue takes the idea of 'Dimensions' as its starting point and mixes up illustration, comic strips and text pieces in a bumper-sized issue, making use of colour interiors for the first time. Gloria Pizzilli's cover is certainly an instant draw.
One-word themes are usually suitably open enough to allow for broad interpretation and LÖK ZINE #10 certainly provides many alternate and inventive takes on its subject matter. Matteo Farinella's 'Greetings from Calabi-Yau' (below) plays with the very structure of the page to underline different planes of reality converging in its tale of a relationship between a human and a multi-dimensional being. It speaks of perception, reality and the spaces in between in a short that combines the colloquial and the metaphysical with a fluid cartooning style. Federico Rossi's 'Sort of Spaces' is inspired by the work of French novelist and filmmaker Georges Perec, and also uses the diagrammatic to bring something abstract, reflective and philosophical to the book's contents in a very distinctive form of graphic narrative.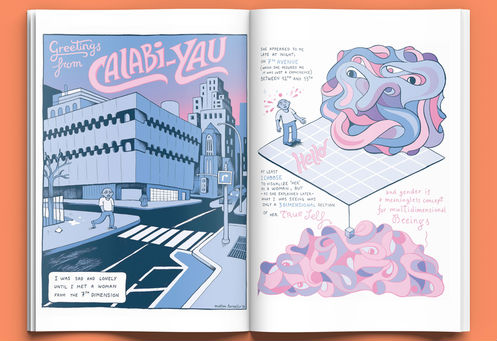 Other intriguing comics entries for UK readers looking to discover new talent include Lois's tale of a grieving young woman whose loss manifests itself in a physical change that takes her to an arachnid world with strange parallels to her own (below); the slice-of-life and the bizarrely fantastic coming together in an unlikely meeting.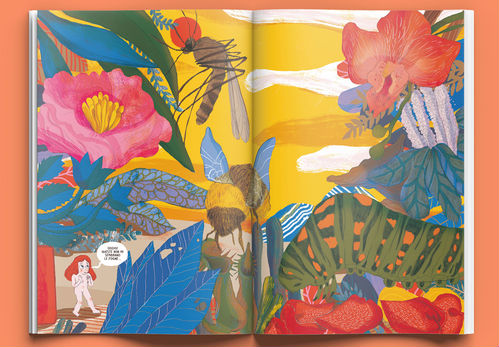 Also of note are Chema Peral's sureally violent depiction of the act of creativity; Francesco Panatta's 'The Day it Rained Pyramids' wherein the titular otherworldly anomalies cause the world to lose its sense of proportion, geometry and sequential art converging; and Salvatore Giommarresi's 'Asteroid Welcome Party' wherein we observe final friendships at the end of the world in a carefully coloured account dripping in poignant fatalism.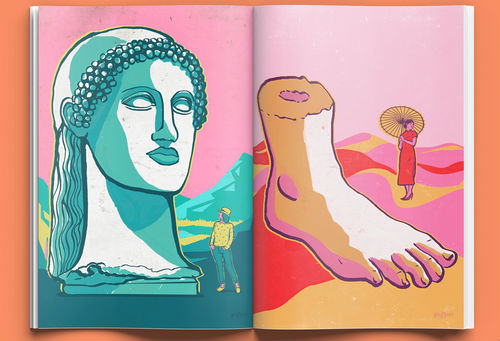 The single illustration pieces ask us to find our own narratives in their pages whether that be the hallucinatory sci-fi of Davor Gromilović or Maria Gabriella Gasparri and Lucia Calfapietra subverting traditional ideas of space and form. Il Pistrice meanwhile contemplates history, legacy and influence in a series of images depicting interactions with great statue monuments to the past (above) while Margherita Morotti explores the influences of the gods with a terrifyingly distorted omnipotence (below).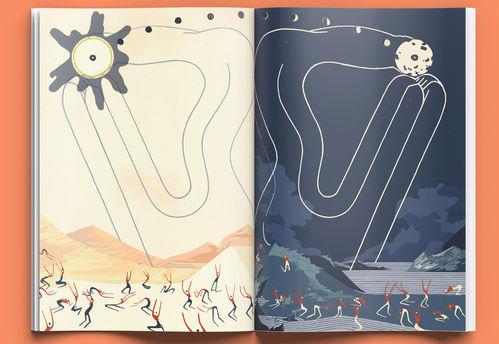 LÖK ZINE is reminiscent of the approach of publications like Tiny Pencil or the Nobrow magazine of years past. Experimental and playful, it's an excellent entry point into Euro alt comics practice.
LÖK ZINE are exhibiting at ELCAF. For more on LÖK ZINE visit their site and online store here and follow them on Twitter here.
For more on ELCAF 2019 visit the festival site here and follow them on Twitter here.